Avalanche Probe: Mammut Probe Light
The Mammut Probe Light is a six-piece aluminium avalanche rescue tool that allows the user to locate buried victims up to 240cm below the snow. This probe is part of Mammut's range of mountain safety equipment together with shovels, avalanche transceivers and packs. The probe is aimed at the recreational back-country skier, boarder, snow shoer and alpinist. For guides and more experienced users Mammut's range also includes the Probe Plus which at 280 cm is 40cm longer than the probe light and the super long Probe Expert at 320cm.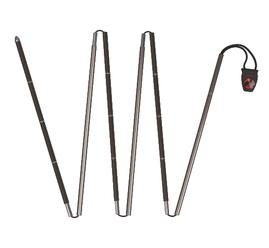 The design is similar to a modern tent pole with a piece of Dyneema cord running down the centre of six aluminium pole sections that can be assembled into a single ridged pole that measures 240cm long. Now I've assembled many tent poles in my life so I assumed the probe would be just as easy to put together. However initially, I found this not to be the case, as the Dyneema cord the runs inside all the sections is not elasticated as with a tent pole. This meant that the sections didn't slot naturally together and seemed to push apart as I tried to assemble them, this would be somewhat annoying in a true emergency situation. But I was missing a trick, the art is to simply pull the red cord and black toggle at the top of the pole to tighten the inner cord and the pole slots itself together and locks securely into place - genius – perfect for speed in an emergency and as long as you are aware of this simple method the probe is ready for use in a matter of seconds! This simple method also allows for ease of use when wearing gloves. The tip of the probe is a sturdy metal 'drop-shape' which penetrates the snow well. Also in use I found that although quite long the probe has very little bend in it which should allow for deeply buried victims to be located even in hard packed snow.
At 180g the weight of the Mammut Probe Light is perfectly fine for recreational users but it is not the lightest on the market, a friend of mine has a carbon fibre version that I borrowed which did feel considerably lighter than the Mammut version I tested, however so will you wallet after purchasing. When dis-assembled for packing the probe is 44cm long which means it fits neatly into any day sack. For ease of packing the probe comes with a nylon storage sack and according to the Mammut website a set of emergency safety guidelines. My test version did not come with these so I am unable to comment on the content.
The Mammut probe has clear depth markings along the length of the shaft in gold numbering to indicate how deeply buried a casualty is – up to 225cm. Moreover being a European manufacturer these markings are in metric, clearly marking every 5cm with dashes every cm. I'm sure for all of you of a more traditional imperial leaning you can still purchase probes with markings in inches and feet but you will probably have to look to a manufacturer from across the pond for one of these!
In summary, for the recreational user looking for an avalanche rescue probe you can't go wrong with the Mammut Probe Light in my opinion.
What Mammut Say:

Lightweight avalanche probe that belongs in every touring backpack. Even safer and easier to operate with gloves, thanks to improved lock.
• 6-piece aluminium probe
• Dyneema cord for minimum weight
• Telescopic lock for quick and easy interlock
• Drop-shaped probe tip
• Suitable for use with gloves

Reviewed by Dan Webber on behalf of planetFear