Kalenji Kiprun Trail XT7 Running Shoes
Stand on the start line of a local fell race and there are precious few runners wearing Kalenji shoes, one of Decathlon's myriad of own-brand lines. Having been working closely with the local Decathlon store for the past year on a series of pop up cinemas after closing hours (https://cycletothecinema.co.uk/) I'm a little more clued up as to lots of the practices, beliefs and vision behind what the company is about. So I decided to test out some of their kit. Interestingly one of the most popular review items I've ever tested is a Decathlon rucksack, reviewed way back in 2009 (http://www.heason.net/reviews/2009/10/06/Rucksack_Quechua_Forclaz_70__10_Symbium_4/) so there is clearly an appetite for their stuff.

First a bit about the shoes.
Kalenji is their running brand and includes pretty much a complete range of the bits and pieces you need for running - for both road and trail. Living in the Peak District I obviously tend towards trail running, there being lots of it. Much of the year the ground can be pretty soft and muddy so an aggressive tread which keeps you on your feet is essential, but it's also important to retain some grip on wet rock. Though the gritstone is pretty coarse in texture it quickly becomes slippery in the wet and cold, and the local limestone is a stiff test for any shoe rubber. The 'KALENSOLE' is a medium white rubber, generously apportioned with plenty of V-shaped lugs for decent 'grab' and 'hold' in soft ground. Whilst I don't think it comperes to the very best of the premium brands in terms of stickiness on wet rock it's not a million miles off, and certainly gives confidence when moving over wet, technical ground.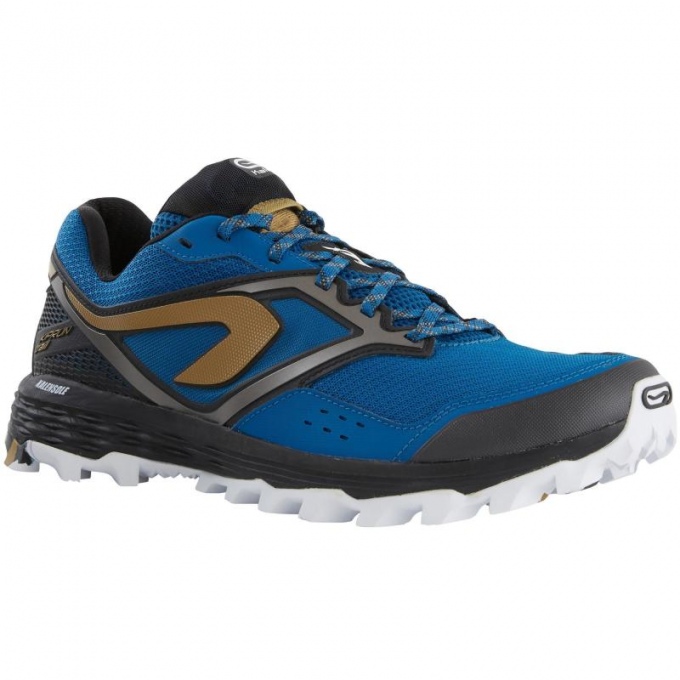 After a childhood spent mainly barefoot I have fairly wide feet and found the fit of the XT7s to be a little narrow at first. Perseverance paid off though and they now feel perfectly comfortable and there have been no adverse effects. The lacing system is standard with no whistles or bells aside from a neat little elasticated pocket to store the tied bow/s inside. I've found this to be incredibly effective at making sure that laces don't come undone whilst running, particularly important if racing. I've so far run around 150km in them and found them to be well supported and comfortable.

There is a decent protective layer around the front half of the shoe meaning less chance of stubbing toes in scree and on tree roots, or at least less pain if you do so. There's a decent amount of reflective material incorporated too so they stand out when illuminated in the dark (though I would always argue for more of this on pretty much any kit that is to be worn whilst exercising at night). They aren't waterproof in any way or form, the upper mesh meaning that running in wet grass results in instantly wet feet. As long as you know and accept this it's fine.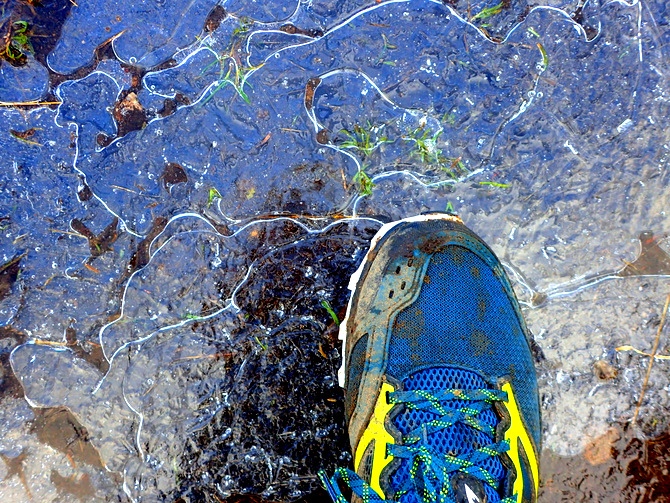 Looks-wise they are, I would say, fairly incongruous. Mine are a dark greeny-blue with some yellow and white highlights. They don't stand out and say 'Hey look at me!'.

They retail at £49.99. That's a bargain in anybody's book. So far they look like they are at least as durable as the premium brands so represent some really good value for money. They come with a two year guarantee which is pretty impressive given that most of my running shoes don't make it much beyond two years. I'd sau give them a try and see what you think.

The question is would I line up on the start line of a race in them. The answer is quite probably not, but that's not for the reasons you might think. I tend to keep two pairs of shoes going at any given time - one for training in and one for racing in. The training shoes wear down more quickly as I do more training miles than racing miles, so I like to know that on race day I have the newest shoes with the best tread. In order to properly test these shoes I've been training in them pretty much exclusively. Would I race in them if they were the newest shoes I had? In dry conditions I certainly would do. If the course had much wet rock on then I have another pair of shoes which I keep for such occasions as the rubber is outstanding.

More info on the Decathlon website.

Now for a little more about Decathlon itself. As I've already alluded to, spending time working with the company has been eye opening. The events I've organised have been really good; the staff involved are genuinely keen to engage more with people and are properly passionate about what they do. Initially it felt a little phoney, like they were toeing the company line, but it's become clear that this isn't the case, that it's genuine. Without rattling on too much here the best way I can think of to illustrate the point I am making is to go to their website, scroll to the bottom of the home page, and have a read of the long list of links to their pages on Recycling batteries, cycling to work, schools, awards, their corporate website (which is a mine of information in itself) and even one on modern slavery! To my mind it's a clear message of their intent as a company.