Berghaus Pro Bib Shell Pant

Let's get some terminology sorted out first. Bib is an Americanism for salopettes, which is in turn European. Dungarees is now a pretty old fashioned term. Essentially they are all the same thing: a pair of trousers which come up to stomach / chest height, and are held up by a pair of straps over the shoulder.

The Pro Bib Shell Pant are a robust, super-practical pair of waterproof salopettes from Berghaus. I'd managed for years with waterproof trousers of various types. Whilst they have been great at keeping my legs dry and warm these take things to a whole new level, literally.

If you've not worn salopettes before then they may take a bit of getting used to. There's no waist chord or elastic, instead they come up to your stomach, with a pair of straps over the shoulder to hold them up. This model features an elasticated panel where the waterproof material stops with a zipped pocket at chest height which keeps things snug.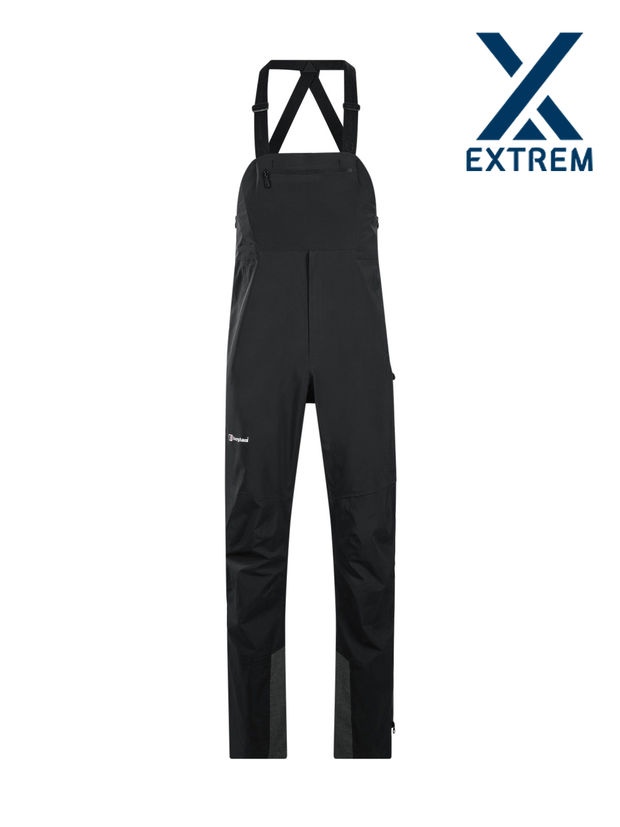 This is really the point of salopettes - they allow whatever jacket you are wearing to cover well below the top of the 'trousers' meaning a big overlap so no chance of either water or cold getting in. The shoulder straps are arguably more comfortable than a waist chord, especially when wearing for an extended time period in wet weather where run of the mill waterproof trousers can begin to sag. The straps are sewn in, low profile and elasticated, with a plastic buckle on the back to keep them together. It takes a little shuffling when wearing a rucksack on top to make sure that nothing rubs, but it's really no bother. They are easily adjustable so you can literally pull up or lower the whole garment with a quick teo-handed adjustment on each strap at chest level.

They are made from Berghaus's Gore Tex Pro Shell which is a hard wearing waterproof and windproof single layer fabric which has so far kept me dry and warm at all times. There's a full length zip on each leg meaning that if you need to put them on or take them off once you already have on your boots and or skis, it's possible, if a little fiddly. The zips are heavy enough duty that they will obviously last, and the fiddle-factor is minimal. At the base of each leg is a bit of nice functionality. Externally there is a shaped panel of armoured material to protect against scuffing, whilst internally there is a fully adjustable elasticated snow gusset with an integral hook and two eyes, for attaching to your boots to keep things from riding up or twisting.

As well as the chest pocket there is a second zipped pocket on the left hand hip. Both pockets have waterproof zips, but I'd have liked both to be a bit bigger than they are, especially the chest one. There is also a (waterproof) zip at crotch level. Whilst on the subject of going to the loo, it's possible to unzip the side zips from the top, take the straps off your shoulders and drop the trousers around your waist if you find yourself in a position where taking them off entirely is not an option, however they don't feature an integral bum-flap.

They weigh 604g. That's significantly more than a lightweight pair of waterproof trousers, but they are so much more that it's worth the extra weight. It's also worth bearing in mind that this weight is carried by your shoulders and not on your waist. They retail at £400. That's a hefty price tag, but in line with top end jackets and arguably just as important a piece of kit. They are seriously comfortable and do their job with bells on.
More info on the Berghaus website.