Travel Bag: Berghaus Prime 60
The Primet 60 is one of a wide range of bags which cross over from outdoor-pursuits-based to conventional travel. It looks like a run of the mill, rugged, but smart kit bag, but has a pair of rubberised wheels and a telescopic handle to allow it to be easily pulled through airports and along pavements. Although some equivalent models have rucksack straps this one doesn't. These were missed, but the weight saving was noted and appreciated. The bag weighs a hefty 2.9kg which is noticable when checking in with some of the budget airlines these days, however, some of its rucksack strapped rivals are heavier still - this was one of the lightest on the market.
Whereas most of these bags that have been produced have probably not made it out of Europe, this particular model was subjected to 4 weeks in the the Monsoon season in The Philippines! Despite torrential rain for some of the trip the contents of the bag remained bone dry, a testament to the waterproofing in the outer material.
Carrying:
As already mentioned, the bag has a single-stem telescopic handle that stows away when not in use. Some rivals have a double stem handle which reduces wobble when pulling, but we found the single-stem perfectly adequate on that front. In addition there are two more carrying options. The short handle on one side of the bag was most used, with the more comfortable shoulder strap used rarely despite its apparent usefulness. There is also a short carry handle on the top of the bag.
Storage:
The main compartment, as well as being super-dry, has a decent capacity (60l) with rigid sides and compression straps allowing plenty to be crammed in. A couple of fold-away inner compartments are very hand when not packing the bag to absolute capacity. Perhaps the best feature of the bag is that there is never any need to re-pack as everything is accesible with the main lid open - fantastic when constantly on the move. There's aven an inner mesh pocket which was useful for storing dirty stuff separately. Lastly, there is an outer zip pocket which was used regularly as the trip library for paperbacks, cards, maps and guidebooks.
Downsides:
Unfortunately the bag's dimensions are just outside the airline hand baggage dimensions of 56cm by 45cm by 25cm
Conclusion:
Retailing at £80 (and plenty cheaper if you shop around) this is a very good value bag for stop-start travel. Proponents of 'real' travel will probably argue that without rucksack straps it's not worth the bother, but we'd argue that if you need to carry it on your back, then it;s probably worth getting a proper rucksack.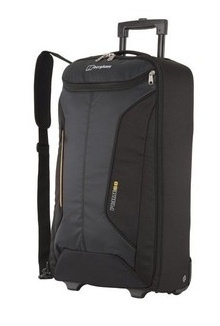 Manufacturers Info:
-600 D Esdura RS polyester / 600 D Esdura polyester for high durability and strength.
-Reinforced ballistic base.
-Adaptastrap system allows the bag to be carried as a rucsac or shoulder bag.
-Wheel cover for use when carrying the bag on your back.
-Reinforced top and side handles for easy use.
-Large internal mesh pocket.
-Pop out pocket to separate items.
-Internal zipped pocket for smaller items.
-Two external zipped pockets.
-60L capacity
-Dimensions: 64cm(H) x 42cm(W) x 25cm(D)
-Weight 2.9kg