Wild Country Hoolie 4 - Tent
The Wild Country Hoolie 4 tent is a four man tunnel tent. Lightweight (at 3.6 kg), it is a great little tent for backpacking/touring and a quick overnight stay. It's small when packed (44 cm x 17 cm).
This tent has been great for backpacking with the kids. We're a family of 5 (children aged 6 – 10), and we slept comfortably across the tent when wild camping in the Pyrenees. The small amount of luggage and our shoes fitted easily in the porch. We've also used it as a weekend tent for 4, and when touring and wanting to pitch quickly on our journey through france.
When the tent first arrived, the children (age 10 and 9) were sent off to pitch it, and managed brilliantly, with no instructions from me. It took less than ten minutes for them to work it out and pitch it. The tent can't be freestanding, as you do need the guy ropes.
The tent pitches 'as one' which is brilliant, especially if raining. It has caused a bit of confusion when pitching by torchlight- forgetting to peg out the inner on the same peg as the fly sheet! The poles are colour coded, easy to thread, and pretty strong and flexible.
A friend and I took the Hoolie 4 off to Helvellyn Triathlon. Gale force winds the night before the race made for a noisy night, but we hadn't pegged out all the guy ropes! This caused some flapping around, and a middle of the night excursion to rectify the situation. It was still blowy inside the tent, but conditions that night were particularly bad.
Two niggles I have are that the pegs (whilst a lovely bright red) have bent whilst camping on rockier ground and hard soil. There are also some little loops that you can tie the porch door back with, but they get in the way of you opening the zip, as I found to my horror on the first night in the tent, when my daughter needed to make a quick exit to throw up! (we did just make it, but the zip kept getting stuck).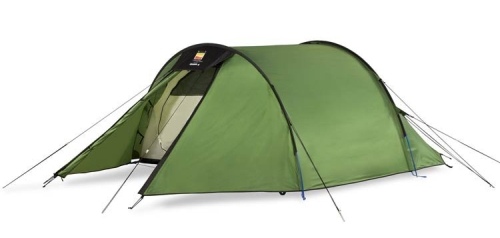 Worst points:
• Sticky zip
• Pegs have bent
Best points:
• Versatile- sleeps 2 adults and 3 kids comfortably
• Great size porch
• Weight and pack size
• Easy and quick to pitch
• Spacious for it's size and weight
• Good value - retails at £200
Reviewed by Hayley Lever