Thule Pack N Pedal Cummuter Pannier
Introduction
Panniers would usually come in pairs, but this is designed specifically for commuting so works by itself. First off, it's not a lightweight, but then it doesn't really need to be on a commute. What is sacrificed in weight is more than made up for in clever features.
Features
It's waterproof of course. It has one main compartment which has an elasticated mesh sleeve down the back for keeping documents un-creased. The main compartment is big enough for a large laptop plus lunch, spare clothes and spare tools, though the material has no give to there is a finite amount of space. The closure is a standard roll-top , but instead of a narrow strap and buckle to keep things secure there's a fairly heavy duty 6 inch wide flap of material with a small zipped pocket for keys on the inside. Over this comes the narrow strap and buckle to tighten things up. The buckle is a metal hook as opposed to a plastic clip, which is marginally more fiddly, but will undoubtedly last a lot longer. The pocketed flap also has a carry handle which, when everything is done up correctly, sits in just the right place to pick the bag up in balance from a single point - something lacking in most touring panniers, and something very useful for carrying the thing from your bike to the office or house.
On the outside of the bag are a pair or pockets, a larger elasticated one big enough for a sandwich or tool kit, and a smaller transparent one big enough for a light to sit inside. There's also a large reflective strip down the front and back sides of the bag further increasing your visibility. If you are worried about whatever is in these open top pockets falling out there's a buckle with another heavy duty metal clasp to stop exactly that from happening.
Lastly there's a nice wide webbing strap with a comfortable padded section and clips at each end to allow you to carry it over the shoulder. There are 4 loops on the back side of the bag, one in each corner, to allow various configurations depending on how you like to carry it.
The back side of the bag is stiff meaning that laptops and documents inside won't be squished too badly as you tighten things up. Inset into the back is a metal strip that sits towards the top of the bag. On initial inspection it's not clear how this can be used to fix the thing to the bike, but like an expensive hand made wooden toy there's a trick to it. If you push along the top edge it rotates around 180 degrees to reveal two adjustable clips that fit your pannier rack. Essentially it rotates to allow you to carry the bag over the shoulder without the clips digging into your rips. A proper bit of engineering which ahs resulted in a fair degree of extra weight, but a whole lot more comfort if you have to carry the thing any distance from the bike. The clips are a little different to most panniers in that they don't just hang off the frame. Each of the two clips is circular, about an inch in diameter, and has a groove across the middle with hooked edges. There's a rubberised toggle that attaches to the discs and, when pulled upwards, rotates the discs through 90 degrees to make the grooves horizontal which allows them to be placed on the rack. When you then release the toggle, the discs rotate and the hooked edges engage on the rack to keep things secure. Simple. The rubber toggle clips out of the way when not in use. Last, but not least the bag comes with a fairly strong, but compact magnet which you can fix onto the lower bit of your rack or frame, which connects with a piece of metal hidden in the stiff back edge of the bag to stop it from bouncing around. It works surprisingly well. I ought also to point out that the discs can be independently moved left and right to line up with the bit of your pannier frame that you need them to.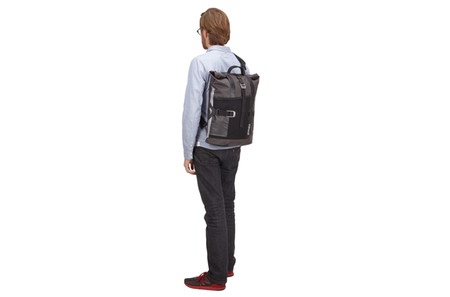 Practicality / Summary
To date all the features have worked very well indeed. The stuff inside has stayed dry, the moving parts all move freely still, there is little or no sign of wear and tear. Retails at £100, though is available for less than that if you shop around. Expensive, but very, very well engineered and more durable than it's competitors.
Thule Website