Groundsheet: TNF Minibus 23 Footprint
Retailing at £25 some would argue that it's a little cheeky of TNF to charge extra for a groundsheet, but essentially this is an additional groundsheet that will prolong the life of your sewn in tent-base. If you damage this then it's a simple matter of paying another £25 for a replacement, brand new second groundsheet as opposed to sending your tent off to be repaired (at your own cost which is likely to be significantly more than £25). In addition, it makes putting the tent up a little easier as you can clip the tent and its poles to the corners of the footprint that you have already laid out on the ground (it's a lot easier to position your tent by laying the groundsheet out than by erecting the tent and then moving it around. All in all, a very sensible buy and it doesn't add much to the weight of the overall package.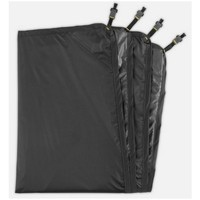 See review of Minibus 23 Tent here.
Reviewed by Matt Heason on behalf of planetFear