International Ocean Film Tour


The organisers of the 2014 European Outdoor Film Tour, Moving Adventures, are also bringing their latest show, the new International Ocean Film Tour, featuring 8 of the best water sports and environmental documentaries of the year, over to London for a special, one-night only show at Union Chapel on October 25th.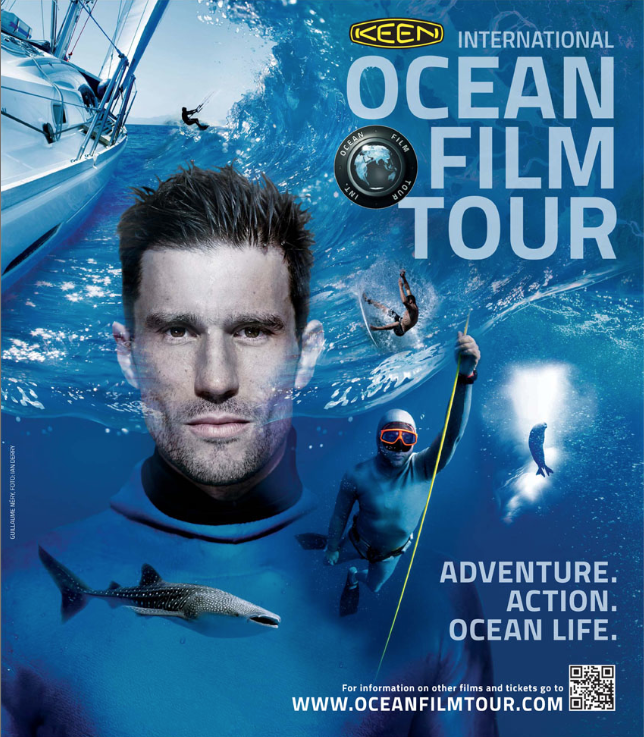 WATCH THE INTERNATIONAL OCEAN FILM TOUR TRAILER:
FILM PROGRAMME:
ATTENTION
FREEDIVING | Austria 2013 | 15 minutes
Attention - A Life in Extremes is based on the stories of three extraordinary men; it follows a wingsuit flyer (Halvor Angvik), a freediver (Guillaume Néry) and an extreme cyclist (Gerhard Gulewicz) in their ambitious struggle to reach the top in their field in the sports world. These are people, who stand out from the crowd by possessing special skills and extraordinary adventurism as they challenge accepted physical and mental limits. But what makes the heroes do this? In this special edit for the International Ocean Film Tour is the portrait of Guillaume Néry world class free diver who dives without oxygen equipment in the depths of the sea. More information on www.attentionalifeinextremes.com
MAIDENTRIP
SAILING | Director: Jillian Schlesinger | USA 2013 | 52 minutes
Born on a boat and raised in shipyards, Laura Dekker grew up with one dream: to sail around the world alone. At thirteen, her daring plot sparked resistance from Dutch authorities and a global storm of media scrutiny. A year later, she won the right to set sail. Now, far from land, family, and unwanted attention, Laura spends her pivotal teenage years exploring the world alone in search of freedom, adventure, and lost childhood dreams. Jillian Schlesinger's debut feature amplifies Laura's brave, defiant voice through a mix of Laura's own video and voice recordings at sea and intimate vérité footage from locations including the Galapagos Islands, French Polynesia, Australia, and South Africa.
LAST OCEAN
ENVIRONMENT | Director: Peter Young | New Zealand 2012 | 15 minutes
The Ross Sea Antarctica is the most pristine stretch of ocean on Earth. Scientists describe it as our last 'living laboratory', a place that can teach us about the workings of all marine ecosystems. But the fishing industry recently found its way to the Ross Sea, targeting Antarctic Toothfish and unless stopped, the natural balance of this unique ecosystem will be lost forever. The Last Ocean follows the race to protect the Ross Sea from our insatiable appetite for fish, and raises the simple ethical question: do we fish Earth's last untouched ocean or do we protect it?
RAY
DIVING | Director: Amanda Bluglass | UK 2011
Ray: A Life Underwater is an intimate portrait of an extraordinary man. 75-year-old former commercial diver Ray Ives has scoured the seabed for treasure his whole life, amassing an amazing hoard of scavenged artefacts. A rogue with an eye for the ladies - and anything which glitters, Ray reflects on his pioneering career in deep sea diving whilst tending his extraordinary collection of swords, cannon, bottles and coins. This award winning, life-affirming short by director Amanda Bluglass was shot in HD in and around Plymouth Sound, Devon, UK and explores the secret to his long and happy life.
THIS TIME TOMORROW
SURFING | Director: Taylor Steele | USA 2012 | 12 minutes
This Time Tomorrow documents an epic Pacific swell chase over 8 days and 18,000 miles travelled. Two surfers, Dave Rastovich and Craig Anderson, tracked waves generated from this single storm in an exhausting attempt to surf the same wave twice as they pulsed eastward through the Pacific. As these waves thundered across the legendary reef of Teahupo'o, reeled down the endless point breaks of Mexico and onwards towards a frosty Arctic conclusion the pair gathered friends Kelly Slater, Chris Del Moro, Alex Gray, and Dan Malloy for this cinematic and cosmic experience of a lifetime.
ANTANDROY
KITESURFING | France 2013 BandOriginale/F-one | 11 minutes
Madagascar was just a wave and some wind. Then the kiters arrived in the remote village of Lavanono and met the Antandroy, the people from the thorns. They shared their experience of kite surfing the most beautiful spots in the area with the village people and in turn the village opened their doors and invited in the travellers, sharing their customs and way of life.
ALTERED ROUTE
SKATEBOARDING | mb! joined forces with filmmaker Brett Novak | USA 2012 | 4 minutes
Kilian Martin has brought his own unique style of skateboarding to the masses through the thoughtful eye of Brett Novak. If you remember the days of Powell Peralta and Rodney Mullen, you'll appreciate Martin keeping that innovative style of skateboarding alive.
Read the interview with Kilian and Brett on mb! by Mercedes-Benz: mb.mercedes-benz.com/kilianmartin
STEP N' SOUL
SURF SHORT | Director: Toma Jablon | UK 2012 | 5 minutes
Step n' Soul is a short film that explores the synergy between jazz, surfing, dance and improvisation by capturing a series of surfing performances choreographed and synchronised to Wynton Marsalis Sunflowers track.
BUY TICKETS NOW ONLINE FOR THE INT'L OCEAN FILM TOUR One night only, Saturday 25th October, Union Chapel London
Venue

Union Chapel, London