Tim Emmett Lecture - London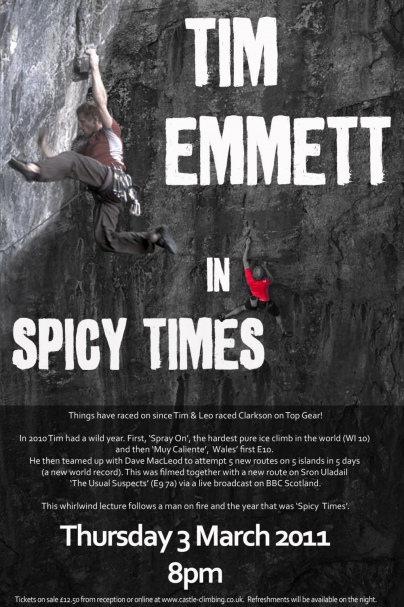 Thursday 3 March 2011 – Tim Emmett
Lecture: 'Spicy Times' by Tim Emmett (Duration: 90mins)
Things have raced on since Tim and Leo raced Clarkson on Top Gear! In 2010 Tim had a wild year. First 'Spray On', the hardest pure ice climb
in the world (WI 10) and then 'Muy Caliente', Wales' first E10. He then teamed up with Dave MacLeod to attempt 5 new routes on 5 islands in 5 days (a new world record). This was filmed together with a new route on Sron Uladail 'The Usual Suspects' (E9 7a) via a live broadcast on BBC Scotland. This whirlwind lecture follows a man on fire and the year that was 'Spicy Times'.
8pm start Introductory short.
8.30pm Main event! Tim Emmett lecture.
Refreshments will be available on the night.
£12.50 per ticket or £30 offer for all 3 lectures available to purchase here: http://www.castle-climbing.co.uk
Venue

The Castle Climbing Centre