Kids Escape Pants - VAUDE
Kids waterproof trousers come and go in our family pretty quickly. When they were younger we bought pair after pair of cheap, thin, no-frills versions for a few quid. They'd last a few months before being ripped apart as they were subjected to sliding down hillsides and climbing up trees. They weren't waterproof as such, but did offer an extra layer of protection against wind, rain and mud. For a proper walk in the hills though they were pretty woeful.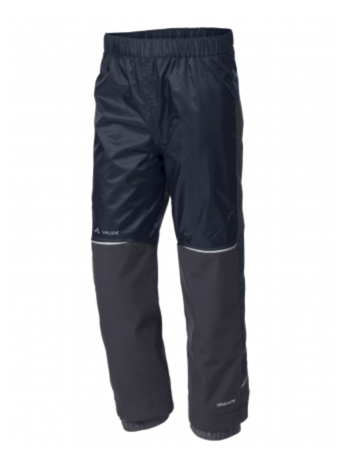 As walks in the hills begin to become more frequent and longer, a more permanent solution was needed. Enter the Kids Escape Pants from VAUDE. They feature two layers, not one, and are reinforced on the seat and the knees meaning they are definitely longer lasting. The material is both waterproof and windproof, and the double layering adds a little extra warmth to boot. VAUDE are very good on the sustainability front, and offer an adjustable waistline as many kids clothes do, allowing the trousers to grow with your kid. On that front, the chemicals used to waterproof the material do not use harmful flurocarbons (check out their Eco Finish write up on their website for more information). There are no pockets which I can live with, but the main omission that frustrates me is the lack of zip at the ankles meaning that they won't go on / off over a pair of boots or wellies. On the plus side, there's an elasticated gaiter built in to stop snow from entering your kids' shoes. They also have reflective piping and print, and a decent sized name tag that you can write on.

Waterproof trousers are never going to excite your kids, but they look reasonable enough. Ours are navy blue and grey. They weigh 221gm and retail at £57. More information on the VAUDE website.