On our honeymoon in India many years ago my wife and I spent a memorable couple of hours in a hot and dusty market somewhere in Rajasthan buying a set of aluminium cooking pots which we have used ever since as camping billies. They are not light weight, but they are big, and the four of the nest together nicely. They've done us well over the years, but they are not practical for any sort of camping that requires an lightweight approach.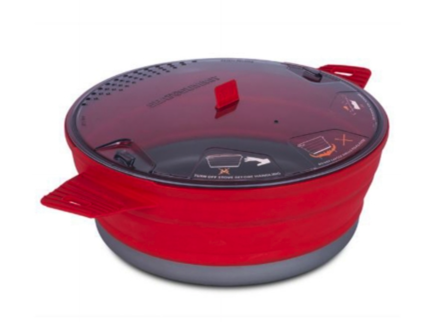 Enter the X-Poit 4l from Sea To Summit. Silicone cook-ware has been around for a while but it's only recently that it's made a big impact on the word of camping. The X-Pot is essentially a solid aluminium base, around the depth of a shallow frying pan, that is fused to a collapsible silicone side wall. It packs down to around a quarter of its usual height meaning that it goes into a pack much more easily than a usual billy, and weighs a measly 510g. It also comes in a 1.4l (250g) and 2.8 (285g) variant.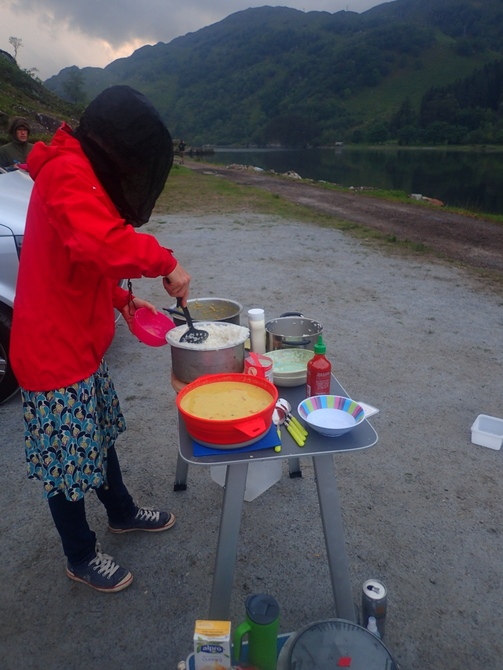 In use on a recent trip to midday Scotland. Note the two 17 year old Indian aluminium billies. Hope this one lasts as long! In case you are interested, that was a lovely, but very runny, Thai curry - there was no danger of the sides deforming and resulting in a nasty mess. The pan holds up very well with liquid as well as thicker stuff.

The wall pops up more easily than it is pressed down, but neither is particularly taxing. There's a flexible steel band inside the rim which means that it doesn't feel floppy when in use. There's a plastic lid which locks into place with two folding silicone tabs, and a built in strainer. Locking the lid means no more accidentally pouring your pasta into the ditch whilst draining it! Inside the pan are some volume markings which is a nice touch.

It retails at around £50 which is by no means cheap, but it's a very neat bit of kit which is the product of some clever engineering, and it's very well made.

More info on the Sea To Summit Website.