Power Traveller Extreme Solar Powered Charger
powertraveller are a brand name I recognise who have helped produce a decent competitive range of solar powered kit available for the average outdoor user. The 'Extreme' kit - actually titled the 'Waterproof Rugged Solar Powered Charger Extreme' is their top of the range bundle and features a folding 5W solar panel and a 12,000mAh battery pack along with a host of cables.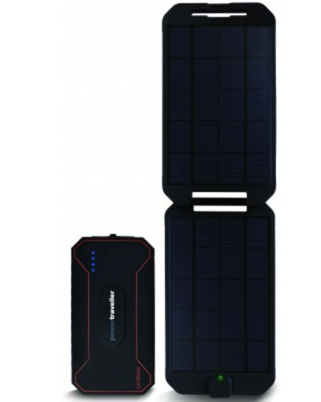 The panel measures 201mm X 114mm X 16 when folded and weighs 289g. It is a rigid moulded plastic construction which fold to protect the solar panels themselves on the inside. It folds out to double the size, but half the thickness, and features a couple of slots for the included Velcro strap (used to fix it to your rucksack or pannier) and a rubber-capped USB socket for connecting to your appliances. As it says in the description the panel is waterproof, though in use in inclement weather I have opted to keep the USB slot protected when there's a cable plugged in. The panel doesn't have any power storage facility so it can only be used to collect power for plugged in devices. There is an LED built in which confirms that it is drawing power from the sun when connected. It feels very robust and is small enough t slip into a rucksack easily enough.

So how good is it at actually charging? When the conditions are good it's very good. On a sunny British day in November it charged a 2,600mAh battery (I use this for testing as it has a percentage power indicator) in 4 hours. In Croatia in October it took more like 2 hours for the same charge. However, tested on a cloudy day with no sun and intermittent rain (in the UK in November) it gave a negligible charge (2% of the battery over a full day).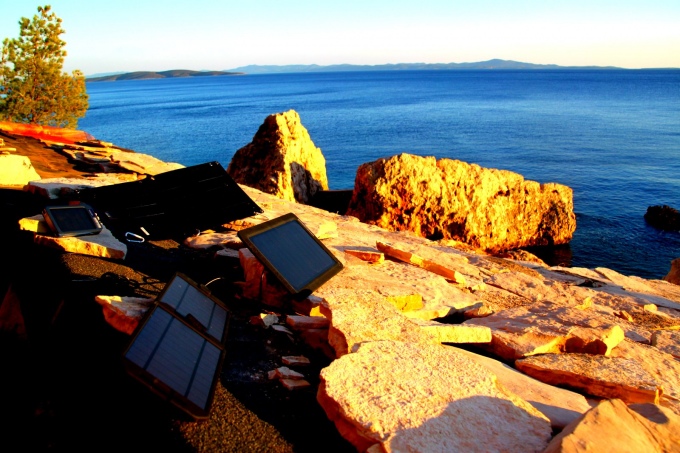 No electricity at www.cliffbase.com in Croatia so there were a bunch of chargers in use. The powertraveller Extreme can be seen closest to the camera.

The power pack / battery that it comes with is smaller and a little lighter. It's 136mm X 72mm X 30mm, weighing 274g. It features a single rubberised power button and a rubber-stopped connection panel with three sockets: A USB-C, a DC 12V, and a standard USB. When fully charged the battery will charge anything that you can connect to it via USB. In order to find out how much charge it has there are a series of 4 blue LEDs which light up when you turn it on (4 = 4 100%, 1 = 1 25% etc). The blurb says it will do an SLR camera 2-5 times, a tablet twice, a smartphone 3-5 times, and a smart watch 22-22 times. Obviously this will depend on the rating of the battery in the device, but I have found it to be good as stated so far running an iPad or an iPhone 6S off it. It comes with a series of connecting cables including a female cigarette lighter socket which connects to the DC 12V socket and is good for more power-hungry devices. It also has a USB-C cable and adapter which works both ways and makes it relatively future-proof as we see more and more devices with the faster connection as standard. It's rugged, and though it's billed as waterproof I would not immerse it as the rubber cap on the sockets panel is not tight fitting enough. It's a pretty versatile piece of kit, and made to last.

It retails at £140.

More info on the powertraveller website.