Multitool: Leatherman Supertool 300
Over the years I've owned a multitude of penknives and multitools, all based firmly around the lower end of the market. I recall buying one 'leatherman' style tool from a market as a teenager and being quite chuffed that it only cost me £4.99. Imagine my surprise when a few weeks later the pliers bent whilst cutting my nails. OK, I'm exaggerating, but there's an element of truth in there. I think that the allure of buying cheap imitation Leathermen is the down to the fact that the real ones are so pricey. Retailing at £89.95 the Supertool 300 is a chunky bit of kit and comes at a chunky price (I've seen it on-line for under £75).
I've had the SUpertool now for about 2 months and in that time used it more times than all of the cheaper tools that I have had in the last 20 years! It's not bent, or blunted in that time. In fact it's actually started to replace my toolbox as the item of choice that I start a job around the house with.
As to the actual workings of the device, anybody familiar with a pocket knife will be able to work it. The various tools on offer fold out from inside one of the two handles, which in turn make the now-famous Leatherman Pliers (as good as any in my tool box). It can be a little fiddly to get your thumb nail under the catch to pull out some of the smaller tools, but none have required the use of a second tool as has been the case with other models. See the press release below for a list of the actual tools included.
I wouldn't go as far as saying that I would wear it on my belt just yet, but it gets a giant thumbs up from me. To top things off it has a whopping 25 year guarantee.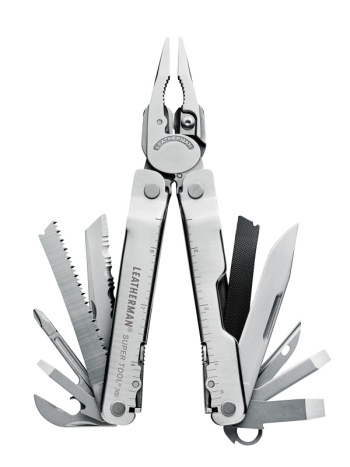 Below is the official press release issued with the tool:
Leatherman, the world's leading name in multitools has launched another Supertool to it's extensive collection of premium quality tools, The Supertool 300. This new design combines the durability and versatility of around 19 different tools in one sturdy hardwearing design.
The Supertool 300 is a serious tool to use on a multitude of tasks no matter how hard core. The tool is designed with the benefit of larger, stronger pliers. These pliers are the strongest that have ever been produced and provide more power to put some serious torque on the toughest and most demanding jobs. The sloped-top handle design means greater maneuverability into tight spaces more than any other tool that has ever been manufactured.
As with all Leatherman tools, the Supertool 300 comes with a number of key features including:-
Needlenose Pliers
Regular Pliers
Wire Cutters
Hard-Wire Cutters
Stranded-Wire Cutters
Electrical Crimper
420HC Knife
420HC Serrated Knife
Wood/Metal File
Saw
5/16" Screwdriver
7/32" Screwdriver
1/8" Screwdriver
Phillips Screwdriver
Awl w/Thread Loop
Ruler (9 inches/22 cm)
Bottle Opener
Can Opener
Wire Stripper
Lanyard Ring
Length: 4.5 in | 11.43 cm
Weight: 10.1 oz I 286 g
25 Year Warranty
In addition, the Supertool 300 comes with new Intuitive Comfort Grip Handle. These rolled handle edges provide superior comfort in the hand, even when the task calls for full exertion. Large cut outs on the side of the handle makes it easy to get tricky or fiddly components out, even with protective gloves on!
The Supertool 300 also includes 3 wire cutters with stranded, hard and regular cutters all as standard on this new tool. Removable wire cutter inserts allow for repair or re-sharpening on the spot with the tool's file, considerably reducing the time it takes to complete a task. Additional wire cutter inserts, screws and adjustment screwdriver for replacement, are available and sold separately.
The Supertool 300 retails at £89.95 and is available nationwide.