Headtorch: Silva X-Trail Plus
A few weeks ago I reviewed the LED Lenser P7 hand-held torch. I then blogged about it when I took delivery of this lovely new headtorch from Silva.
I've since managed a number of night runs with both devices and come to the conclusion that it is best to run with both together. You can read about the pros and cons of a hand-held torch in the two links above. Now let me tell you about this head torch.
It retails at £179.99 (though I have seen it online for £116.99) which is an awful lot of money to spend on a head torch. So what do you get for your money? Design for one thing. It is a very, very sleek torch and has clearly been very well thought out. The light itself is housed within a cylindrical plastic casing which swivels so that you can easily adjust it to point down at your feet, straight in front of you, or up into the sky. Obviously you can choose to look into any of these places and light them up with a small movement of your head, but it is nonetheless useful to be able to set the position for a given terrain, ambient light condition etc. Importantly it stays where you set it regardless of the roughness of the terrain and doesn't shake loose. It's easy enough to twist it with gloved hands. The button to turn it on and off is an inset push button in the end of the cylinder. Multiple clicks give you different levels of light, and holding the button in for a few seconds turns the unit off. Because it is inset it is hard to accidentally turn it on in your bag. One really neat feature is that every time you turn it off a little led in the light glows for a few seconds. If it glows green then you know that you have plenty of juice left in the battery for another run. If it glows red then you need to re-charge before your next use. Brilliant.
Which brings me on to the battery. Here is the next bit of kit that you are paying for. The two 2.2Ah re-chargeable Li-Ion batteries are integral to the lamp and can be charged via a mains charger that comes with it. Charge time is 2 hours which is pretty quick, but the impressive bit is the run time. I gave up on standard re-chargeable batteries a few years ago as I was forever frustrated by a) their lack of staying power, and b) the fact that they seemed to lose their charge within a week or so of being charged. The X-Trail Plus, so far, suffers from neither issue.
Clearly the most important consideration is the light. At 145 Lumens it's not the brightest headtorch on the market (Silva actually do the Alpha6 which weighs in at a car-dazzling 500 Lumens!), but it is sufficient. Just. In my opening couple of paragraphs I said that it is best used in conjunction with my hand held. Well, another 65 lumens and we'd have been cooking on gaz so to speak. On its own the X-Trail Plus is perfectly adequate at 145 lumens, but with so many brighter torches available it's hard to see why the big jump from this to the Alpha range. Brightness aside what I did really like was the intelligent light setup. Basically what this means is that there are three bulbs - a high power one to give you your front light, and two wide angle ones to give you your peripheral light. I guess it's a bit like looking through a fancy camera with both a zoom lens on and a wide angle! It basically means that you don't need to move your head as much to clock what's going on just outside of your tunnel vision - really useful when running through dense undergrowth and trees.
What else is worth mentioning. Clearly designed as a multi-sport torch it comes with both a head-strap and mounting, a helmet bracket and a handle bar mount. The cylindrical light itself can be removed swapped from one to the other in seconds depending on your chosen activity. The battery pack is connected up via a waterproof cable and coupling. It is housed in a neoprene wallet with a decent Velcro strap that can be lengthened to fix it underneath your cross bar, or shortened to fix to a belt, rucksack strap or even the head-strap itself (though by doing this you do have to tuck the long cable under the strap to avoid it dangling - it would have been useful to have a shorter version of the cable to use in this instance, but then I guess that would have upped the price some more.
All in all a very good torch that is so far living up to its price-tag, but would have been perfect with just a few more lumens of brightness.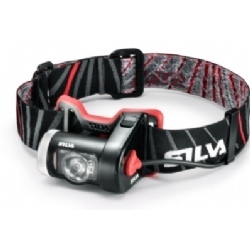 Here's the official blurb:
Weight: 215g (including batteries)
Dimensions: 75 x 52 x 45mm
Bulb Type: 1 high power LED, 2 wide angle LEDs
Batteries: 2.2Ah Li-Ion
Run Time: 45h
Charge Time: 2h
Light Distance: 75m
Lumens: 145