Guidebook: Parisellas Cave - Ground Up Productions
Situated on the picturesque Marine drive, right next to the popular tourist town of Llandudno Parisella's is regarded as one of, if not the premiere hard bouldering venues in the British Isles, so it's about time that an up-to-date topo was produced. Affectionately referred to as "The Cave of Justice" or 'the Cave' is a relatively small chunk of limestone, but when it comes to hard problems it hosts to an embarrassment of riches.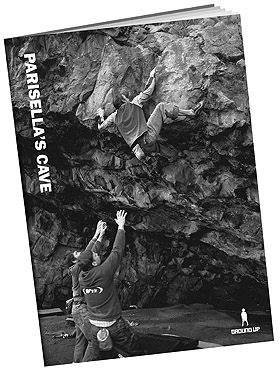 With the increased popularity of bouldering in the past decade, coupled with the cave's wonderfully convenient road-side location and wonderful views across the North Wales coastline, it's no surprise that Parisalla's has attracted many top climbers, from far and wide, vying for coveted first ascents or repeats of any number of fantastic problems which have deservedly attained classic status.
Apart from the topo, all the photos are in black and white. Whilst this 'moody' look is understandably popular with bouldering photos, one or two colour ones wouldn't have gone amiss. Fortunately, where it really counts, the photo topos are in full colour, making them easy to decipher. Each problem also has its own description to go with the line in the topo, meaning that even the most inexperienced boulderer should be able to get the gist. Topos and descriptions two popular and worthwhile areas either side of the cave, Split Infinity and Breck Road are also included in the guide.
Even the most ardant of cave devotees are catered for, with plenty of entertaining local link-ups and eliminates also receiving attention.

Quite simply, whoever you are, if you're planning a visit to the cave you'd be hard pushed to find a better way to part with £4.95 than buying the guide - enough said!
Reviewed by Ben Heason