Raidlight Ultra Olmo 12 Hydration Rucksack
In a recent review for some Inov-8 shoes I mentioned an upcoming mountain marathon in the Pyrenees that I had been training for.
Just as my runs started to really pick up in distance, to the extent that I definitely wanted to be carrying water, energy and a few other essentials I got this pack to review.
In short, it has been brilliant, both for training and during the race.
Probably the best thing, and this is not exclusive to this pack, is having the bottles on your chest means you drink plenty. In fact, I get through more than I'd expect on almost every run as it's so easy to take a regular sip; even easier than with a hydration bladder system as you are fighting gravity less (the liquid is higher). I think the Raidlight bottle design can take a lot of this credit as they have tubes that are just the right length and one way valves to let air into the bottle as liquid leaves, meaning sucking doesn't get any harder on big slurps.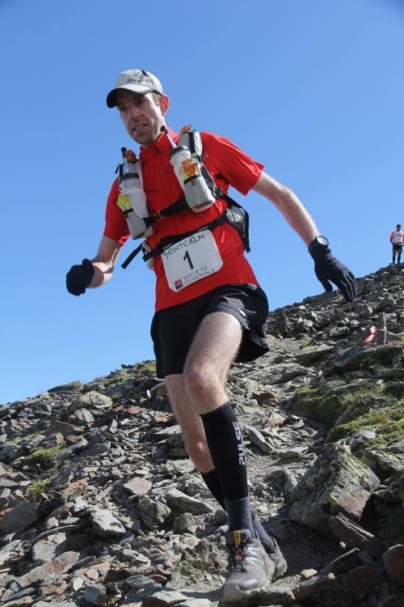 Right from the off I have found the pack to be comfortable on my back and shoulders. The only issue I have had is some interference of the bottle bases and my heart rate monitor strap, causing a bit of minor bruising after a few hours of running. My HR strap is one of the older chunky plastic designs so this may not be a problem with the newer 'comfort' straps. It's obviously not so bad as I've not bothered getting around to buying a new strap still.
The fit is very body hugging and it sits high on your back and feels a bit waistcoat like rather than a rucksack. There is heaps of space in the back for spare layers, emergency kit and food. I've not come close to filling it yet and have never felt stuff bouncing around even when the compression cord is not too tightly pulled. I guess as winter comes along I might start to get closer to capacity but there seems to be plenty of space for day long runs.
As well as a decent size main body it's well endowed with pockets too for easy access whilst on the move. I really like the tight elastic ones where the bottles sit for gels – they feel really secure. Then there is a zip waist pocket one side which is perfect for a compact camera or phone and an elastic trimmed one the other side which is ideal for empty gel wrappers etc.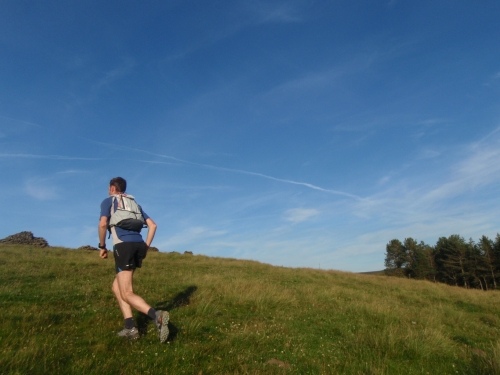 The waist strap can feel a tad high when you first put it on but it doesn't cause problems when running. It has caused some issues with pulling threads on several of my technical tops where the stitching for the gel loops has caught. I finally solved this by running the rather long free end of the strap behind the main strap so the threads can't contact the t-shirt. For me I'd prefer a plain belt as I've not needed the gel loops there – in fact they don't seem quite the right size to be secure either. It does have sturdy race number tabs which is a nice touch.
The chest strap is an integral part of the hugging fit and holds the bottle securely in place and has a whistle in the buckle too. I'm disappointed if I don't have one of these nowadays!
One thing that might bother some people is the noise. Water sloshing in bottles on your chest can be quite noisy! I've recorded a short video to try and show what it is like. Friends running with me have commented so it's obviously noticeable but I've got used to it and am quite happy running for hours with the sloshing going on.
All in, a great pack for longer runs where you need water and additional items, I wouldn't hesitate to recommend it.

See full product details on the product website.
Reviewed by Steve Hodges