Scottish Sea Kayaking Trip Report
It's often said that the west coast of Scotland, without midges, and in good weather, is as good as it gets. May half term does its best each year to prove this point. 2012 Arisaig - sunny and with a light breeze to keep the midges at bay, 2013 Mull - the odd passing shower, but otherwise blue skies and barely a midge to be seen, 2014 Mull again - and more of the same, 2015 Skye - the anomaly to prove all anomalies with wall to wall torrential rain, but 2016 Knoydart won best in show - not a drop of rain, buckets of sun and very few midges.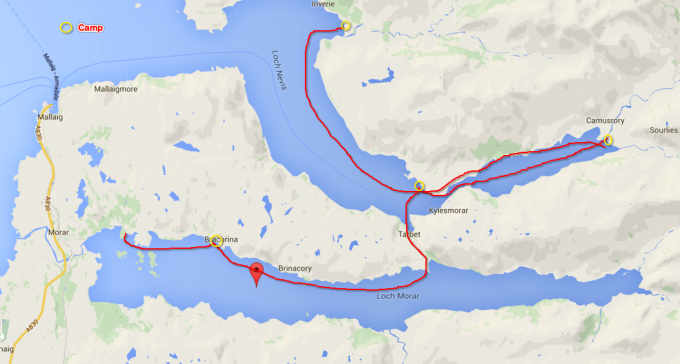 Our route and camps.
The trip came about thanks to a chance happening many years earlier when, on a day trip to Inverie (Knoydart) from Mallaig I'd opted to hop off the ferry between the two at Tarbet and walk back along the shore of Loch Morar to be picked up at the road head by the rest of our party. Loch Morar is not only the UKs deepest lake, but also boats the shortest river linking it to the sea. Over the years of Scottish trips we've accumulated inflatable kayaks, buoyancy aids, and all manner of sea-faring kit so out came the maps and emails were exchanged. In very little time at all the usual crew were all on board, we had confirmation from the friendly rangers at Inverie that not only was the proposed journey possible but that we didn't even need to book the campsite on Long Beach for our eventual arrival, and that the ferry would, for a small fee, drop off a re-supply for us at a pre-arranged date. We soon realised that not only did we need a reasonable amount of new kit to supplement what we already had, but that most of our inflatable craft were unsuitable for proper load carrying thanks to the fat inflatable tubes. Over the space of a couple of weeks we soon rectified both shortcomings, the first pretty much thanks to the ever accommodating Decathlon store in Sheffield, and the second thanks to eBay! Kit bought, begged and borrowed, that left us with provisioning for 20 people for a week. The dehydrator worked overtime for a solid week reducing a dozen pans of chilli, bolognaise and stew into packable and lightweight zip-lock bags. Milk powder was premixed with oats, and we sourced a giant bag of ready-mixed pancake deliciousness.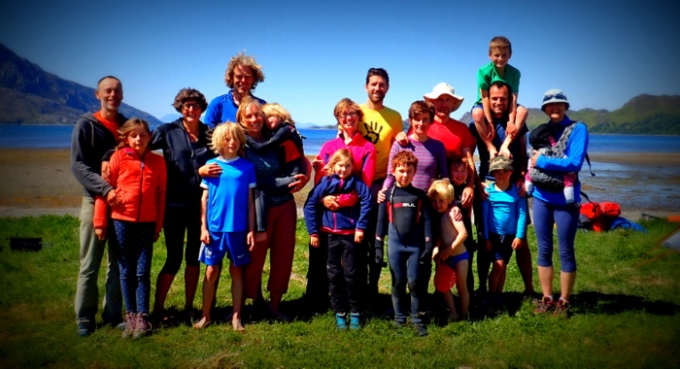 The team.
The school bell signified the beginning of a very special trip. 5 families, all from the same village. 10 kids, aged 6 months to 9 years old, and a dog. We picked our eBay purchase up in Ambleside - a 5.5m plastic tandem kayak with twin cockpits and a rudder! Neil and Jane picked theirs up from Edinburgh! Like every well oiled plan we met at a lay by on the road down Glen Etive to share a whisky before bed. A quick dip in the amazing Etive pools in the morning followed by a last minute stop off in Fort William for missing bits and pieces and more whisky saw us unloading a literal mountain of kit on the shores of Loch Morar just after lunch on the Saturday. Spent a predictably long time bagging and packing everything into the boats as the kids messed in the shallows and skimmed stones. We pushed off around 3pm, two of the adults walking with the dog and the 6 month old, the rest (8 adults and 9 kids) in an assortment of 5 boats - our plastic tandem (a Necky Amaruk), an inflatable Advanced Elements tandem with twin cockpits, two plastic Perception Horizon family boats with single, large open cockpits, and an open Canadian.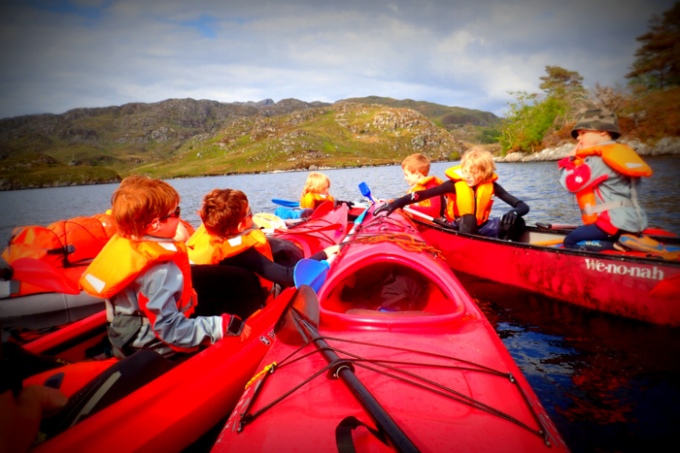 Setting off.
The first afternoon was literally spent getting a feel for things - living in the very centre of the country we don't get much opportunity to practice - balancing loads, finding comfortable paddling positions, tweaking pedals and learning to use a rudder. With excited kids and a short day we spent a few hours island hopping before making camp on a stunning shingle beach at Bracorina, distance paddled about 3 or 4 miles max. It's hard to describe the feeling of pulling your boat up onto the beach for the first time. It's something I had been dreaming of doing for decades, literally. It was on a par with the best lake-side Alpine wild camps I've made. The feeling of total self sufficiency, of building a home for the night, of creating a fire, of cooking your food and making your entertainment. At around 9pm, still full daylight, the on-shore breeze dropped for an hour before switching direction as the land, warmed by the day's sun, cooled down. The midges, always there in the bracken and heather, came out for a snack for that hour, but were relatively friendly by Scottish standards. Some of us donned head nets, whilst others simply put up with them for a while as you would a tired toddler before bed. Kids in bed, midges gone too, fire blazing and whisky being passed around it was time for a midnight swim. Proper memories that will last forever (my motto: you never, ever regret a wild swim).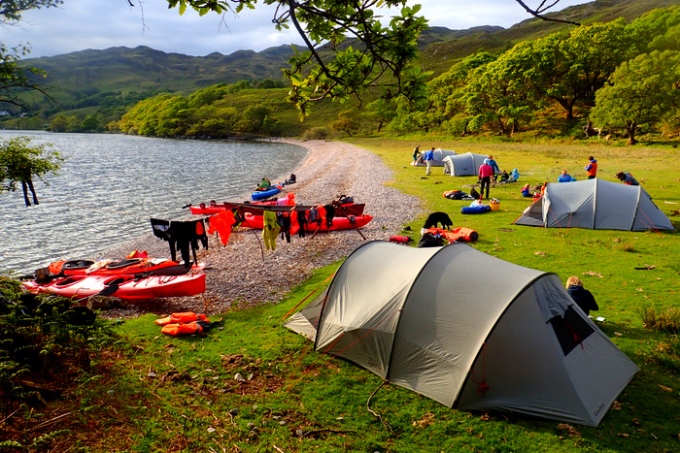 Our first bach camp.
Next morning was every bit as good as I'd dreamed it would be. Woke in the tents to the sun shining. Un-clipped the end wall to take in the sea view as the family came around, before getting the fire going again and starting tea and porridge for 20.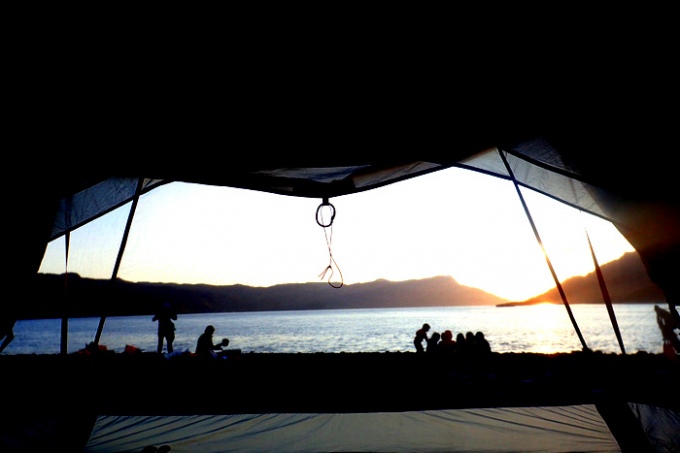 Tent view.
We'd deliberately planned the trip so as to have plenty of time in hand and not be rushing the kids from pillar to post, so took our time re-packing the boats. When they were ready we literally slid them down the steep shingle beach back into the water and were away.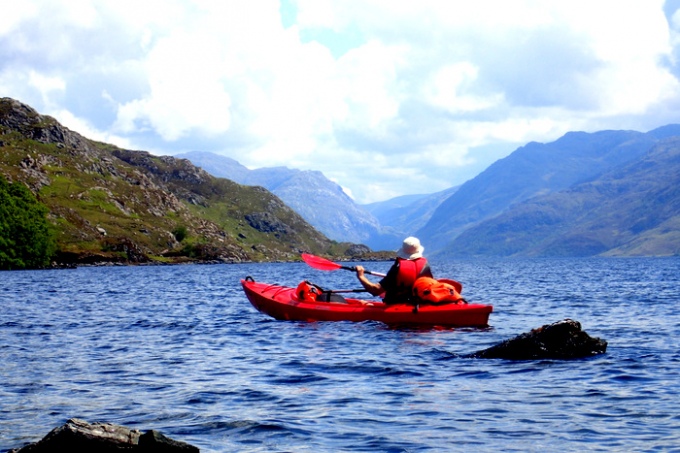 Heading inland
Spent a couple of hours heading further inland, stopping on another idyllic beach for lunch. Arrived then at one of the most beautiful little harbours ever, a rickety old wooden jetty and small sheltered bay, shaded by ancient oaks, and soaking up the afternoon sun.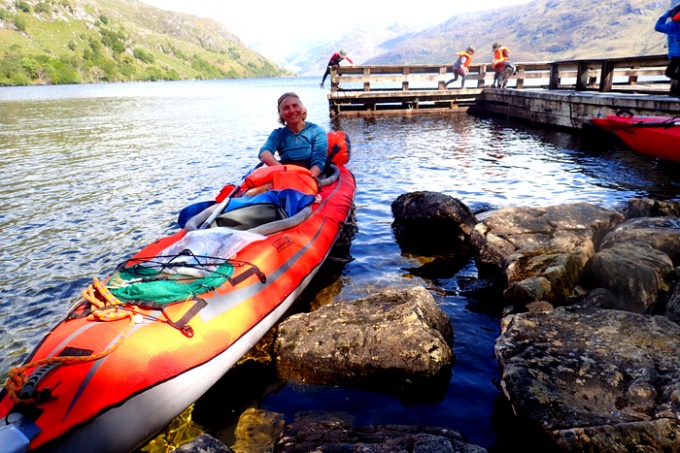 Portage time.
Out of the boats, and unload them onto the shore ready for the big portage. With six boats and only 3 sets of portable wheels it took a while, but with plenty of hands and plenty of time, the 1km four wheel drive track over the col to Tarbet was completed without too much bother.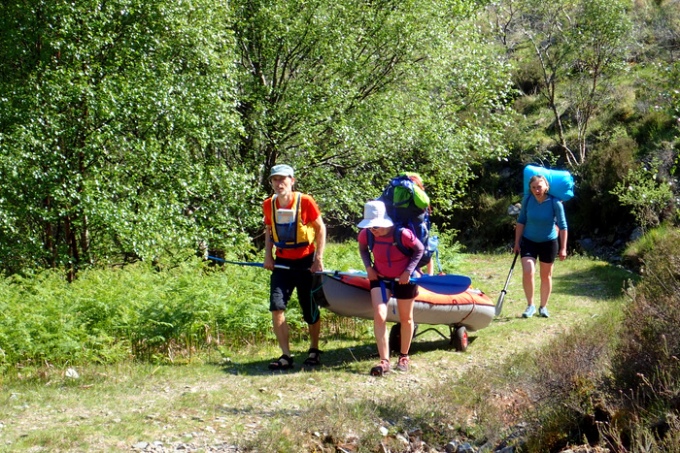 All hands off-deck
We camped our second night on another beach a short paddle from the pier, but over the other side of the narrowing of the inlet. It was another fine beach with driftwood galore, and a water source a short walk away. Plenty of ticks in the long grass, but once you knew to keep checking your legs it was possible to get rid of most of them by simply brushing them off. Those that latched on were soon removed with some plastic tick tweezers.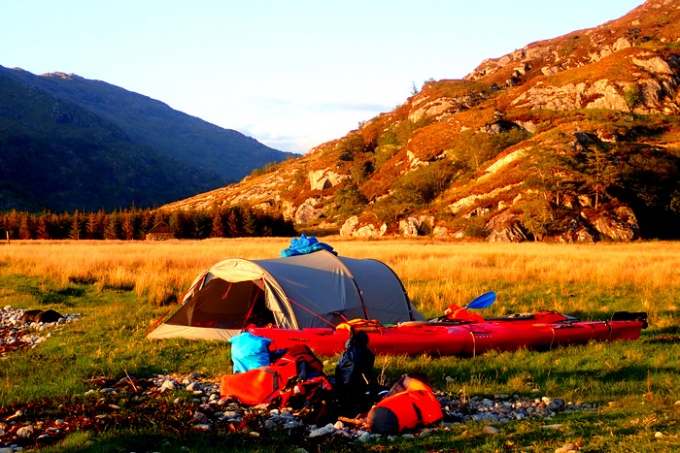 Amazing campsite.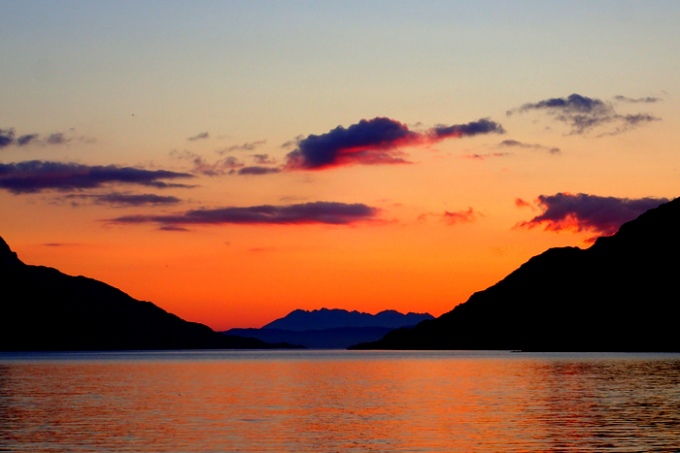 One of the reasons we do it.
Another leisurely start to the day before we headed east towards Camusrory Bay. We pulled up a couple of lobster pots for a quick peek at the elusive creatures, but both were empty. Really deep loch though, with well over 50m of rope to haul in which is no easy feat whilst in a kayak! Half way there we spied a small waterfall a hundred yards in-shore so stopped for an explore. It was a magical series of tumbling falls and water worn pools. The water was warm and we spent a couple of hours exploring and swimming. So nice to have the time to be spontaneous.
Fair pools.
Another fifteen minutes of paddling and we were stopped again, this time for some diving action off a rocky island.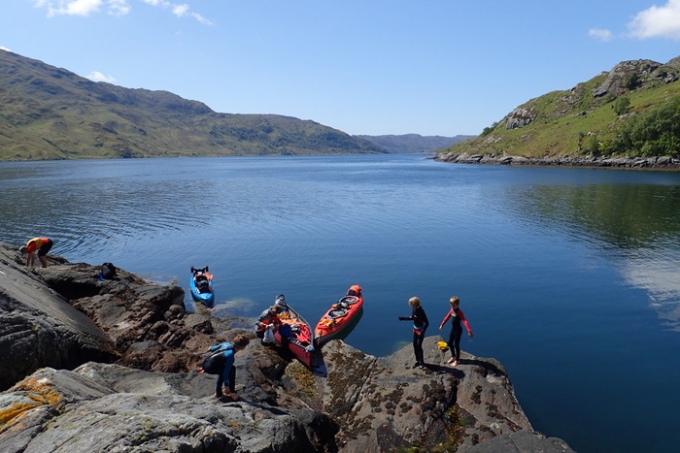 Diving rocks.
A couple of passing kayakers - interestingly the only ones we saw all week on the sea - stopped for a chat before we pushed on another 45minutes to the end of the bay and our best beach spot yet. Camusrory Bay feel remote. No roads, no powerlines, just a small bothy tucked away at one end.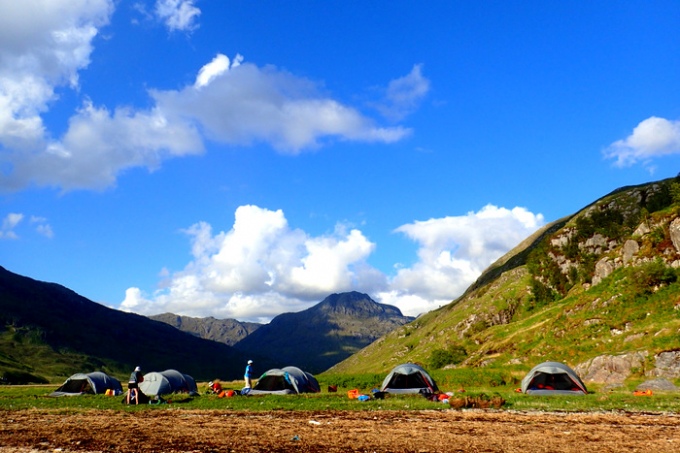 Another stunning camp.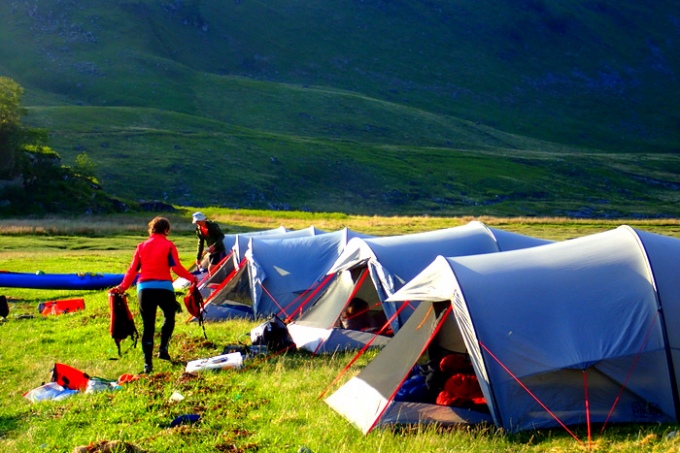 A very popular tent, perfect for a family of four, weighing only 3.5kg,
The kids made the usual fire whist we made camp, rigged drying lines, and prepared tea.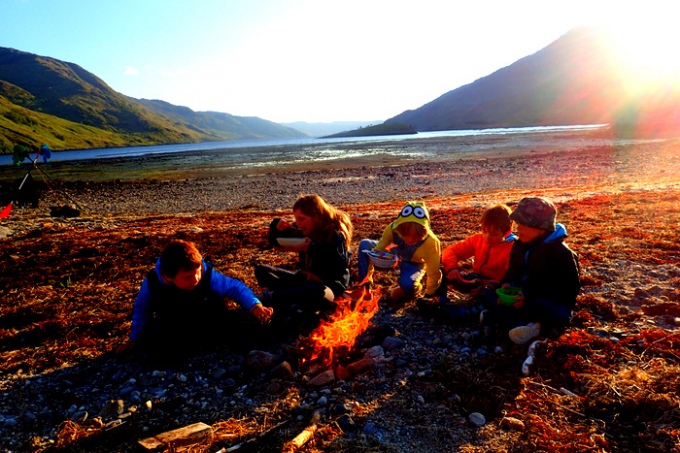 Beach life.
After games and marshmallows we sat up with the whiskey chewing the fat as two deer walked along the beach in the moonlight, aware of us, but not really afraid.
The following morning some of us woke early for a meaty run before the long kayak out. The kayak in the previous day had been leading us inexorably towards the amazing looking rocky, conical shaped Munro Sgurr na Ciche. The previous evening we'd confidently assessed that we could ascend and descend it in 2 hours. 2 hours into the run, and still some way short of the summit, we headed back, a little frustrated at our choice of route, but having had an amazing run in the mountains. We arrived back to help strike camp and paddle to Inverie.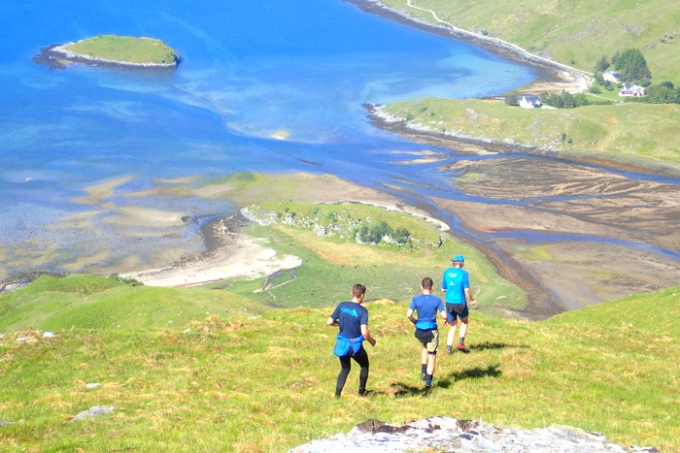 Running back to camp too head off for Inverie.
Three of the adults took the kids over land on foot, figuring that a long kayak, potentially into the wind, may put them off for life. As we were about to leave the beach a couple of walkers, who we'd seen on our run, arrived. We offered them space in our canoes, which they readily accepted, headed as they were, to the same place we were. Turns out they were experienced paddlers and helped no end as the wind did indeed pick up and batter us for the latter half of the journey. It took us around 4 hours to get the 15km to Inverie, but we made it in the nick of time to collect our resupply from the ferry.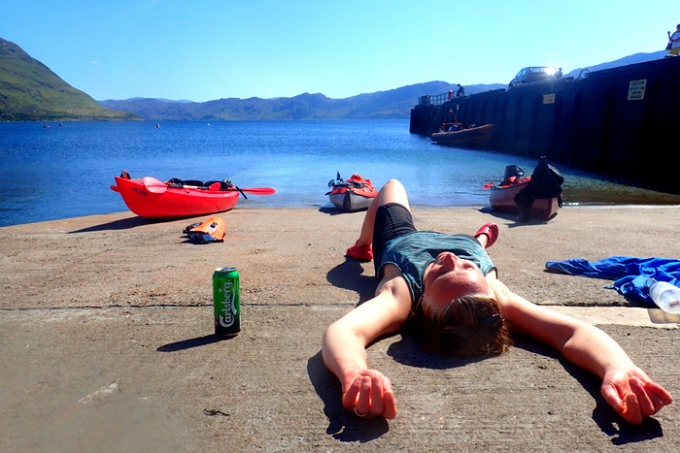 a few hours later...
Resupply collected, and expensive beer from the grumpy Old Forge Pub consumed, and we headed back along the coast for a mile to what must be one of the world's best campsites. Long Beach is just that, with a flat grassy strip with space for 50 or so tents, some great fire pits and log seats, a super-deluxe composting toilet, and not much else. Such is its remoteness that there is no need to book it as you can only reach it on foot or by kayak. The kids eventually arrived, but we had to walk / run around 4 miles towards the mountain pass they were crossing, to lend moral support and get them back to camp in time for tea. 9 hours they were on the go for…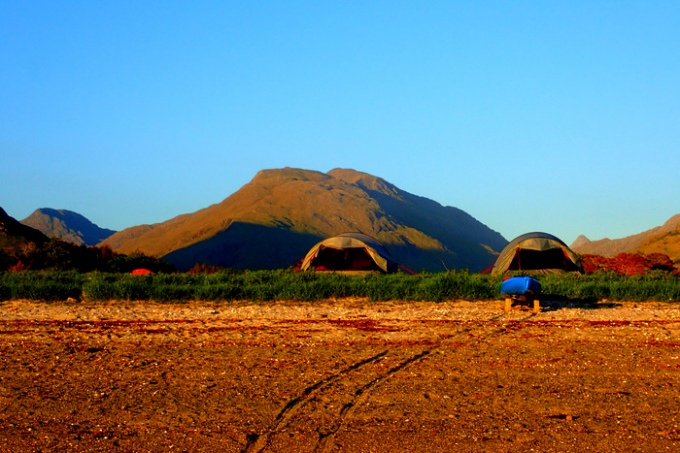 Long Beach campsite. Perfection.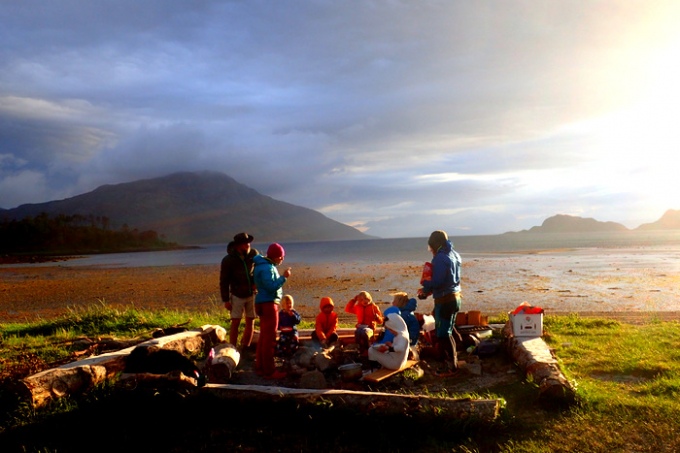 Alfie's birthday

We spent the next three days there, exploring inland, beach combing, antler collecting, and generally living fairly off the grid. Inverie is a small village with basic amenities including an entrepreneurial snack van servicing the campsite and bunkhouse, but we stayed well clear of the pub, dismayed at the new Belgian owner's flagrant disregard for any semblance of politeness or customer service.
The weather was amazing - not a drop of rain, our only consideration being the wind and tide. We did lose one of our kayaks one night as inexperience led to one of them being left inches below the high tide mark. By some amazing stroke of good luck the morning ferry spotted it 2 miles off shore, picked it up, and delivered it back to the quay where we had to make a walk of shame to collect it from. Lesson learned. The day before our departure the wind picked up to the extent that paddling back to Mallaig would have been literally impossible, so we booked onto the ferry for the following morning. Of course it turned out flat calm and would have been a delightful circuit to complete, but in actual fact, loading our boats and mountain of kit onto the ferry was a thoroughly enjoyable experience too. I've caught quite a few CalMac ferries over the years and have always, always, been thoroughly impressed by the friendliness of the crews.
Back in Mallaig we picked up fish and chips before hot tailing it back to Glen Nevis for more amazing swimming in the glorious sunny afternoon, and then the long haul south down the M6. An amazing trip and one which we will model others on in the future for sure.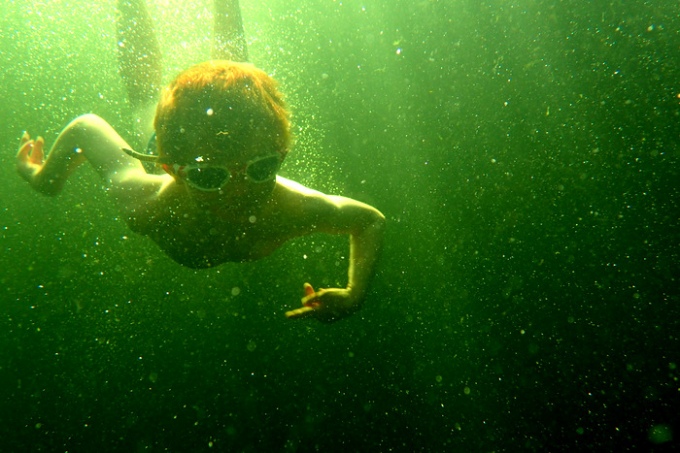 Glen Etive wild swimming.
Useful bits of kit:
Bought a set of heavy duty grip-top plastic bags before going which proved excellent for storing everything from mobile phones to food and books. These were the ones we bought.A
4litre waterproof screw-top container was super useful. Got this from Decathlon and it lived underneath my spraydeck between my legs. It was a lot easier to access quickly than any of the dry-bags, and was 100% dry inside.
The kayaks themselves. Our inflatable I've already reviewed in the past. This trip was the most adventurous thing we have done in it to date and it performed pretty much as well as the plastic boats. Much, much better than the Seveylor boats from Decathlon which are great for messing around in, but slow to travel any real distance. The main issue with the Advanced Elements kayak, and with the other inflatable options, is the lack of storage space thanks to the fat walls. Virtually all of our food went into the plastic boat which was a Necky Amurak. 5.5m long, 40kg, but with 190l of storage space in the two compartments.
Also took a roll of heavy duty bin liners which worked well to line the canoe compartments with and were a little more flexible than official dry bags.
A lightweight buoyancy aid with a mesh chest pocket meant that I could keep my waterproof compact camera to hand.
A waterproof compact camera. I've raved on about this one long enough now that at least half a dozen people I know have bought one and been just as happy with it.
Lightweight kit. Over the past few years we've collected a decent set of lightweight kit and it really, really helps to make trips like this more enjoyable and less tiring. Heer are some of the bits that I've reviewed:
Tent - Quickhiker Ultralight 4
Mattresses - Thermarest Neo Air XLite
Mattress - Alpkit Numo
Sleeping Bag - Rab Neutrino 400
Stove - Primus Eta Power
Not exactly something that we took with us, but we had a marathon effort in the week before going where we made enough food for 20 people for 3 days, and dried it all with an Exaclibur dehydrator. This worked really, really well, and meant that as long as we could find water then we could eat well without carrying packaging, and minimising the use of gas as we simply needed to boil the water.