For those who don't want to read the whole thing: man does very long race. He completes race and is happy, but makes lots of mistakes along the way and is kicking himself a little. But ultimately he is happy.

Sunday was the pinnacle of my running experience to date. The Glencoe Skyline is billed as the world's most technical Sky Race. None other than his holiness Kilian Jornet put on a masterclass to win the event with ease on the day, and has since tweeted that it is 'the' race to do. It's 55km - a distance I have run just three times before - High Peak Marathon, Snowdonia 3,000ers and the Long Tour Of Bradwell. The difference between those three and this one was the height gained. And perhaps more importantly, the manner in which it was gained. The GCS is a full frontal approach to some of Scotland's finest rocky terrain. Over the 55km there were perhaps 10km of grass and / or mud, probably less, and all but about 2km of it on the ascents. With 208 starters and a goal to break 12 hours, you'd think I'd be happy to have finished in 113th place in 11 hours and 24 mins. I'm chuffed to bits. But I did SO many things wrong that it's impossible not to think that things could have gone better. So here's a wee report on a race mostly for my own benefit, but if it helps others too then that's a bonus.

Mistake 1 was not drinking enough the day before the race. I travelled up in my van, sharing the driving with Ed and Ian. The atmosphere was great - we were excited and nervous. We talked tactics, nutrition and hydration for the best part of 7 hours, but when I went to bed on Sat night my mouth was bone dry and I immediately realised my error. I'd probably drunk less than a litre of liquid all day, distracted by the journey and the company. I woke on the morning of the race and didn't even need to pee!

Pre race breakfast was an Extreme Foods Chocolate Liquid Meal. Basically a large sachet of powder mixed with water and drunk as a shake. I'd tested these out earlier in the summer on some long, early morning runs, and was impressed. No stomach grumbling whatsoever. I managed a small bowl of cereal too (Golden Syrup Wheats), and took a 400mg Ibuprofen tablet (all the previous ultras I've done I've needed Ibuprofen towards the end of the race so I thought I'd pre-empt things this time).
Here's a Facebook Live video taken by Claire Maxted of @WildGingerFilms on the morning at the start.

We entered the start pen with 200+ other runners, everybody keen to get a look at the shy Catalan. Bumped into a surprising number of friends and acquaintances there and teased each other about shoe choice (more on that later) and size of bags. The atmosphere was AMAZING. With a perfect forecast of clear skies and sun to start with and cloud cover in the afternoon, but with no rain and only light winds on the tops, there was a lot of excitement. The race started and Kilian scurried from the back of the field to the front in a blur. The first 8km are up hill, not too steep, on the West Highland Way. I'd always planned to take this easy, run my own race, not getting sucked into the pace and trying to get to the first of the technical sections - Curved Ridge - ahead of the mass. It was a world class field so I'd have expended way too much energy trying to do this. I arrived at the top of the Devil's Backbone, a shortish straight forward descent down the West Highland Way to Check Point 1 on the main Fort William road, well towards the back of the field. Despite taking it easy on the descent - relaxed arms and wrists, steady pace, 100% concentration on the loose, rocky footing, I passed maybe 10 people. I like descending and I'm pretty good at it, especially when it gets rocky.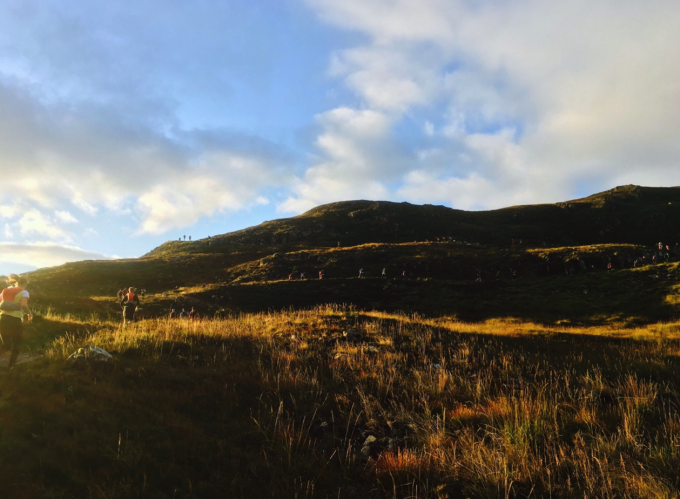 Ascending the first climb on the West Highland Way

My hydration tactics were to start the race with no water, but to carry an empty softflask and a collapsible cup. Ed, Ian and I had recce'd the route in August so knew where the water was and I had no qualms drinking straight from the source. The first water was the stream immediately over the road. I drank half a cup as I was passing and opted to leave the softflask empty as I knew there would be plenty more. There was a few km of gentle climbing on single track through heather and across scree to get to Curved Ridge, a moderate rock climb. By the time I arrived at its base I'd passed another half dozen people, but still looked up with dismay at an ant trail of people climbing above. With proper fall-offable sections the organisers had roped mountain guides in place to help those in need, but also to maintain a sense of order. Tempting though it was to step out right and solo past everybody it would have been bad form, and potentially dangerous. And although it would have been easy to pass fifty people in no time at all I am sure there were others in there who were just as capable on such technical ground, so I had to grin and bare it and take my place in the queue.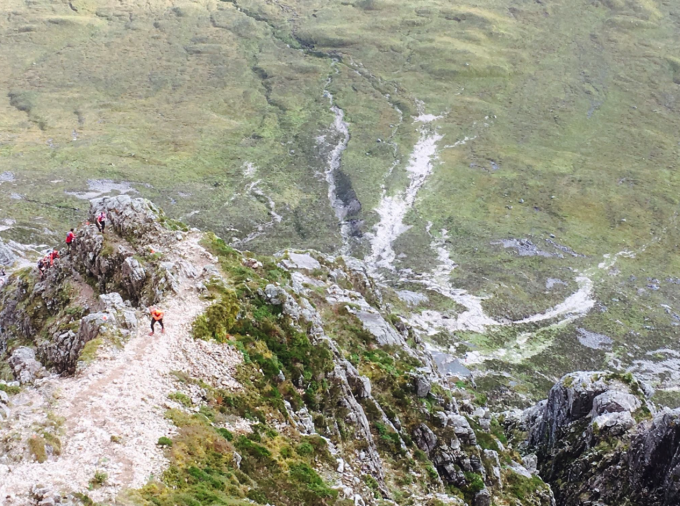 Once on the top it was a different ball game. With legs relatively fresh thanks to the slow ascent the next five km or so felt easy. Looking back at some of the Strava segments I was clearly descending fast, overtaking a dozen people on each one at least. I was aware of what was happening, but genuinely felt like I was simply cruising and not expending too much energy. I don't wear a heart rate monitor, but am confident that it was not at all high on these sections. On the ups in between I simply held my position. No heroics. I took half a cup of water at three or four of the streams, and began to think about some actual nutrition.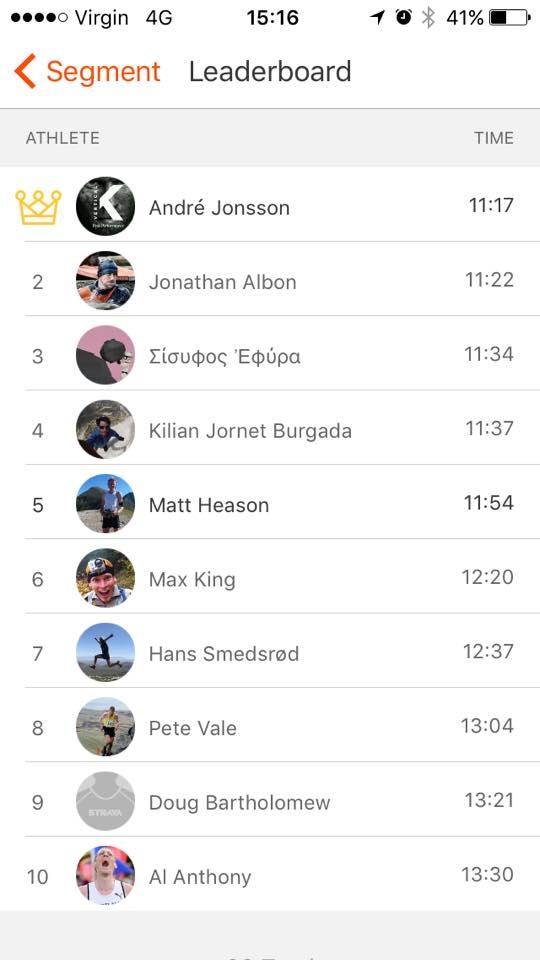 Ed appearing over the top of one of the steeper sections of Curved Ridge.

Mistake 2 was my decision to take along a bunch of smaller powder based sachets (Mountain Fuel). Though they were suitable nutritionally, I obviously needed water to actually consume them. I ate a fruit pouch and a gel, but didn't really fancy much more at that stage figuring I'd save the sachets for later. At 18km I ate a Mountain Fuel sachet. It went down well and I congratulated myself on my choice. Little did I know that that was going to be pretty much the last food I ate for the next 3 hours!

Hindsight is a wonderful thing. From the comfort of home I'd planned to take just a single softflask, drinking from the rivers along the way, and to fill it at the feed station for the traverse of the Aonach Egach ridge 36km in. Despite having recce'd the route, and knowing where the water was, I completely neglected to account for km's 24-32, over two hours of hard, hard running, all above any streams or rivers, and crucially didn't fill my bottle before heading up. With powdered food and no water the wheel nuts began to loosen. During that 2 hour spell I began to slow, and to ship many of the places I'd gained earlier on. I realised my mistake and knew what was happening. I began to feel dizzy and spaced. My legs went wobbly. I managed to eat a single Baby Bell, a second fruit pouch and a gel, but I was out of 'proper' food. I managed to scrounge 4 swigs of water from fellow runners and passing walkers, without which I think the wheels may have come off completely. Perhaps the only consolation was that others were clearly having issues with water too. Ed became dehydrated on the same section, despite starting it with two bottles full. I actually passed others standing, hands on knees, head down, having their own moments.

The long descent to CP11, the only feed station on the route, should have been my best section of the race. I'm good on wet, technical, rocky descents, and this ticked all those boxes with bells on. However I knew that there was water half way down. The moment I saw enough to dip a cup into I collapsed on a patch of moss and guzzled cup after cup. Knowing I was also under nourished at this point I took out my secret weapon, another Extreme Food Liquid Meal, mixed it with water from the stream and drank the whole lot down. Originally I'd planned to take this at the feed station, but I changed my mind as I wanted the energy from it to be coming on line as I left the feed station, not half an hour later. I must have looked happy sat there in the wet moss as a number of the dozen or so runners who passed me in that ten minutes said how nice it looked to stop! Back on my feet I headed down the rest of the descent and re-passed many of those who had just passed me.

At the feed station some very good friends were on hand to sort me out. Miles had run the Vertical Kilometre (his first running race I believe!) on Friday and Mel and Deb had completed the amazing looking Ring Of Steall race the previous day. Despite the fact that there was a bag of food we'd arranged to be there, and tables laid out with cakes, sandwiches and other goodies, all I managed to actually eat was 6 ready salted crisps in a very sorry 30 minutes of my life. I arrived, sat down, and immediately started drinking more. Flat coke, water, and sweet, hot tea. I was that thirsty that that was my body craved. However this meant my stomach was literally full of liquid and I couldn't eat. Fifteen minutes or so after I arrived, Ed came in. I knew he was a little behind me as we'd crossed paths on the out-and-back section at km 29. So I waited for him to re-fuel and we set off together.

The next hour and ten minutes were pretty grim. The route climbs 850m in 2km (do the maths!). Apparently the only person who ran this section was Kilian. Having spent the rest of the race running with three others including the overall Sky running series world champion Jonathan Albon, he changed gears for this hill and stamped his authority on the field, going on to win by a clear margin of around 6 minutes! I spent the entire climb fighting to not throw up the very liquid contents of my stomach, knowing that to do so, albeit relieving some of the pain, would leave me without the vital nourishment necessary for the final 20km. True friend that he is, Ed waited a few minutes on the summit for me and we traversed the ridge together, with me waiting in turn for him on my favoured technical sections.

The rest is very much a blur. I'd filled my softflask, and managed to find another at the feed station so headed up with plenty of water, but ironically I was so full I barely drank or ate anything over the next 4.5 hours (I ate a gel and a fruit pouch, and arrived at the finish with 500ml of water left). I'd had twitching muscles, on the verge of cramping in my quads and calves from about km 6 which was bizarre, and maybe due to the lack of hydration the previous day. Fortunately one of the things I did do right was to take regular salt drops (Utah Salts) in whatever water I did drink so the cramp never actually took hold.

The last mistake was my choice of shoes. Although we'd recce'd the route in August the one section we didn't do was km 43 to 45. We'd headed down to our car and assumed this short section back onto the WHW would be straightforward. It was a steep muddy slide, completely at odds with the Salomon S/Lab Wings I had chosen for their rock adhesion qualities. I fell and hit the floor seven time during the race. Four of these falls took place within ten minute on this section. Luckily every time I landed OK.

The last 5km are down the WHW that we'd ascended earlier, only much of it felt like more ascent on the way back! Count down markers came and went slowly, but I did clock a 5 minute kilometre on one section so still had something left. It was daylight when I crossed the line, just a few minutes behind Ed and a full hour and a half behind the amazing Ian, both of whom were waiting with drinks, clothes and hugs. Stopping was amazing, but not for the usual reasons. In all previous long events it's my legs that have been the limiting factor. This one was different. I felt other-worldly, and not in a good way. I still couldn't eat. Ironically I couldn't vomit now either. The reflux continued for the next few hours as I lay in a rather sorry state on comfy leather sofas in the bar and very slowly nibbled on some soft chicken goujons. I tried a celebratory G&T, but it wasn't happening. Chucked out the bar at closing time we shuffled back across the now empty car park to the van.

The following morning the weather was dry and cool - my favourite when in Scotland. We ordered full breakfasts at the Clachaig, but my reflux had burned the back of my throat to the point that I couldn't eat even though I was in dire need of calories. Driving south felt hard. Leaving was a real wrench. Hungry, emotional, in fantastic company, huge goal ticked, sun on the lochs and hills; it felt like a good place to be right then right there.

It only remains to thank Shane, Heather, Gary, Tim, Dave, Tom, Tim, and the rest of the organising team for putting on a supreme event. Never have I run with such an international mix of people - chatting to Fins, French, Americans, South Africans, Irish, Italian and Spanish runners during the race definitely helped me get through it, and I hope helped them too. Scotland was recently voted the most beautiful country in the world. I got to run possibly the best race in the world in perfect weather conditions in the most beautiful country in the world alongside the best runners in the world. Hard to top that really.
Lastly here is an amazing video of the leaders on the route on Sunday.

Some Stats

Glencoe Skyline - 55.5km, 4,750m - 11 hours 24 mins (my Strava trace)
Long Tour Of Bradwell - 55.9km, 2,050m - 7 hours 33 mins
High Peak Marathon - 70.8km, 1,941m - 12 hours 58 mins
Welsh 3,000s - 51km, 3,500m - 13 hours 28 mins