A Very Sheffield #Microadventure
Alastair Humphreys coined the term Microadventures and has written a great book about them. Essentially a microadventure is something that you can do in a short amount of time, close to where you live, an ideally without great cost. At least that's my take on them. Truth be told I've invented and had microadventures for as long as I can remember, but I don't for one second begrudge Al for having created a directory of them and sharing with the world. It's given me inspiration to go out and try things I hadn't previously thought of, and I am a firm believer in sharing such experiences and inspiring others to do likewise. (By the way, Alastair is giving a talk in Buxton on Jan 21st as part of the all new Buxton Adventure Festival Series). I thought I'd Blog about a microadventure we had on Saturday.
I was sat in a meeting this afternoon and found myself claiming that Sheffield City Council are not very enlightened, a comment which was greeted with nods of support. A few minutes later, in the same meeting I was explaining to a couple of people who don't live around here, about the new Council backed single track mountain bike trail in Lady Cannnings Plantation, and also the singletrack circuit in the city itself at Parkwood Springs, and I did a genuine double take as I realised that though the council may have its issues, enlightenment was not necessarily one of them, and that perhaps I had been venting some frustration from somewhere else onto a civic body that clearly contains at least some truly enlightened individuals. As far as I am aware, Parkwood Springs is the only urban bike track in the world, certainly in this country, and Lady Cannings has been a fantastic group effort between the council, Ride Sheffield, and local sponsor Go Outdoors.
Anyway, last weekend, faced with a beautiful Indian Summer Saturday and with our wives away, a couple of mates and i rallied our kids for a day out in Sheffield. We live in Grindlerford on the edge of he national park, just 5 minutes drive away from Ringinglow where the car park for Lady Cannings is. We loaded up the bikes, headed over there, and parked at the base of the trail. It's a gradual 900m climb to get to the top of the plantation, all on an easily ridable gravel track with a handful of drainage ditches to navigate. At the top is a small gate with a couple of discrete Go Outdoor logos. The track itself then winds down through the plantation for about 1km on very, very well built singletrack complete with banked corners, rollers and jumps. It's not hardcore, but neither is it a doddle. There are plenty of trees to keep you on your toes, and the surface was a little greasy as it doesn't see much sun. Talking of trees it was delightful to see such a variety of them in there. From the outer edges of the plantation I'd assumed it to be completely coniferous, but there's a whole range in there, from birch to rhododendron. Absolutely lovely. We rode it three times and bumped into about a dozen other riders. There was no litter anywhere. One thing that struck me was the fact that the whole thing was not super steep, proving that you don't necessarily need large areas of steep ground to install bike routes.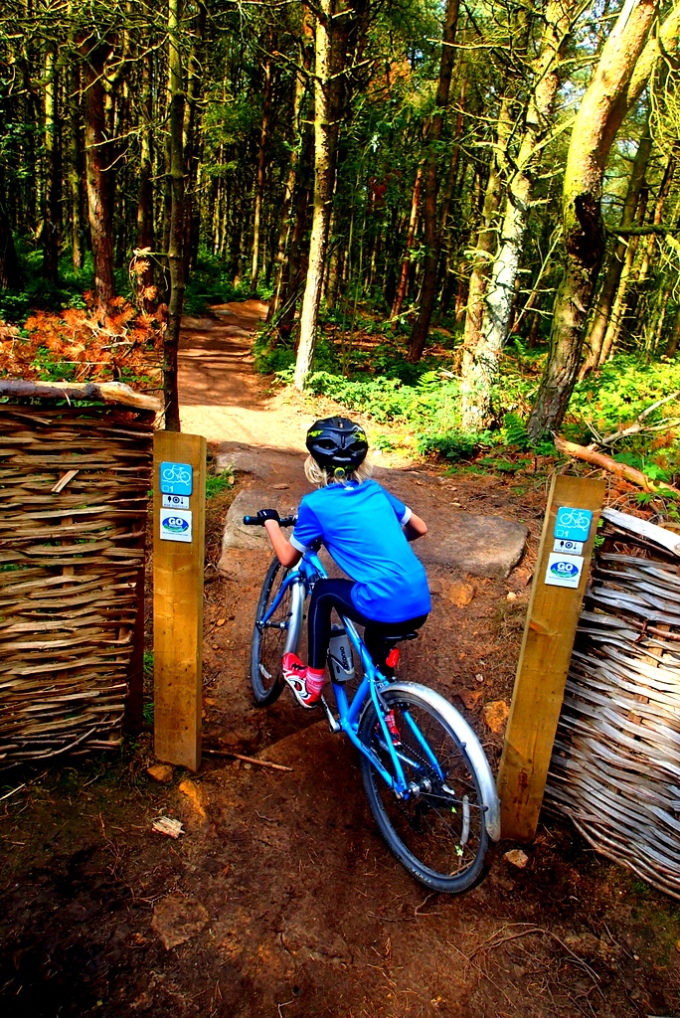 The Lady Cannings start gate.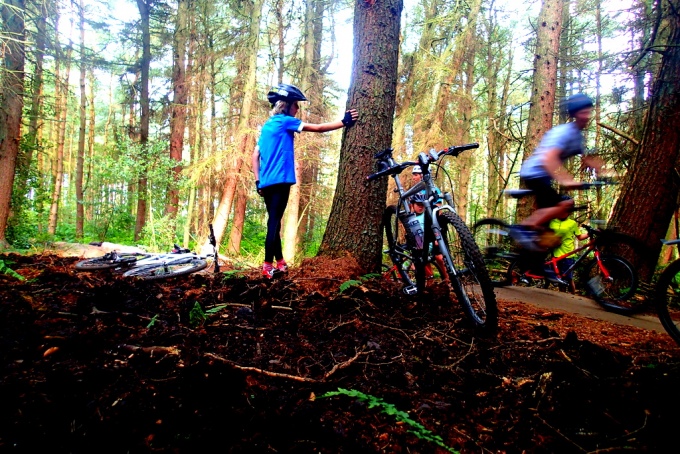 From there we braved the Saturday afternoon football traffic and headed across town to Parkwood Springs for round 2. I'd been to Parkwood before, but it was still a treat, especially with the weather as it was. Parkwood Springs is a 1.8km loop so incorporates both up and downhill riding. It's a little more technical than Lady Cannings, especially if you take some of the more extreme 'shortcuts'. It's much drier as it's more open to the elements, but there's quite a bit of gravel on the track so it an be a bit slippery. We managed two laps and probably would have done a third had we not spent so much time picking and eating the abundant blackberries along the route!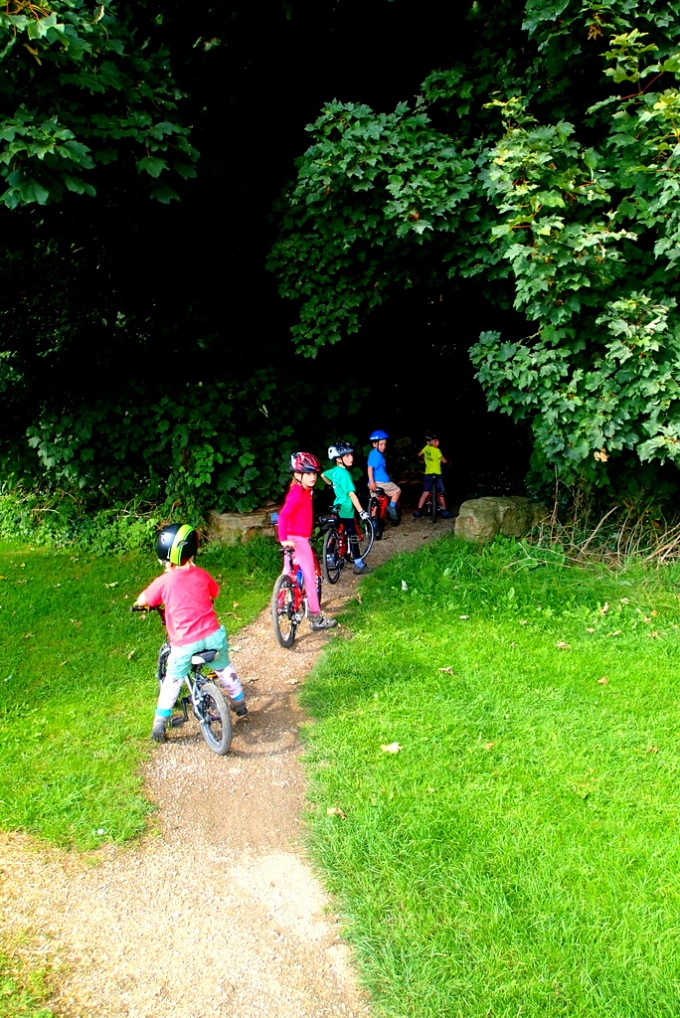 Entering Parkwood Springs loop from the car park with the gang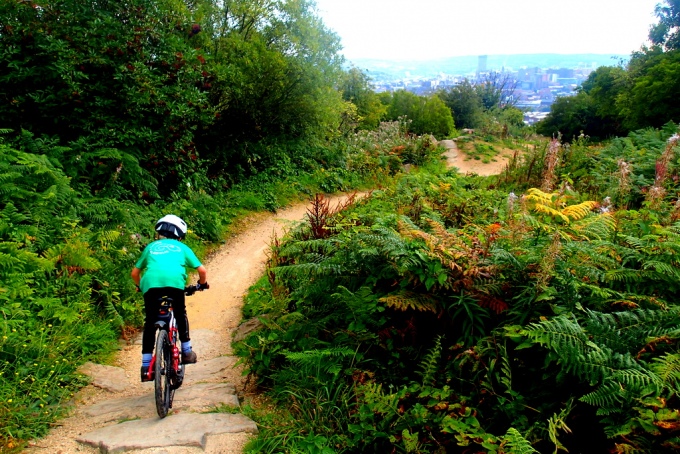 Some technical ground at Parkwood Springs, Sheffield in the background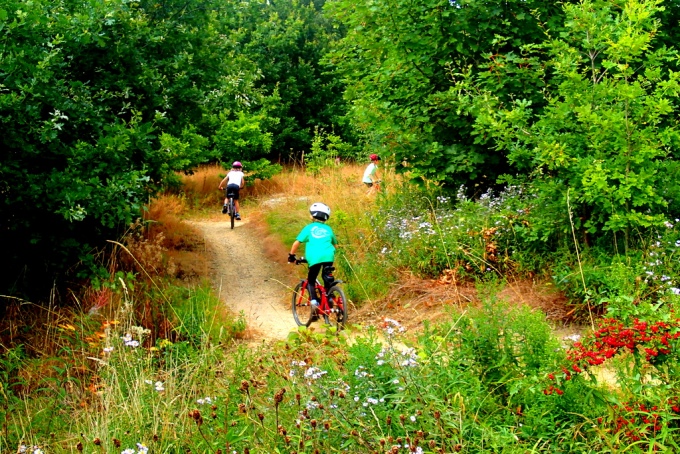 Amongst the blackberries at Parkwood Springs
By now it was late afternoon so after enjoying a couple of beers in the sun in the park we headed down to a new burger restaurant in Kellam Island. Urban 1/4 was just the ticket for a crowd of hungry kids and dads and delivered in spades, with milkshake desserts hitting the spot perfectly. Highly recommended.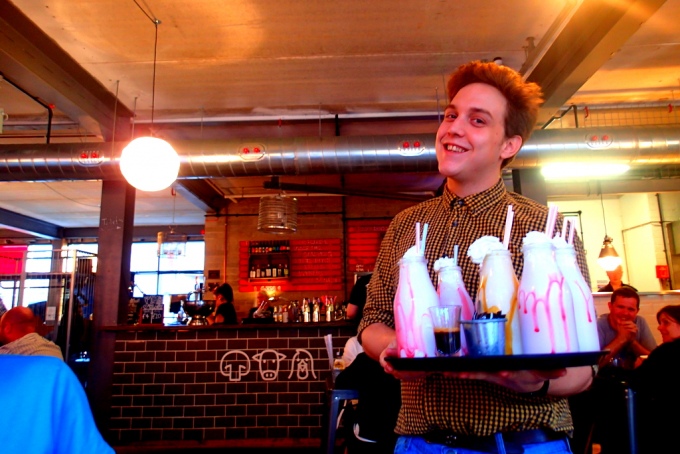 Our very friendly waiter at Urban 1/4 with milkshakes to die for!
Rather than heading home the kids had other ideas. Immediately outside the burger joint is a pedestrianized area of the city which lends itself perfectly to a bit of urban parkour. We spent a full hour working off the calories from dinner jumping, running, climbing and leapfrogging the street furniture of Sheffield as the sun set.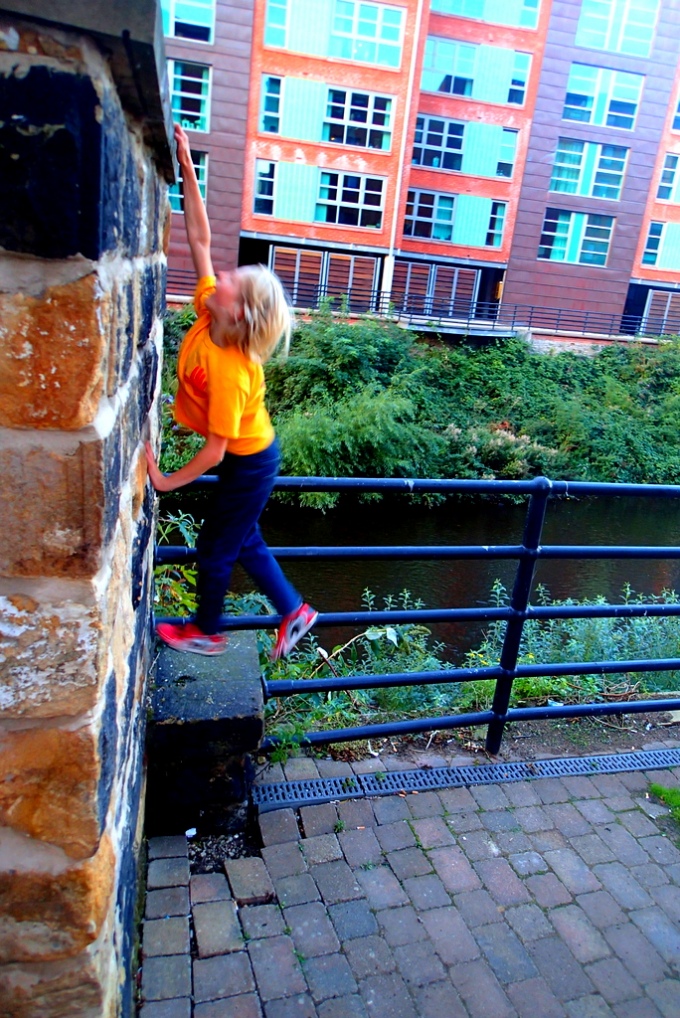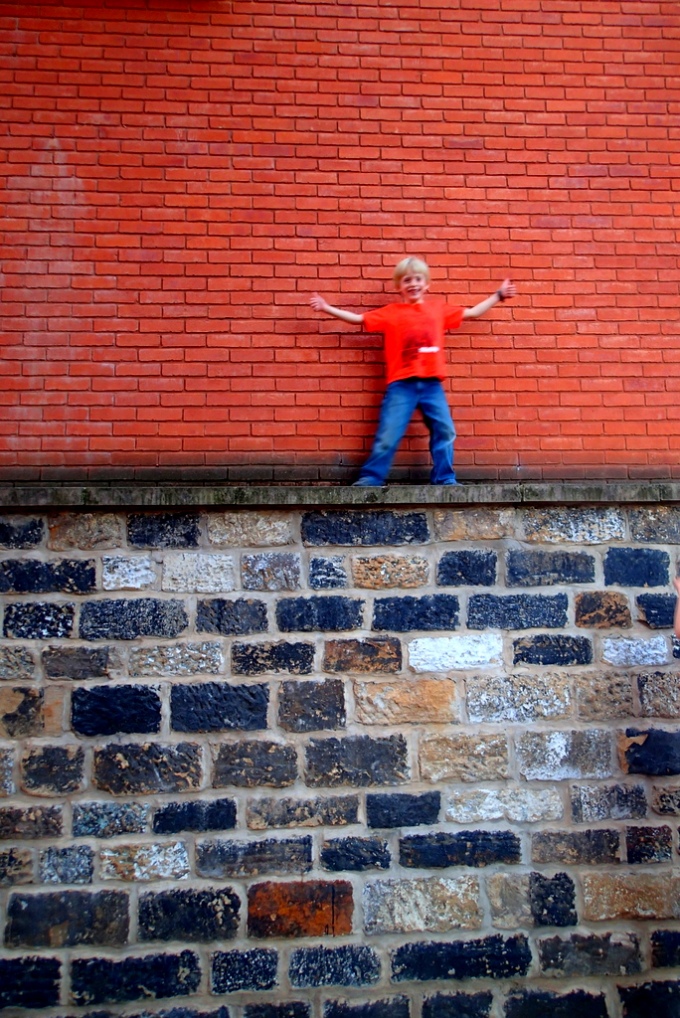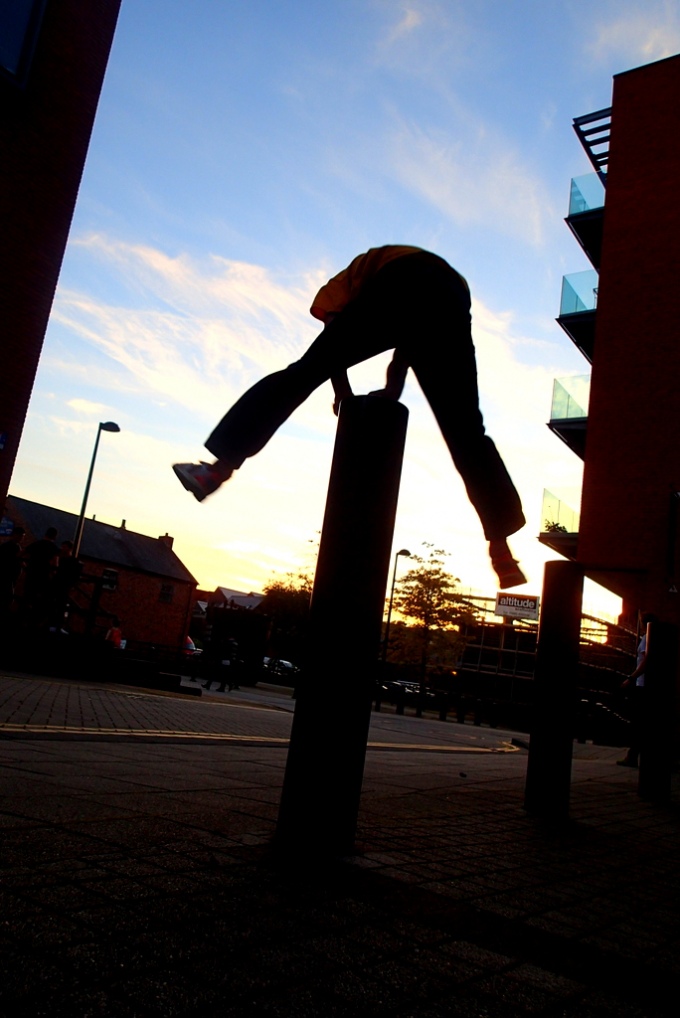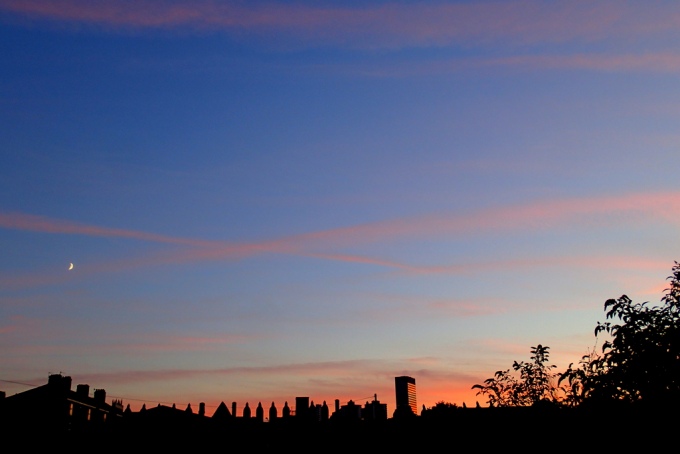 Not a bad day out for the cost of 20 miles of driving, some burgers, cokes and milkshakes. No parking fees, no ride fees, and no parjour fees. Sheffield City Council genuinely seems to be waking up to the fact that we live in a very special place.
Isla Bike Beinn 20 Small Review
Isla Bike Beinn 26 Small Review