The Maritime Alps are a fairly quiet corner of France nestled between their bigger siblings to the north, and the Mediterranean cost to the south. Less known usually equates to less visited so off we went. The problem with France is there are too many fun things to do and amazing places to stop whilst you are trying to get to wherever you are going! Having identified our final destination we well foul of this issue and found ourselves, over a 20 day trip, camping in 17 different places! As a result we didn't make it to the proper mountains until the tail end of the trip, with two pretty tired boys.

There is really little to compare to driving along an Alpine valley, tracing the route of a lively river laden with grey silt, plunging through tunnels long ago hewn from the rocky buttresses, and around dizzying hairpin bends. There's always a palpable feeling of excitement, an energy literally fizzing in the air as you climb, and climb, and climb. Ever more minor roads branch off the main route, leading to remote settlements and walking areas. After two weeks of fun and games elsewhere it's in one of these valleys that we finally find ourselves. We've food and kit for a single overnighter, not the week-long hut to hut expedition we'd originally conceived. We've pored over the maps and identified a likely looking camp spot high in the mountains between a cluster of lakes (Lac de Prals - 44.08141, 7.37466). It's South facing so the water should be relatively warm, and it's accessed from a high road meaning a sensible walk to get to it. As we get closer to our destination the landscape continues to change. There is less rock and more pine forest. The river has turned into a stream which wends its way through moss covered boulders, dappled a hundred shades of green in the afternoon sun. We pull over by a solitary wooden picnic bench for a late lunch and to pack our bags with lightweight kit. The boys lounge around in the shade reading and humming tunes instead of their usual practice of boulder hopping and tree climbing. They are definitely tired. Yesterday we had a ball, a full on canyoning adventure in one of the nearby side valleys, but it took its toll. That and the previous two weeks.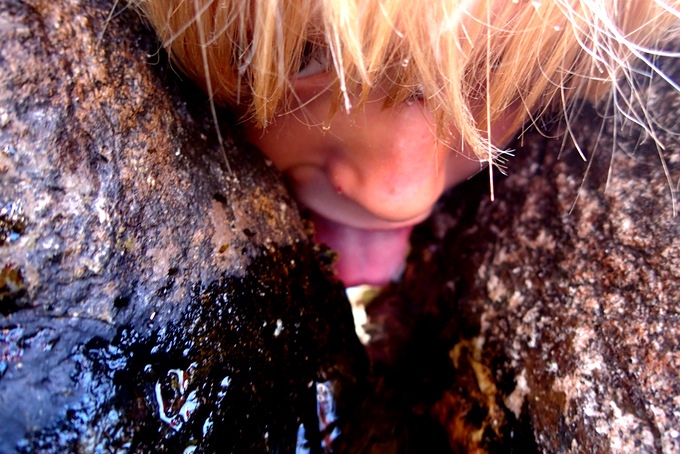 Water stop on the way up.

From the layby it's immediately straightforward - following nicely painted wooden signposts detailing the length of time it will take to get to various points. Two and a half hours to our chosen spot by the lakes. It takes us nearer to 4, but we're treated to plenty of golden reasons to pause a while: rambling patches of wild raspberries, attentive, but inquisitive marmottes by the dozen, and cooling waterfalls to dunk hot heads into.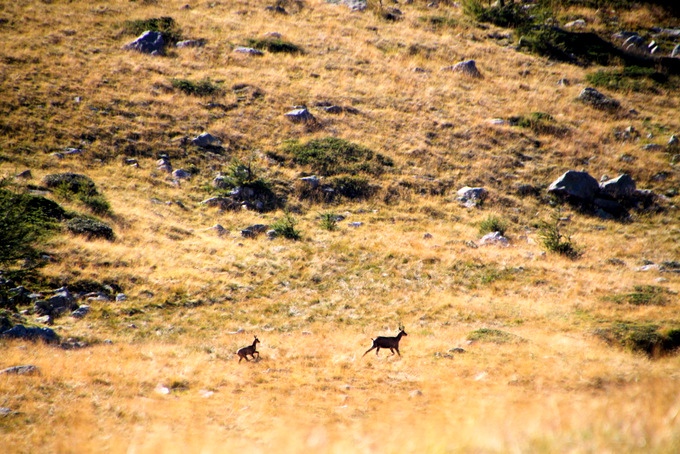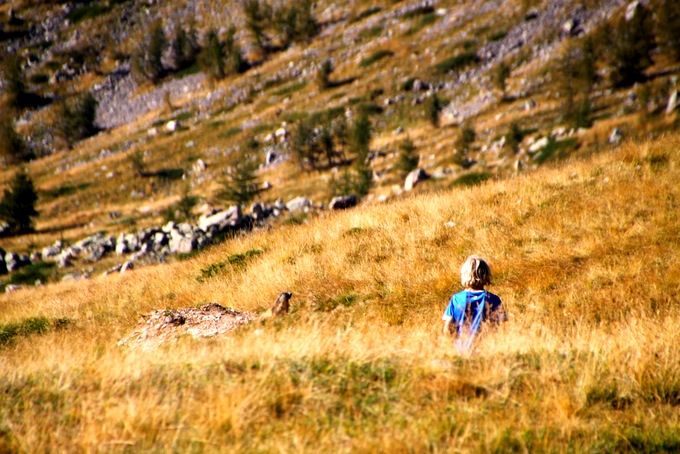 Marmot watching
People watching!
The trees eventually thin out as we break into open meadows, the domain of the marmottes. We spy an eagle high above; on the lookout for a snack or just enjoying the thermals? Large granite boulders pepper the hillside, dwarfed though, by an amphitheatre of rock walls guarding a series of stunning looking summits and an interlinking ridge. In this amphitheatre are our lakes. As we make the final climb a couple of ibex make themselves known, stepping silently from behind one of the boulders. We pause, breathless, snapping a handful of photos for the wall back home.

Eventually the lakes reveal themselves, jewels set in a bed of yellow grass. We dump the sacks and go for a recce to identify the best camping spot.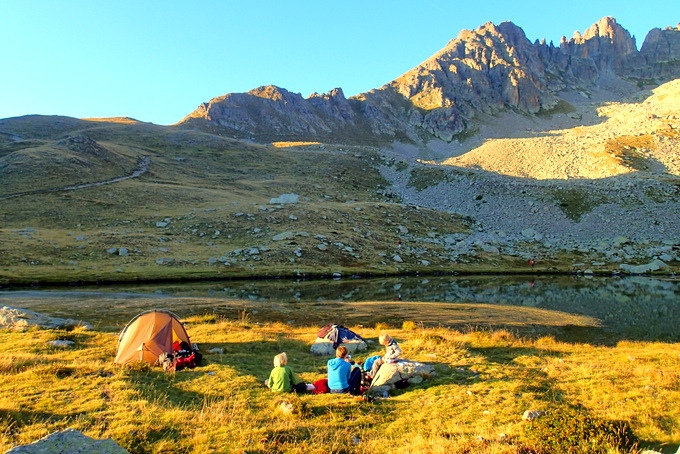 Camp for the night
The ground around the water's edge is soft and cool on bare feet. Shoals of bloated black tadpoles skitter about the shallows as our shadows disrupt their sun soaking. The lakes are separated by narrow land bridges and flanked by boulder fields. We select a spot and set up camp, a couple of bivvy bags and a lightweight two-person tent. There's time for a swim to cool off before cooking tea. The water is shallow, clear and chilly, but not enough to take your breath away. It feels good to be naked and not under the gaze of others as so many of our swim stops have been over the previous few weeks. We cook tea atop a hillock to get the most of the sunshine as it sets behind distant peaks. The last half hour before the sun sinks is spectacular, enveloping all in a hazy warm sheen. Noodles, nuts and tuna. It's curious that one can remember such a simple meal nearly a year ago, such was the clarity of that evening.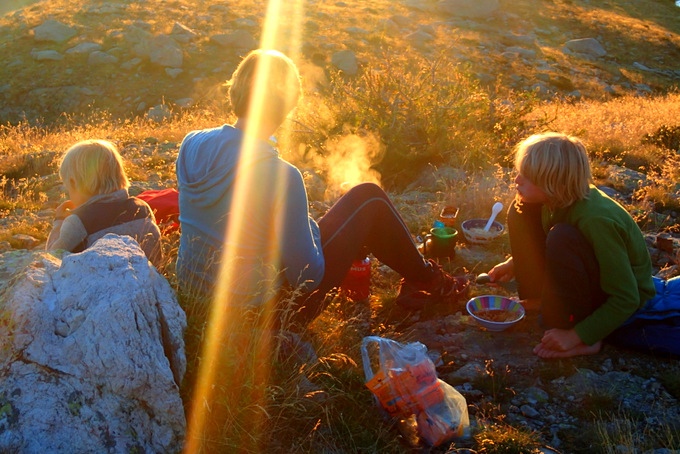 Noodles, nuts and tuna.
We climb up a giant boulder encrusted in crispy black lichen, and watch the sky morph from blue to orange to black as the stars come out. The horseshoe ridge above us is reflected in the lake.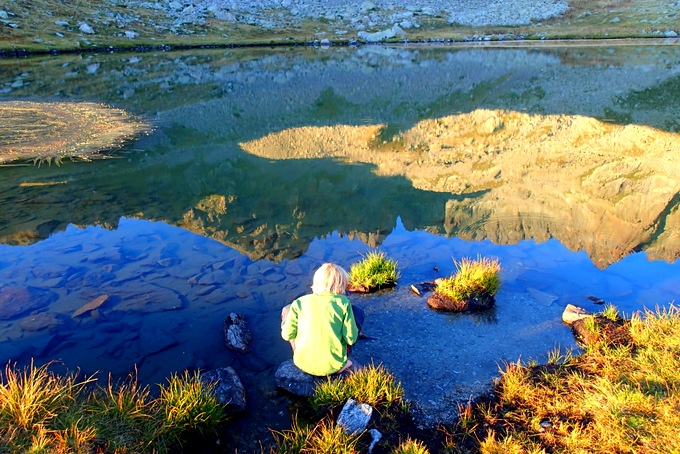 A time for reflection.
There's not a breath of wind.

That night Dyl sleeps fitfully with Soph in the tent. He's feverish, but fortunately Calpol keeps him under control. It's a stark reminder that the boys are not adult yet and still require our care and attention. Bryn sleeps next to me in his own bivvy bag, a home of his own, secure and happy. The following day we climb to one of the high points on the ridge, mindful of Dyl's condition, with him on my shoulders for much of it. There are a few moans as we continue up, and don't head immediately down, but these are quickly dispelled as we disturb an eagle on the summit and watch it gracefully soar off back over our camp spot voicing its indignation. The descent back to the car is taken slowly as it signals the end of the trip. When we start the engine we won't really stop again until Calais. It's been a top, top trip.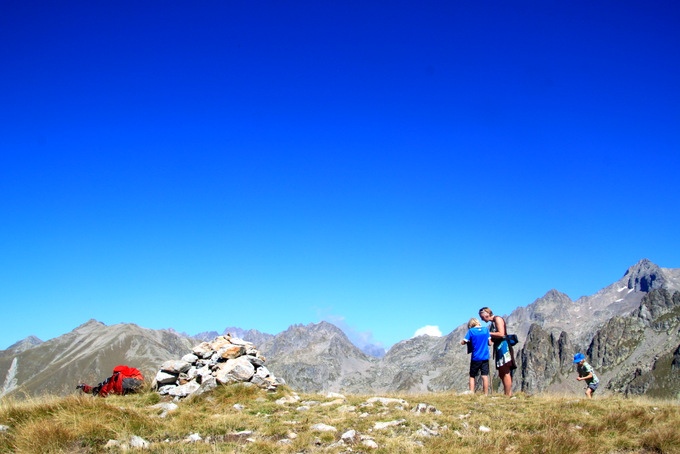 The eagle's summit.

Although that was the end of the trip it would be remiss to finish without reference to some of the wild swim and camp spots that we visited on the trip in case you are ever in the area, so here are a few:

Via Ferratta Lantosque
Amazing via ferratta in the middle of the village. We arrived at the registration office at the end of the day to learn that there is a minimum height which nether of our boys met, so popped back kfirst thing in the morning an hour before it opened so we could get on the course before anybody was present. We had our own kit (which you need!). Really, really entertaining. Follows the river down and then back up the valley, with jammed boulders and all the usual via ferratta shenangans including a great Himalayan bridge at the end to get you back into the village.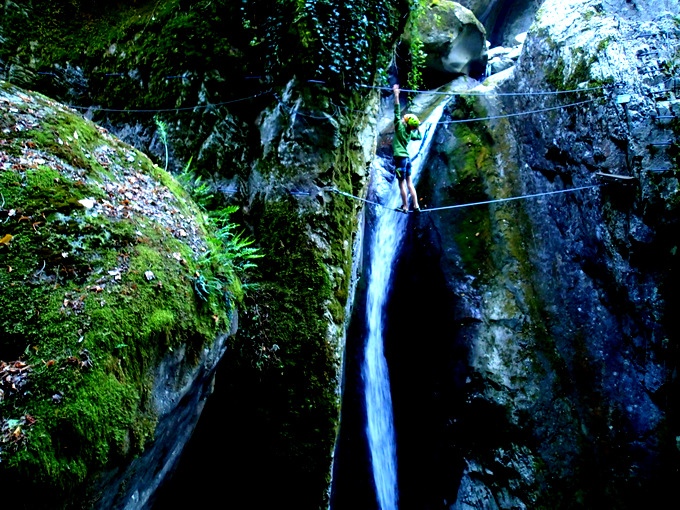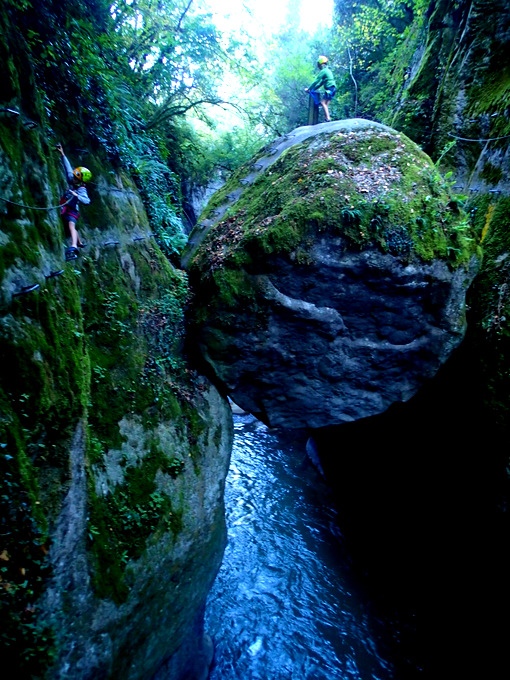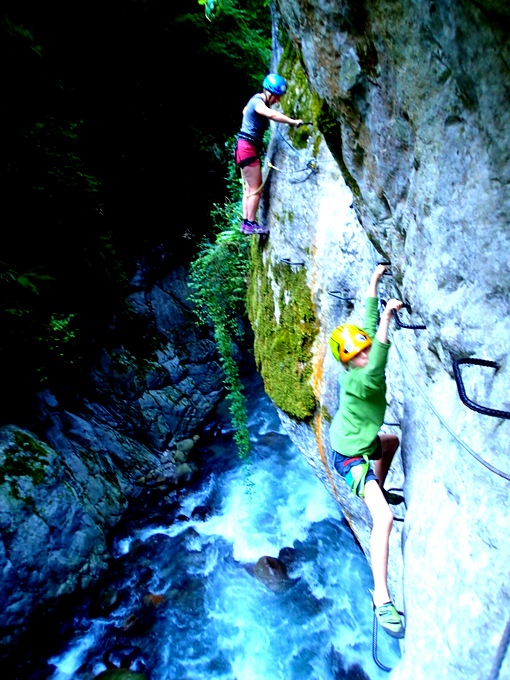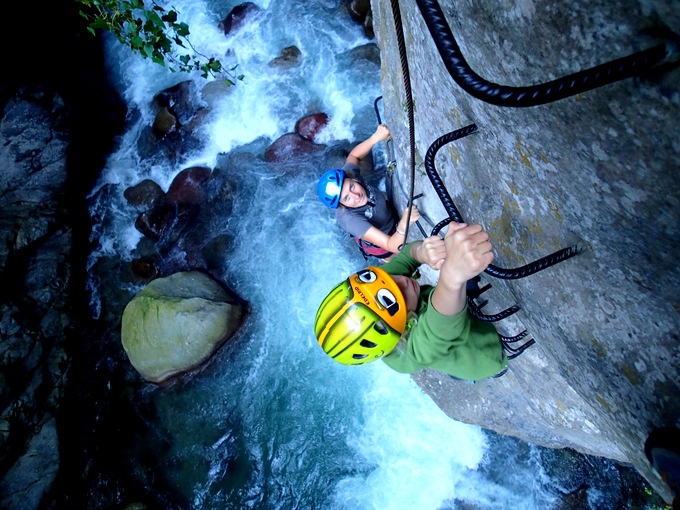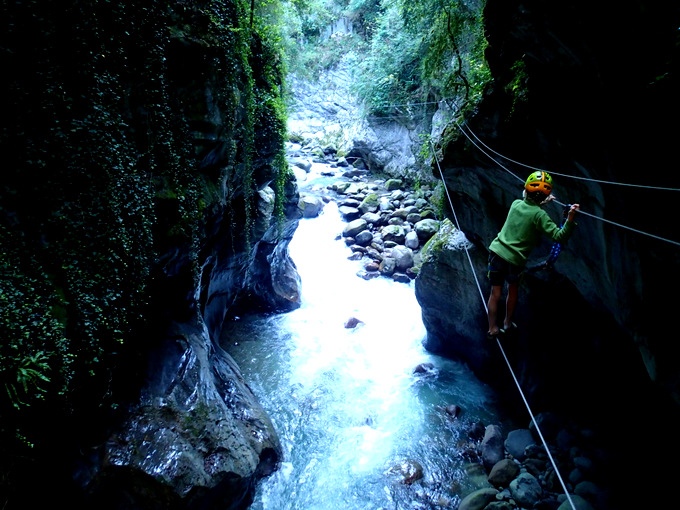 Although there was a height limit both boys managed by climbing around the awkward stuff.

Camping du Brec, Entreveaux. A nice camp site on a lake, with a pontoon, a bar, and plenty of stuff to play on the water with. Lovely proprietors who lit a big bonfire on the beach in the river plain in the evening.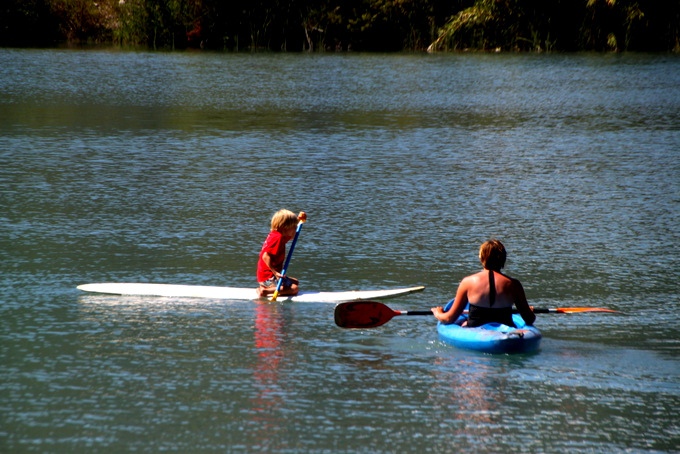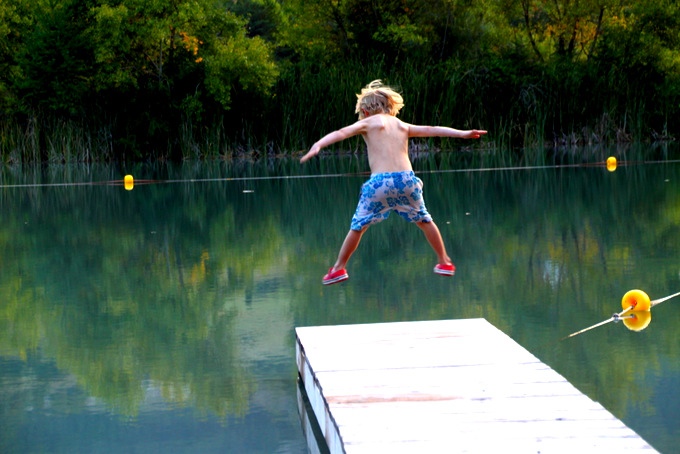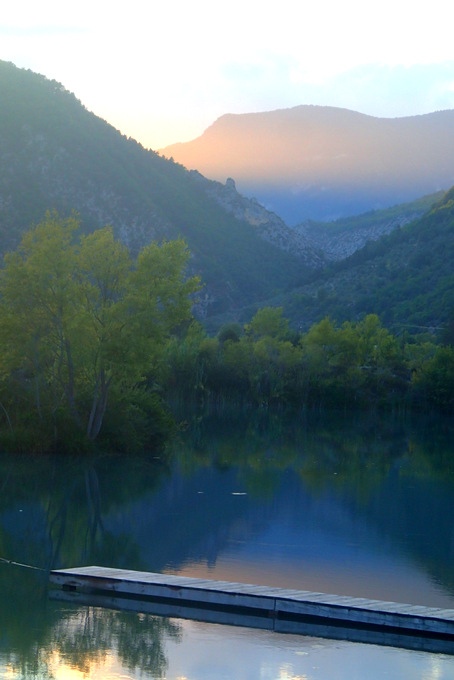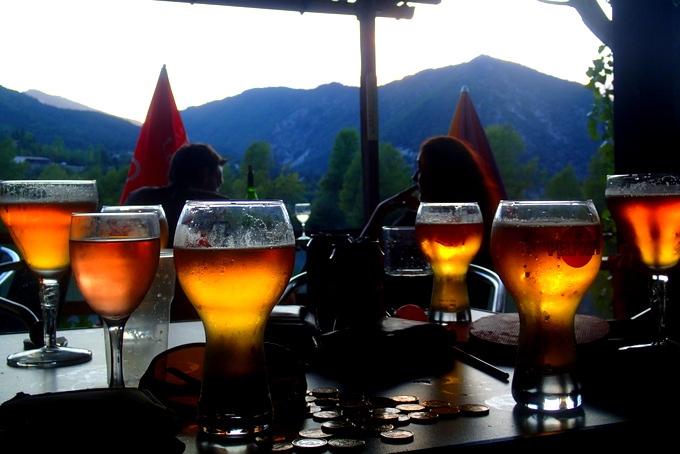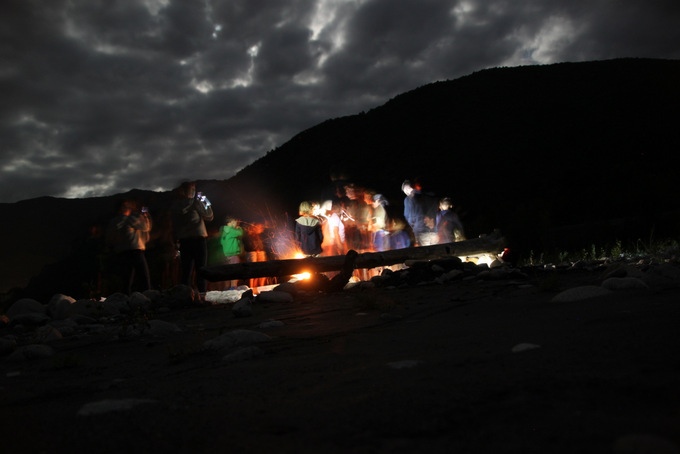 Gorge de Daluis. Superb hidden stream with pools and waterfalls. So good down there that we went back to the car for our tent and sleeping stuff for a wild camp in the valley bottom.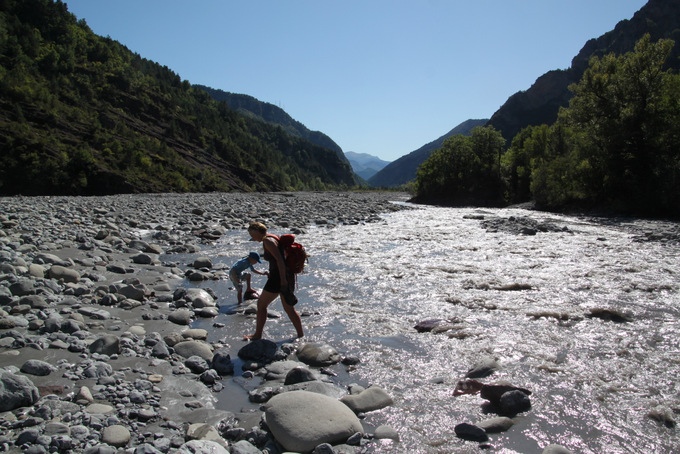 Getting to the red gorge.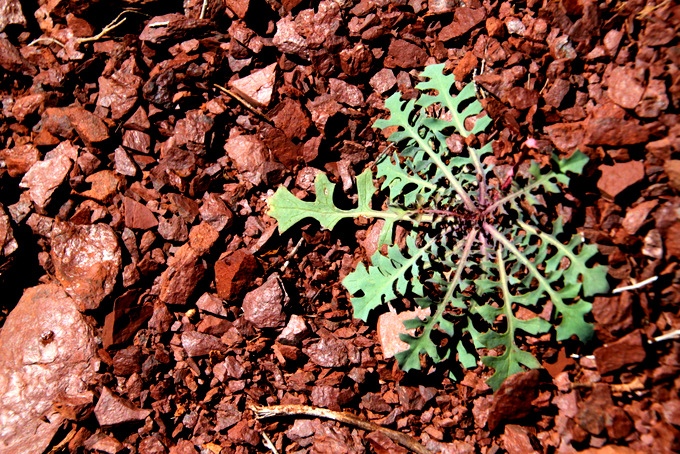 If you use the Wilf Swimming book then don't bother with the upper pools. We spent an hour bush whacking to find them and didn't...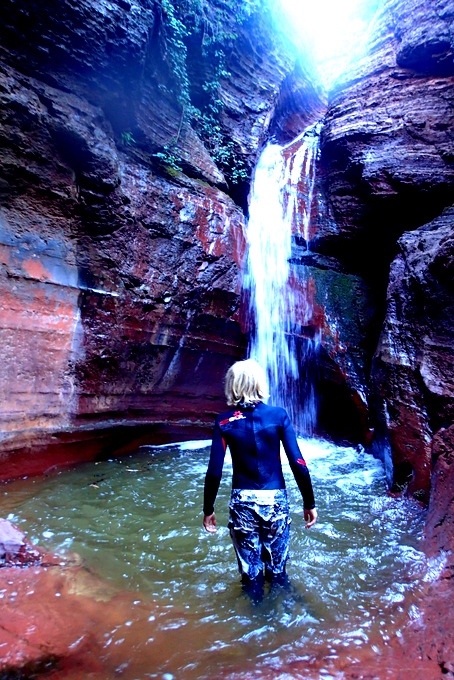 Small, but perfectly formed.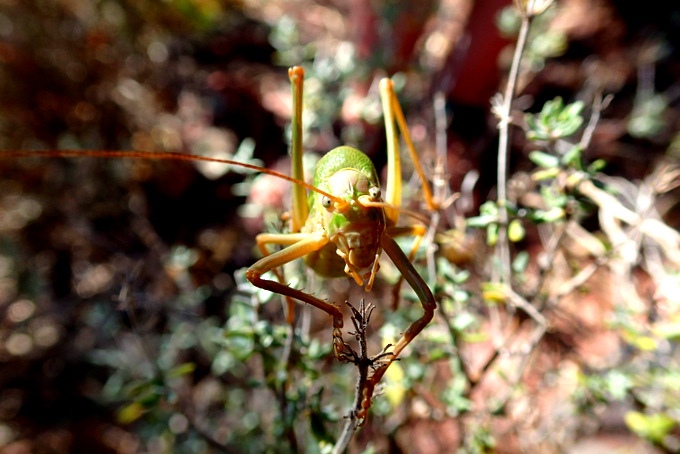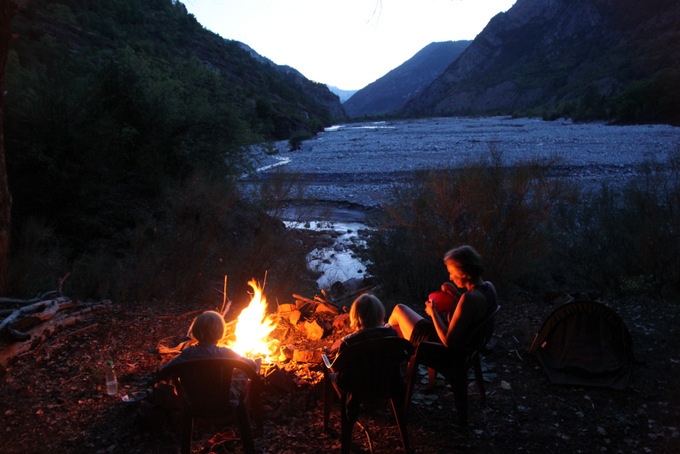 Wild camping at the base of the gorge.

Canyoning - L'Infernet (this link is an amazing resource of canyoning potential in France. Absolultely amazing. And free!).
Scroll to the bottom for video!
Listed in the Wild Swimming book to France this was also a fantastic canyoning location. It takes around an hour to walk in and it's fairly steep, but well worth it. Needed a short rope, harnesses, helmets etc. Bryn dud his first unassisted abseil into one of the pools! Finishes off with a superb - and I mean superb - water slide which can be accessed from below by following the stream up…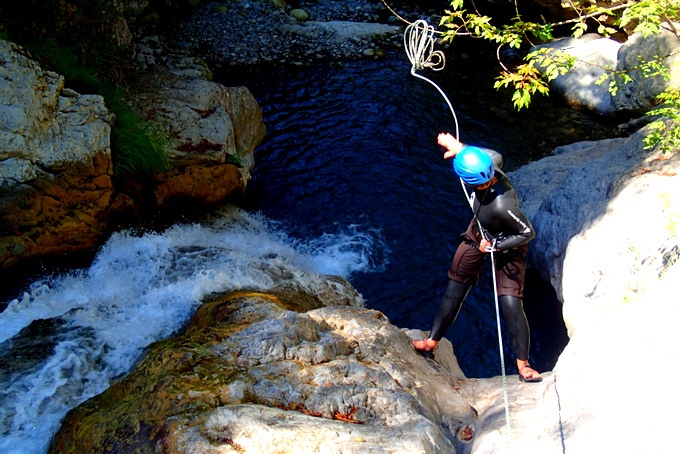 Fully rigged with bolt belays.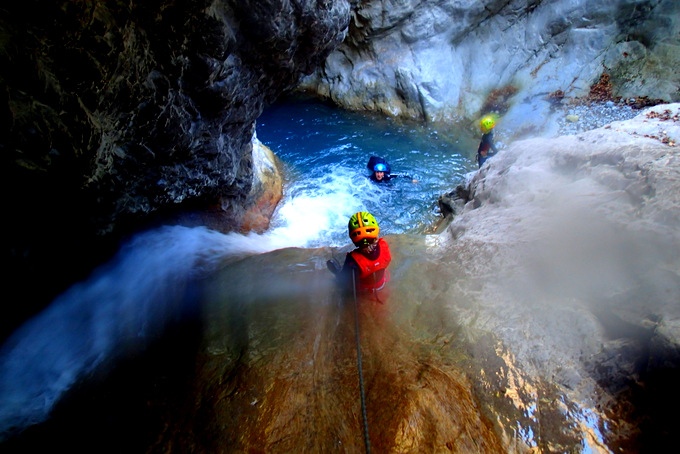 Lots of small slides.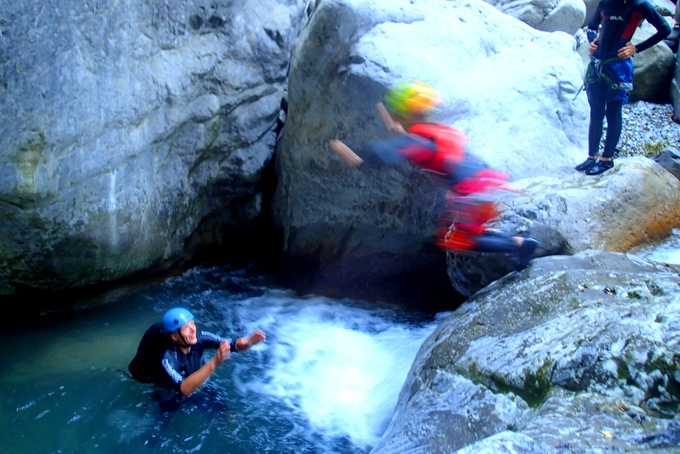 And jumps!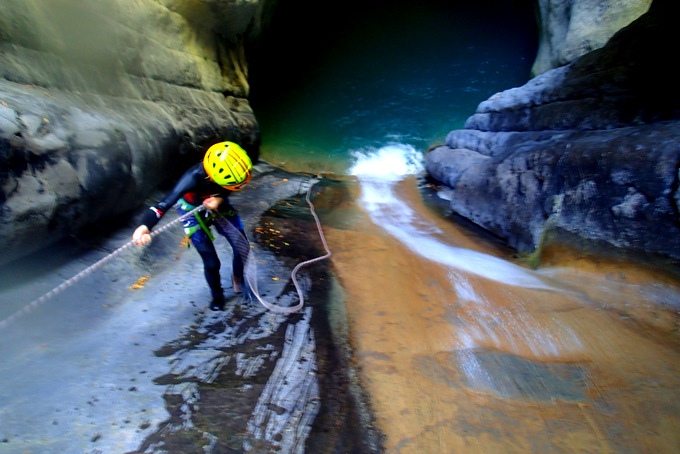 And big slides!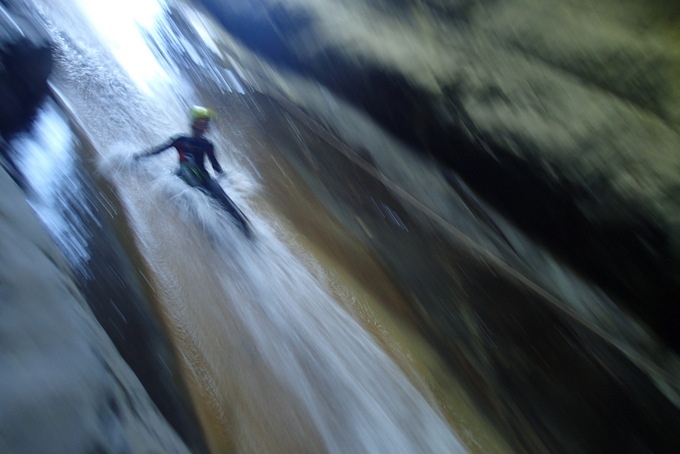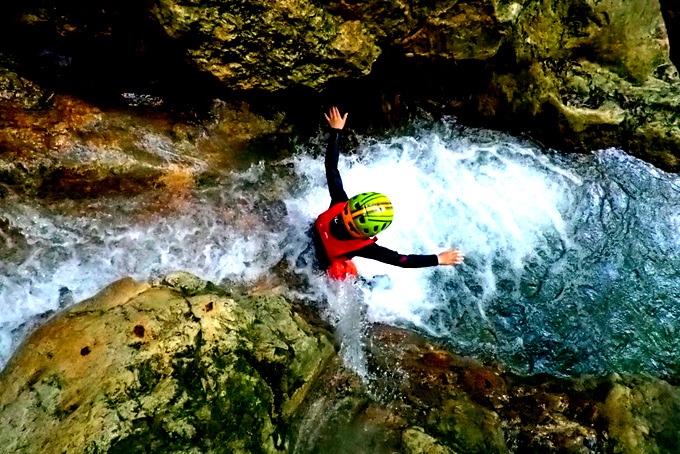 Read my review of Wild Swimming - France here.