Family Cycle Touring In Denmark
It started out as a basic concept. To go away as a family with our bikes. Simple.
Actually not so simple. There were some sub-clauses you see. The boys are only 5 and 8 so no big hills; it was our summer holiday so some sun was necessary, oh, and we didn't have a big budget. Initial plans of riding to the local train station and heading south to continental Europe were set aside thanks to the fear of putting the boys, neither of whom had much road sense, on Spanish, French or Italian roads with Spanish, French or Italian drivers buzzing past them for two weeks. We were also appalled at the expense of not just catching the train as a family of four, but of the additional charges for carrying bikes, and also the hugely complex and differing rules in different countries and on different trains. Booking ahead, not booking ahead, having your bikes with you, not having them to hand. It all began to sound like a lot of hard work. So we swallowed some pride and investigated catching a cheap flight to somewhere with quiet, flat, and safe roads. More disappointment as the majority of the no-frills airlines charge silly fees for transporting bikes despite the fact that it's possible to travel within regular weight limits with a bike and panniers (more later). The posher airlines don't charge extra for bikes, but of course they charge extra for everything else. Same, same, but different.
And then a stroke of luck. It turns out that SAS allow bikes for free as part of your general baggage allowance - 23Kg in the hold and 8Kg in the cabin. Some quick maths: 4 bikes, 4 bike bags, panniers, tent, sleeping bags, clothes and general stuff vs an overall allowance of 124Kg. It can be done. It will be done!
Minor detail - where to go? Denmark is mentioned. A quick Google of the temperatures in Denmark in August - hotter than the UK, that'll do. More Googling reveals that the country is probably the most cycle friendly on the planet. 28% of Copenhagens commute by bike! Surely that means safe roads for the boys (and us!). It's even reputed to be flat - there's very little rock climbing there so that makes sense. It turns out we have family friends living in Copenhagen meaning that we can leave the bulky, borrowed bike bags with them. Flights booked. £640 for four of us with our bikes. Return train to Manchester airport adds a further £60 for the four of us. Not bad.
Next consideration is kit. We have bikes. We've borrowed bags (most airlines require that you take off and deflate your wheels, twist your hand bars, and put your bike (and wheels!) into a large padded bag (or box) which won't easily fit on an airport trolley, or through the security doors at Manchester Airport, but at least they do protect your bikes, and there's even room for helmets, tools, and a bit of spare kit. Panniers are a must. There are endless forums on whether to go totally waterproof - think Ortlieb roll-top - and risk having your damp stuff stewing whilst sealed inside, or breathable with waterproof bags and covers. Fortunately we have some very generous friends who offered to lend us a couple of sets of the former and I can report that none of our stuff ended up going mouldy. Handle bar bags were essential for easy and quick access to sun glasses, maps, tissues and sugary snacks whilst on the go, as well a being handily removable when stopping at supermarkets and the like. The biggest problem was the tent. Our car-boot camping tent, despite being relatively lightweight, is still 7Kg. Our two mountain tents are around 6Kg combined and the thought of spending a few days cooped up in them with bikes and kit didn't appeal. Some more Googling revealed that very few manufacturers make a light weight 4 person tent. Oddly enough Decathlon do. 3.8Kg and with some very neat features including a giant porch big enough for 4 bikes if necessary - it's almost as if it were designed for our purpose! Here's a review of the tent I wrote last week. Four lightweight, and as importantly, low-volume sleeping mats, and sleeping bags meant that our transport and shelter were sorted. A decent, efficient stove (screw-top gas cylinders are available in Denmark: check), some plastic sporks, some pactowels, and one or two other bits and pieces meant that getting under 124kg was looking favourable. Clothes next - 4 pairs of pants per person, 4 pairs of socks, 1 pair of trousers and 1 pair of shorts, a couple of Tshirts, a wind-proof, water-proof top, waterproof trousers, and a warm jacket. Books downloaded onto a Kindle phone app. Some Top Trumps and dice games, a few toys, pencils and paper for the boys. A £20, 50,000ma battery from Amazon for charging phones, GPS and camera (2 charges lasted 2.5 weeks for all the devices) was a concession to weight saving (it weighd 430g). A lightweight tarp for emergencies, and a pair of Crocs / sandals each for use off the bike. And that was pretty much it aside from a tool kit and spares for the bikes. All in? 110Kg. Result.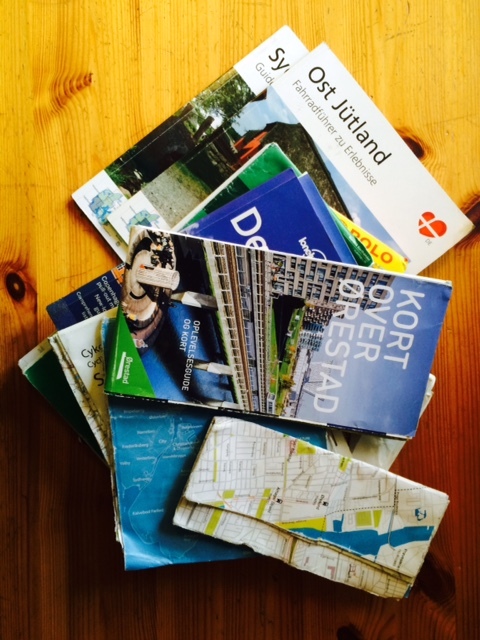 Planning isn't everything. Although we had maps and a guidebook it was a revelation to not have a fixed plan and itinerary.
More Googling, Lonely Planet, and the picking of a few Danish brains and a vague plan was forumlated. Fly into Copenhagen. Cycle West to visit the Viking museum at Roskilde, then to Legoland and cash in a generous Christmas present from the grandparents for a day of fun, then loop North to the Lake District, and back to Copenhagen, camping along the way and looking out for the network of free shelters set up for cyclists. We'd buy food along the way and live a fairly hand-to-mouth existence.
A great deal of the two weeks prior to leaving is spent fitting racks, brackets, lights, bottle cages, pumps and all manner of other paraphenalia to the bikes. I'm beginning to hate the site of my shed and have permanent oily fingers. But it's all going well. Until the day before we leave and I snap the mech hanger off my bike. It's a frame-specific, dealer-only part and there's no way I can fix it in time. On the one hand i curse, but on the other I realise the good fortune of this happening 1 day before the trip rather than 1 day after we get there. An evening on the phone and I have a replacement bike, borrowed from a very generous friend who's significantly smaller than me and a woman. Hey ho. It's very kind and beggars can't be choosers.
Eventually we load the bags into the back of the car, Soph and Dylan squeeze into the passenger seat and Bryn wedges himself between the bags and the roof of the car. It's 6am and nobody notices as we slowly drive the mile to the local train station. In the rain. Nobody bats an eyelid as we heave the giant bags onto the train, breaking the 'only-two-bikes-per-train' rule right under the conductor's nose. The airport passes in a sweaty struggle and a moment of mild panic as we realise after we've checked the bags in that we still have our bag of cutlery including a lighter (binned) a kitchen knife with some fond memories (binned) and a lethal looking potato peeler which we smuggle on to the plane and don't hold up the captain with.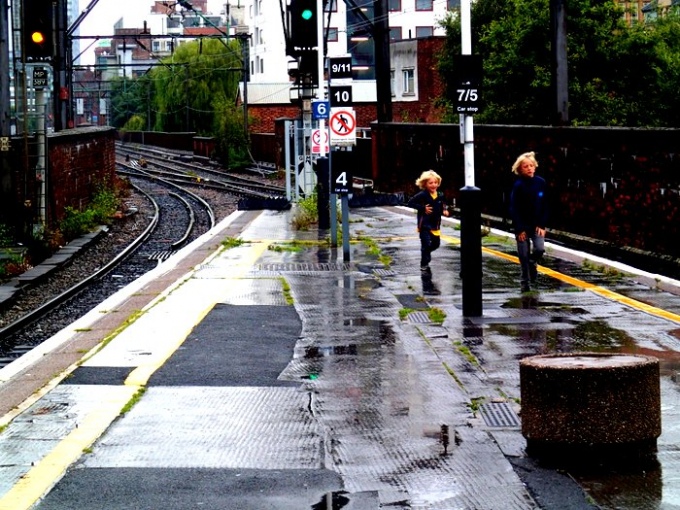 Leaving a very wet Manchester
From gray and rainy Manchester it's a sub-two hour hop to bright and sunny Copenhagen. We land and spend an hour or so re-building the bikes in a taxi rank and we're off. It's taken what feels like a lot of planning and effort to get here, but the feeling is all the better for it. Thanks to he extra bulk and weight of the 4 bike bags it's a very wobbly 8km to our friends' place, but thankfully flat as a pancake. The real bonus is the fact that every road is hemmed by a generously wide cycle lane in each direction. With one adult in front and one at the back we set sail, my extra wide load catching the Westerly wind head on and forcing me to employ my granny gears before we've even got to a hill!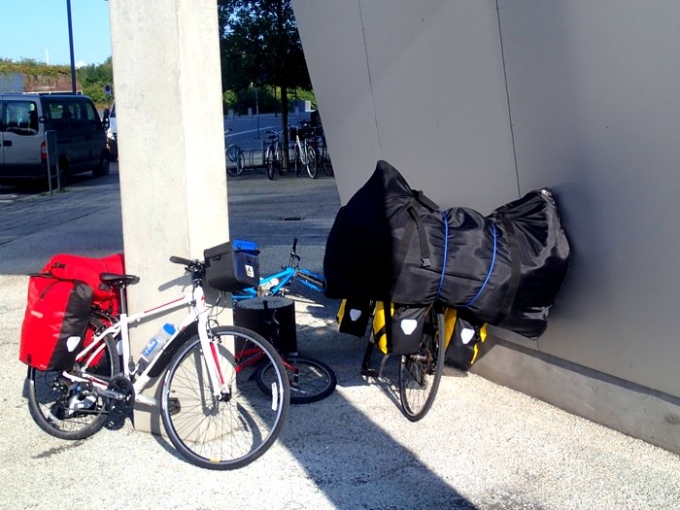 That's 4 bike bags, 4 panniers and a bar bag on my bike!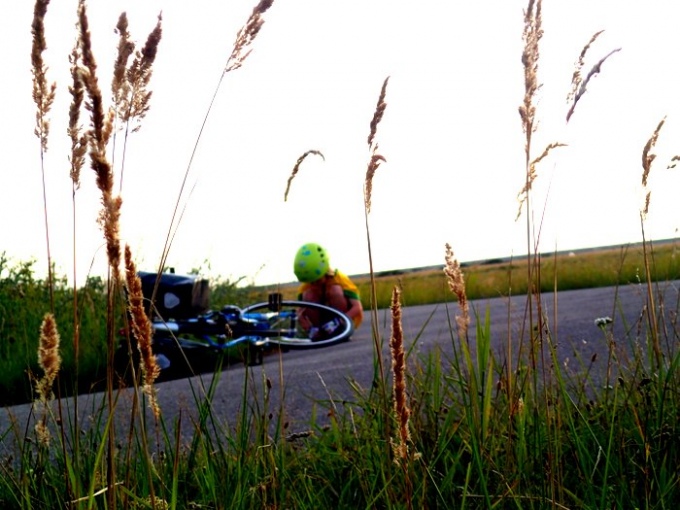 Our first ride. Flat and quiet cycle lanes less than an hour from Copenhagen airport.
Our friends pointed us in the direction of a wildlife reserve west of the airport where we're told there are some shelters. Before leaving I'd managed to hack my phone into thinking that it was Danish and downloaded a free App called Shelter. This comes into its own and guides us laser-like, to a little piece of Hobbit paradise, a rough wooden shelter, with a turf roof and wooden sleeping platform set in an idyllic grassy clearing in the woods, a composting toilet tucked discretely at one end, and a fire pit strategically situated next to a giant log table. Inside the shelter is Yann a local volunteer counting butterflies. We stay two nights and swap beers for knowledge. His most important nugget: the wind blows from th west in Denmark for 320 days a year. Of course it does! So we turn our plan on the head and buy train tickets for Vielje, the closest stop to Legoland, and plan to then cycle East with the wind behind us. The joy of having no plan is that we can change it at any time!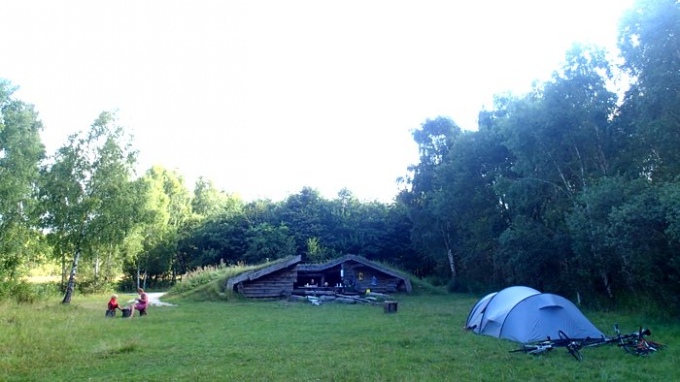 The 'Shire'? We opted to camp a) to test out our new tent, and b) to give Yann, the volunteer butterfly counter some space (he had plenty!)
The train is sraightforward, not as slick as the Swiss, but a whole lot better than our ageing rolling stock. It's our first chance to check out the scenery - which looks pretty, but satisfyingly flat. Until we leave the station at the other end and head up a steep and busy wooded road, Dylan in tears, the two of us suffering a major sense of humour failure at our rediculous idea that we could take a 5 year old on a cycling holiday. But it's only a blip, the worst section of road in the entire trip, and remedied with a big bottle of 7-Up. From there on in it's quiet roads, cycle lanes, gravel forest tracks and undulating ground. It's a long way from flat, but neither is it hilly in the sense that the (English) Lakes or the Alps are hilly. Our first afternoon of cycling ends at a well organised campsite with a swimming pool and kiddie site-seeing train. Bonus. Sunset on the lakeside beach is greeted with tired and happy smiles.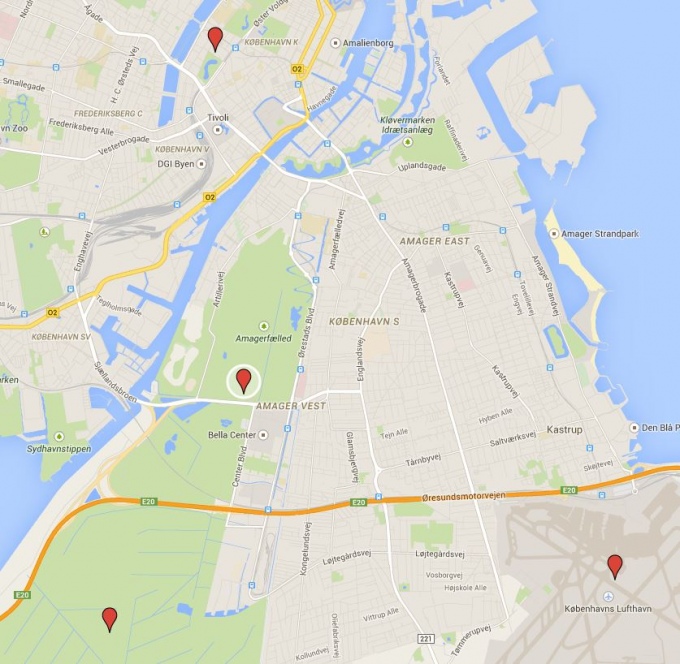 Click for initeractive map. I've deliberately not put on our route or the places we stopped. Finding them was part of the adventure.
Day two is a toughie. Legs are still attuning to the grind and we're temporarily headed into the wind which isn't insignificant, but the carrot at the end of the stick couldn't be bigger or better. I've wanted to go to Legoland since my half-Danish primary school friend Christian Glass went there nearly 40 years ago. It turns out that a friend of a friend lives in Billund, the rather oddly located town which has grown up around the mega toy company, who offers for us to camp in their garden. We arrive with two very excited boys, but it's too late to get in so we prepare for a full onslaught the following day. The next day sees us in the park for the entire 10 hours that it's open! It's every bit as good as we all hoped and a great way to effectively start the trip. Everything is Awesome...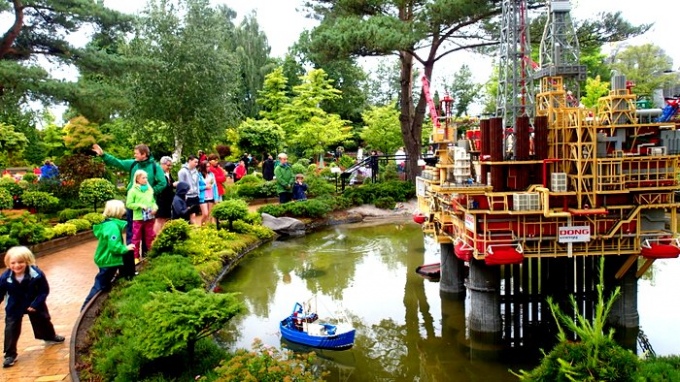 Everything is Awesome!
Our hosts Rachel and Alan spend hours drinking red wine and raving about ex-pat life in Denmark, the happiest country on the planet. Welcoming candles in windows, enlightened employers and a sense of togetherness all sound like very good reasons for moving here.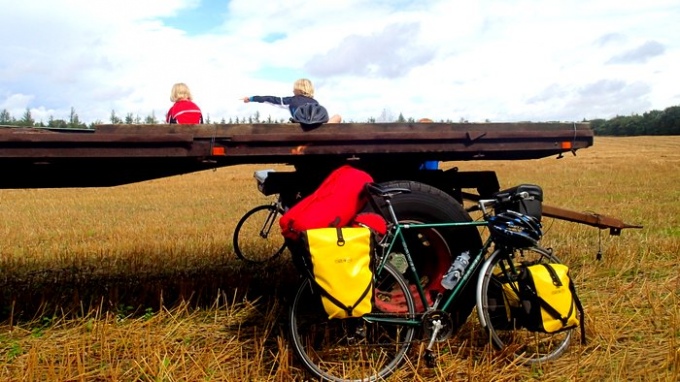 A typical roadside lunch stop.
The only downside to the trip is the rain. Or rather the forecast. Heavy showers for the foreseeable future dampen spirits, but the reailty is subtly different. The rolling countryside and constant nature of the wind (now blowing at our backs as we head North East to the Lake District, mean that it's easy to see showers as they approach, and more importantly, that they are gone as quickly as they arrived. Being on bikes it's a doddle to head for the cover of the nearest copse of trees. In Two and a half weeks we get wet once, half an hour from the hostel in Copenhagen on the last day as we let our guard down knowing there's a hot shower at the end. It's an interesting lesson.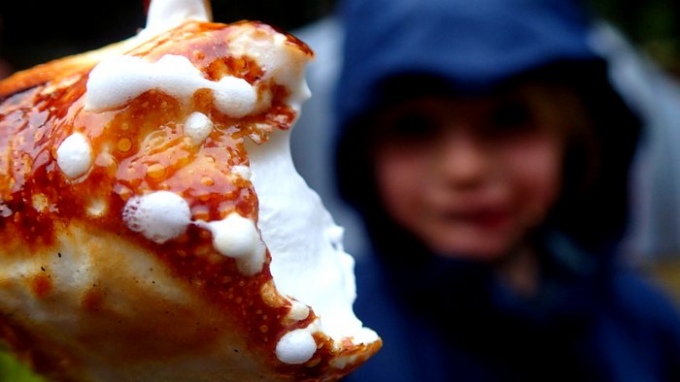 Marshmallows by the campfire.
The Lake District is beautiful. Different of course to it's British sister, but picturesque nevertheless. We get there via a network of cycle tracks and largely quiet roads designated as cycle-routes, staying in wooden huts and the odd campsite. We shop at small supermarkets - the country seems satisfyingly devoid of mega markets - just for a few days at a time. There's a surprising amount of processed food, but it often takes a few visits to learn how to shop effectively in a new country. Evenings are spent around camp fires toasting marshmallows and eating them messily between biscuits. The weather is unseasonably cool, and the showers don't really abate, but it really doesn't matter. We rent a canoe and explore a lake laughing at some very merry 'vikings' and swimming in a rain shower. We cycle to the top of Denmark's highest hill - a massive 167m high. We mend punctures and we swim in more lakes. We're on a trip, just the four of us, and we're totally immersed. Bryn is 8 and prone to grumbling from time to time. But each morning when he gets on his bike a transformation occurs. The sleepy grump is instantly replaced by a chattering carefree spirit. It's endorphines and so much more. One morning Dylan is on one. We cycle to the nearest town which is 15km away. It takes us 45 minutes. That may not sound impressive, but consider that he has 20inch wheels with knobbly tyres and cranks the length of a crayon.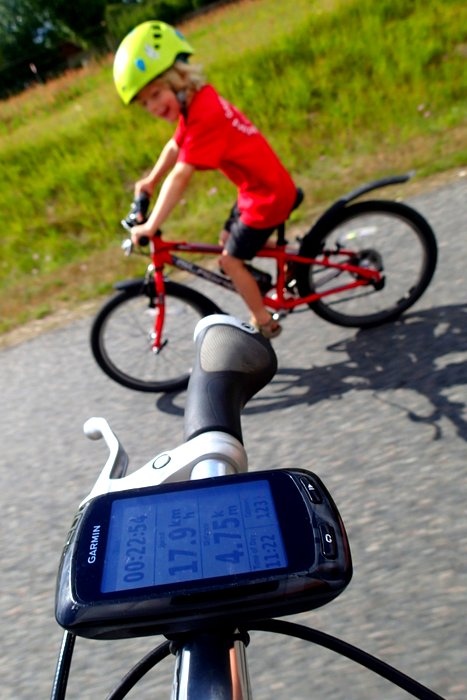 Dylan 'On One'.
It's not always like that. As the trip goes on he needs a helping hand on the hills so I cycle along next to him with a hand on his back. Every day there's a close shave of some sort. On one occasion a mouse runs across in front of Bryn. He stops to show Dylan. Dylan doesn't stop and hits Bryn at speed. He goes over the handle bars and into the ditch. I yell in alarm. There are tears all around, but no broken bones, but it's a stark reminder that there are risks. Fortunately it happened on a dedicated cycle track and not on a busy road. That's why we came to Denmark. Chris Boardman would no doubt suggest that we are reckless for taking them on such a trip, but it's so, so, so important to ignore such naysayers and get on with life.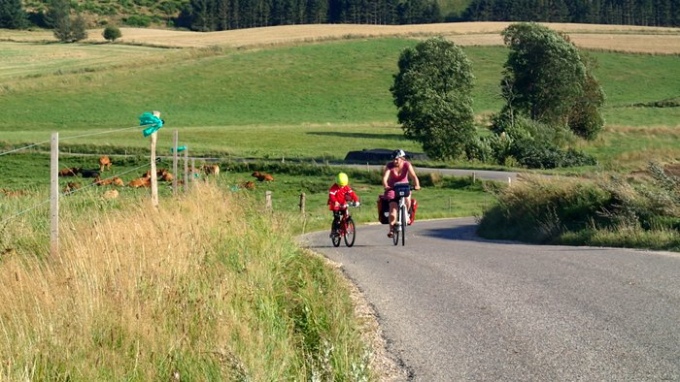 Typically quiet undulating roads.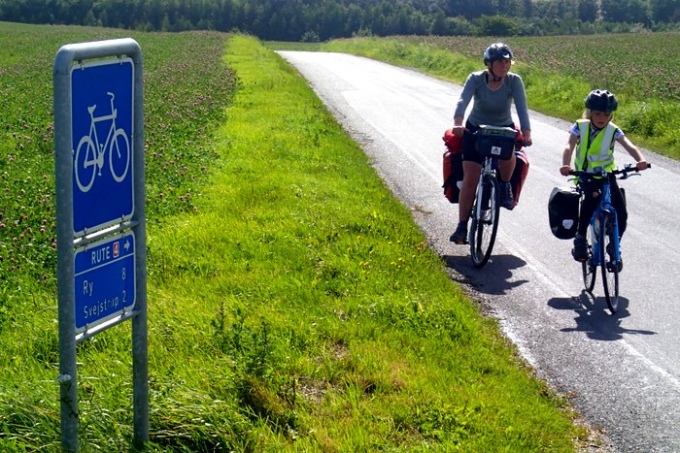 And plenty of good signage to complement the excellent maps.
After a stint in the Lakes we head due east to Aarhus ("in the middle of our street" loops for days in my head). With the wind behind us we tackle 60km in a 4 hour stint one afternoon through more surprisingly beautiful countryside. We don't linger in the city, we're already attuned to a quieter life. That night we pitch the tent in a free spot near the coast. Breakfast the following morning is taken on a weathered old wooden jetty off the beach. The boys dig in the sand and we watch as sea kayakers glide by on a mirror calm water before work. It's hard to remember a better breakfast.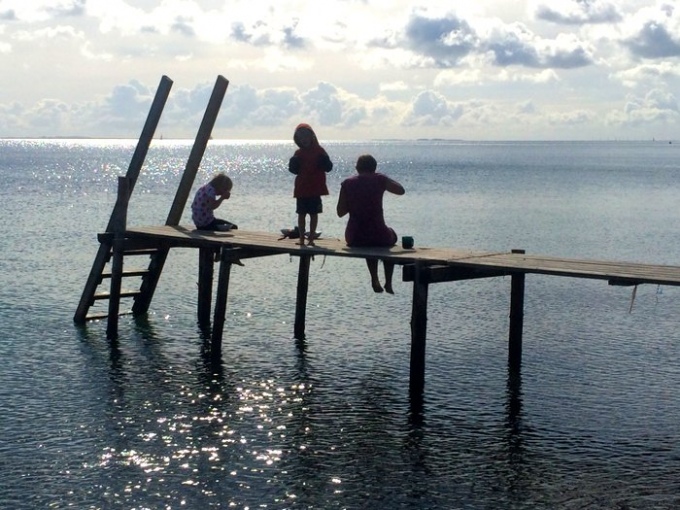 An absolutely stunning breakfast spot.
We follow the coast south through a primeval beech forest which ends on the white sand beach amidst ferns and bleached drift wood in scenes from a Robinson Crusoe story. We hop on a ferry to the island of Samso where we plan to spend a couple of nights, treating ourselves to a hut on a campsite. Greeted with this news Bryn replied "what, a hut with a door?". We've already been on the road for ever it seems. We end up in a static caravan which feels luxurious by comparison to the log shelters, but has none of the charm. The view is something though, the waves lap just feet from the windows. Soph hangs out with the boys who take a well deserved rest day but I am restless and head out for an adventure. Up the coast is an interesting looking spit of land. I investigate with running shoes, dry bag, raisins and camera. I reach the end of the spit, a remarkable 2 mile long 10m wide tongue of gravel, sand and seaweed, and climb an incongruous single sand dune to spy my route home - a series of a dozen or so rocky outcrops and islands across the middle of a large bay. A little trepidatous as I'm on my own and there are jelly fish I set off. There's a lot of wading, some swimming, and a few very cross sea birds, but an hour and a half later I reach dry land and close my 10 mile loop. A truly memorable adventure.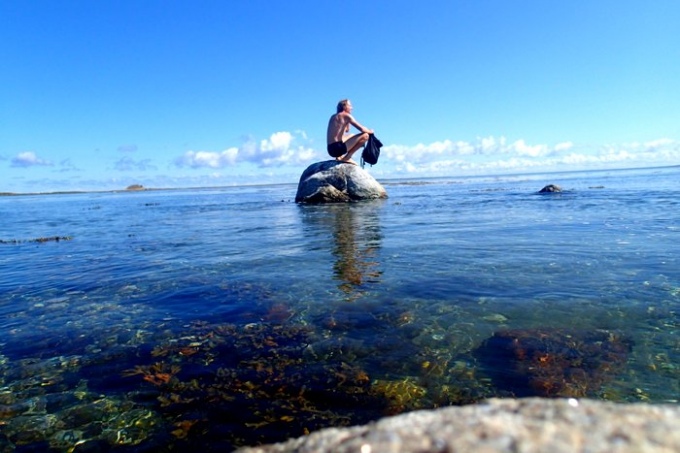 Mid run / swim with my dry bag rucksack.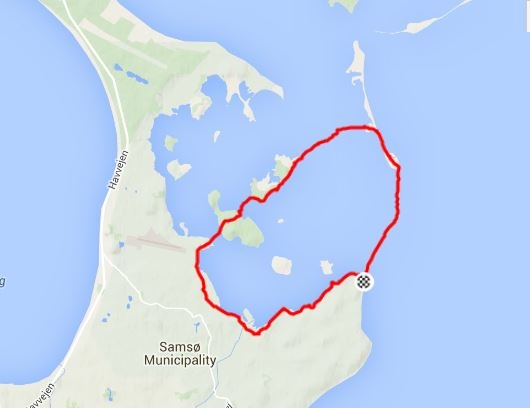 The GPS trace!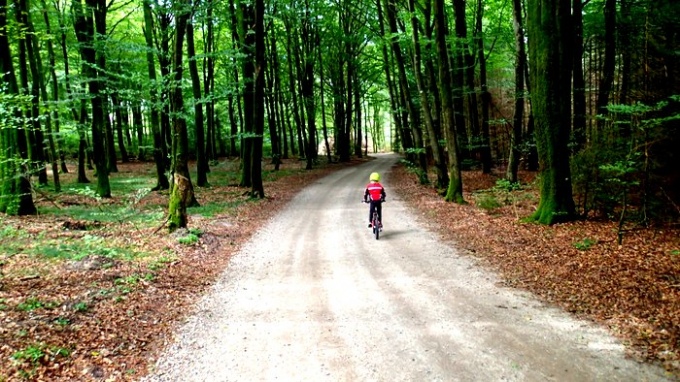 Most of the cycling was done on tarmac, but we had about 10% on forest tracks.
We catch another ferry to escape Samso and head East, back towards Copenhagen and home, but with one more scheduled stop. In the nineties a collection of five scuttled Viking longboats were found in the mouth of a fjord off the town of Roskilde. Over a decade later the boats had been recovered and reconstructed and an impressive museum built with them as its centrepiece. The museum is good, but a stark contrast to our previous two weeks. There's a real life reconstructed Viking boat that we are allowed to climb into and explore. I could have spent the whole day on the boat! From there we cheat and catch the train for the last 30km to the centre of Copenhagen. We get wet cycling to the hostel which is full when we get there so we end up staying with a friend of a friend who treats the boys like princes and sends us off with a memorable night of red wine and chatter. We leave in the rain, happy, tired and itching for another biking trip! (the following day large parts of Copenhagen are inundated with floods!)
Some useful things to know if cycling in Denmark:
There's a national cycling routes map, but it's far from ideal. Useful for planning longer routes, but no use for localised route finding. Instead shell out for the regional maps (which actually come inside regional guides). They are published by Dansk Cyclist Forbund. There are 7 of them that cover the whole country, scale 1:100,000. It's prefectly possible to navigate with these.
Try to plan your route from West to East as the wind generally blows from the West.
Download the Shelter App. The developers say that they are developing an English language version which will be really useful. We didn't realise that you need to book in online to stay at the shelters even though there is no cost. We got away with this because we were there out of season and on the two occasions when it was an issue we worked around it. If this isn't forthcoming then here's the workaround I used to get it onto my phone: - Change App Store country from UK to Danish. - Download Shelter. - Change App Store country back to the UK. There's a book which supposedly lists all the shelters which we contemplated buying (for quite a lot of money) before we went. Fortunately we opted to get it when we arrived. It would have been a total waste of money as it's all in Danish with teeny tiny maps. The app is far superior.
Danish schools go back around the middle of August which was when we arrived. I can't vouch for how busy it is before that time, but can highly recommend going when we did. Everything was quiet, but still open. I suspect that staying in the shelters would require boking well in advance during the holidays, especially at the weekends.
Although the country is very much set up for cycling, and there are cycle lanes in all the towns and cities, it still takes some getting used to and was a little nerve wracking with the kids. We adopted a pattern of adult, older kid, younger kid, adult when in built up areas and both of us were issuing fairly constant instruction to the two boys. Cross roads and roundabouts have their own set of rules which aren't immediately obvious so don't sail into them expecting to get them right first time! Fortunately cars are on the whole very sympathetic to cyclists.
Eating and drinking out is expensive, but shopping is on a par with the UK. Campsites are affordable.
Accommodation in Copenhagen is very expensive. Even the basic hostel we tried to stay in was around £90 for a room for the four of us, but there are free shelters and camping areas less than an hour's ride from the a airport. If you can arrange to get a flight leaving in the afternoon you should be able to camp, cycle to the airport, and dismantle your bikes there.
There's a shop to buy cycling maps here (website). We bought camping gas at a nearby shop. Once we got out of Copenhagen it was very difficult to buy either maps or gas. In fact the only place we found to do so was in the very touristy Ry which had a decent tourist information shop and some outdoor gear shops.
The main tourist information centre in Copenhagen was barely worth going to. Long queues for less than enthusiastic staff giving very little information. The cycle shop was far better.
If you don't have friends you could leave your bike bags with then I would suggest a call to the above Bike shop (cycling federation office) for advice.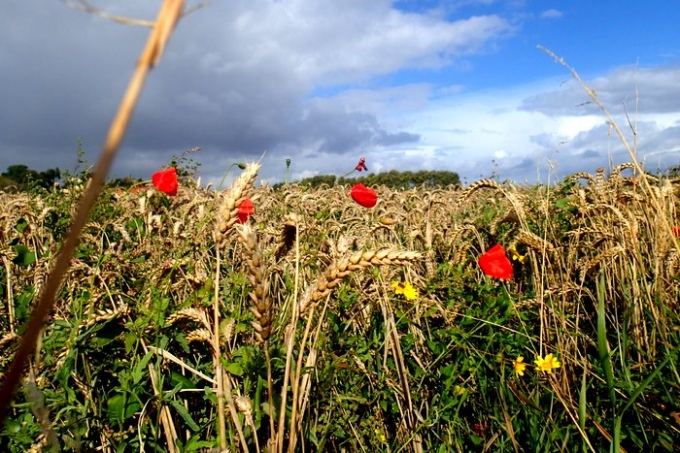 Some useful tips on cycle touring in general:
Take a Leatherman.
Take pack towels and technical quick-drying clothing. Don't take regular towels or cotton clothes.
Get a removable bar bag. Essential for carrying maps, wallets, gloves, glasses etc, and easily removable if you go into a supermarket.
Buy a pack of 2 or 4 litre sandwich bags. Opened packets and bags of food can be individually wrapped in these inside your pannier.
If you've got the weight to spare take a track pump and a small cordless screwdriver with the relevant fittings to allow you to build and dismantle your bikes quickly at the airport. We didn't take these with us, but left them in the bags in storage.
Take a decent tool kit and set of spares including at least one tube for each wheel size.
Don't bother taking too many toys or games, there's plenty to do around the huts and camp sites with a knife and a tennis ball (though not necessarily both at the same time!).
A lightweight tarp was a useful additional bit of kit we used as a screen on the open side of the shelters.
Try not to book your accommodation. That way you can cycle for as long or as a little as you like / need each day.
We actually only took three bike bags as the two boys' bikes fitted into a single bag (lightweight Isla Bikes - reviews: Bein 20 Small and Beinn 26 Small). This enabled us to put all the panniers into a 4th large bag about the same size and weight a a bike bag. If you had 4 bike bags then I think you would in reality need to book an extra bag for the panniers to go in. Depends on which airline and what their rules are.
Here is a larger collection of photos of the trip
Here's a Google map showing the useful point n Copenhagen. I've made this a public map that anybody can edit. If you fancy adding your own family cycle touring spots please do so.
If you are interested we cycled 270 miles in two and a half weeks, averaging about 20 miles each day, but putting in a couple of 40 milers.
If you've got any questions about doing a similar trip please just ask. And if you've been on a similar trip, in this country, Denmark, or anywhere else and fancy sharing the knowledge then please send me basic details and I will append to this article.
Thanks to everybody who put us up, lent us bikes and bike kit. Very, very much appreciated. That's Frances, Chris & Amy, Mike, Mel & Deb, Cate & Anton, Mads & Avi, Rachel & Alan, Steve & Rach, Neil, and of course, Jesper.