Hvar, Hvar Away - Croatia
Hvar, Hvar Away


If you've been climbing for more than ten years you'll probably remember the audacious trip reported in our media, led by the charismatic Mike Weeks, as he piloted a splendiferous yacht around the islands of the Dalmatian coast of Croatia with a star-studded cast of Deep Water Soloing pioneers (McClure, Sharma, Emmett, Gresham and friends). Truth be told, the film that was released following the trip didn't really encourage a visit to the area, focusing on beautiful people enjoying luxurious speed-boat journeys and horribly hard and scary looking crimp-fests with names such as Depth Charge and Ring Of Fire. The previous year the region experienced an even less-auspicious occasion. An entrepreneurial Slovak who had just purchased a disused sea-fronted quarry on the island of Hvar sought to let the world know about his little corner of paradise by throwing an international DWS festival. Tragically it happened just days after the untimely death of DWS founding figure Damian Cook. A good number of the stars who'd been scheduled to attend the festival were quite understandably at their friend's funeral instead. These two events happened in 2005 and 2004 respectively. Apart from a brief mention in Mike Robertson's Rockfax guidebook 'Deep Water', that is about as much as most Brits know about the place.


Last year, whilst researching an adventure trip for a bunch of mates, I stumbled across a link on somebody's Facebook wall to a place called Cliffbase. It turned out that it's the same place that had been bought by the Slovak years ago, and looked every bit 'a little corner of paradise'. A raft of emails later and 8 of us were booked for a week in September.


Pre-trip communication with the Slovakian owner, Miro, hinted at either a very basic grasp of English or an unusually laid-back attitude. A series of minimalist replies found us booked into a hostel in Split on the mainland and an arrangement to be picked up on arrival at the island of Hvar and to be driven to Cliffbase in Miro's four-wheel-drive along the 'dirty' route. Beyond that we were in the dark. We knew we had accommodation booked, but took sleeping bags; we figured there were cooking facilities, but were not reassured by one email about the local shop which said "Maybe vegetabe is fine tio buy there, toilette paper".


Travel to Cliffbase itself was involved, but picturesque, interesting and ultimately well, well worth it. It comprised a taxi for 8 from Sheffield to Gatwick (4hrs), a flight to Split (3hrs), a taxi to the harbour / hostel (45mins), a night in Split with a few hours to explore the old town and its tumbling, floodlit bars and restaurants; a ferry to Hvar (1.5hrs) - another exquisite town built of ageless stone and drenched in lush, colourful vegetation - a final taxi to Sveta Nedjelja (45mins), and finally a ride in Miro's little outboard the last mile to his home. Nestled amongst the boulders at the foot of a sweep of orange cliffs, with no road access, it is probably unnoticed by the majority of the yachts sailing along the coast. Closer inspection reveals a couple of terracotta-tiled roofs, a small solar-powered water tank, and, in the right light, a cliff sparkling with 2,000 stainless-steel bolts. Tucked out of sight between two gigantic boulders is a semi - natural harbour, a tiny but perfectly-formed beach, a short section of harbour wall onto which we unloaded our bags, and a cute cave packed with sea kayaks, wind surfers in various stages of evolution and strands of seaweed blowing around in the breeze.


Miro, it transpired, has perfectly adequate English, and is as laid back as his emails hinted at; a blend of Baltic charm and self-assuredness with the sort of weathered features to excite photographers, dressed in a white vest and some very worn climbing trousers he is a character worthy of a film. He bought the place 13 years ago as an abandoned quarry (what they were quarrying was never obvious to us, there being no real signs of holes, shafts or spoil heaps - perhaps that's why it was sold?), and has spent that time literally carving out this existence in the coastline. His own living quarters are spartan - a bedroom, a kitchen with a kind of communal terrace with hammock, fire pit, mountains of climbing gear, Hilti drill, and solar batteries in watertight boxes. The rooms themselves are effectively caves amongst the tumble of boulders, each with tiled floors, mattresses, a fridge, sink, and a cooker. There's little electricity so everything runs off gas with candlelight the only illumination aside from one battery-run bulb that lights the communal area. Solar panels give basic power, but only to the terrace and to Milo's bedroom. There are windows, but no glass. Concrete and tiles have been used imaginatively with a really creative mind to make shelves for candles and cutlery tins, drainage channels for occasional rain and the back walls of the cave-rooms which run with seepage water. There are hefty wooden beams; few chairs or tables. Carpets of flowers give colour, and olive trees provide shade. It's basic. It's rustic. It's really quite, quite magical.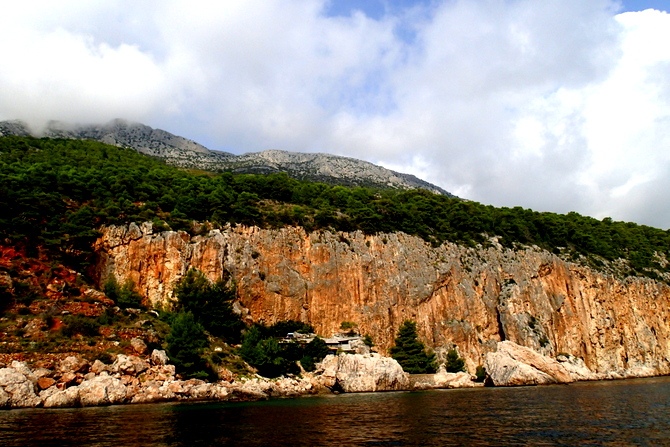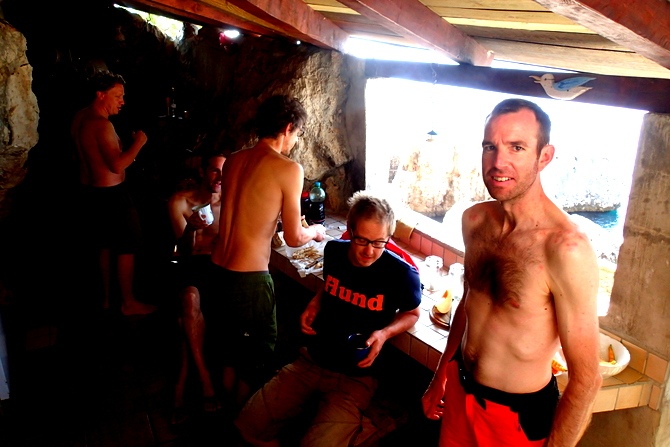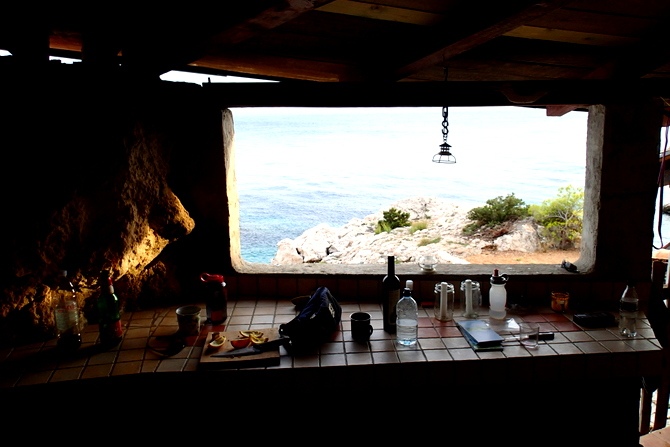 Our week flew by in a blur of superb climbing, drinking cold beer, midnight skinny-dipping, sun-soaking and sea-kayaking. Can there possibly be a better combination of things to do with mates?


The Climbing


We'd come primarily to climb, but also to swim, dive, snorkel and kayak. In September the water was a balmy 23 degrees; not quite the temperature enjoyed by the summer masses, but comfortably warm enough for extended dips given the air temperature was in the mid to upper 20s. The climbing area immediately within Cliffbase is not massively extensive, but Miro has packed in the routes. First up there's the Garden Area. This comprises 22 routes from 5b to 8a, with most in the 7 range. This was about 10 meters from our living quarters and features a lovely olive tree shading a picnic table and a picturesque rustic raised platform and tiled roof. The routes are between 20m or 30m and well bolted. To the right the Main Wall is split into 3 sub-sections: Pine (14 routes, 5a to 7a, up to 40m, some multi-pitch), Harbour (14 routes, 5a to 7b, up to 40m, mainly multi-pitch) and Shadow (19 routes, 5c to 6c+, 8m to 40m, mainly single-pitch). As the latter name suggests, this wall takes the full force of the sun from reasonably early in the morning which can be a good or a bad thing depending on the time of year and your personal tolerance for sweaty holds. If shade is your preference then the most striking feature of the place is the The Tower. This is a major feature of the cliff which was once a stand-alone pillar and has, at some point, tipped landward and now rests against the main cliff providing two contrasting faces, one vertical and one gently leaning, with some brilliantly located routes on the seaward face. All told there are a further 53 routes on these faces ranging from 5b to 8a, all single-pitch, between 8m and 42m in length. That's 123 routes in total. The rock is uniformly good quality orange-and-yellow limestone, some with black streaks and a crozzly surface. It's rarely too sharp for comfort, although the seaward face of The Tower is an exception. On the inside leaning wall the rock has a subterranean feel, almost water-worn. On initial acquaintance it looks rounded and featureless, but it's actually an absolute joy to climb. All the bolt belays are solid and reassuring given the coastal nature of the place, stainless steel having been used throughout. An 80m rope is useful if you want your pick of routes here, with well over half of them longer than 30m. Despite the fact that much of the cliff is in the sun for most of the day there is plenty of shade at the base thanks to a beautifully landscaped series of terraces with lush vegetation, and the fact that, as there are faces oriented to 3 points of the compass, it's always possible to find shade. If there's somebody already on the route you want and you don't fancy climbing in the sun, there's always the water! There's a topo on the Cliffbase website.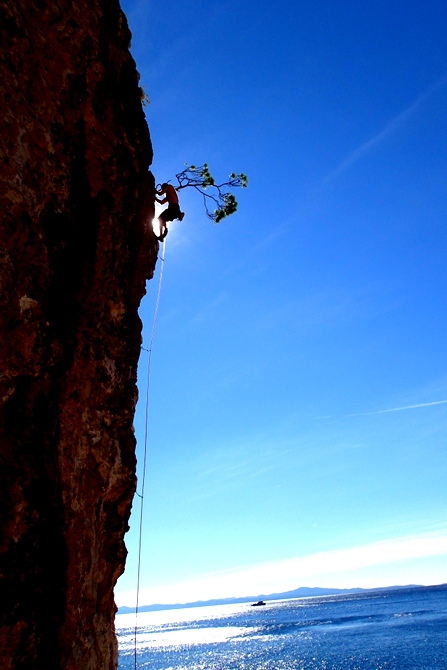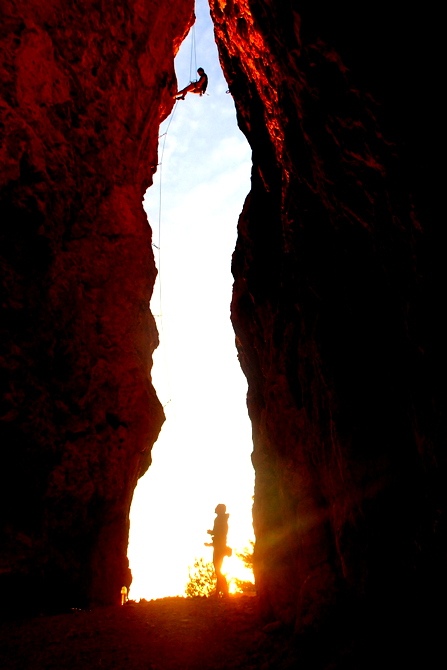 The Deep Water Soloing


If you traverse around the outside face of The Tower or scramble up the jumble of boulders inside the arch you'll come to a roped traverse line which gives access to about half a mile of cliff, virtually all of which is above deep turquoise water. Frustratingly, the cliff is too high to allow any straight-up routes, so is really only good for either traversing or climbing to a ledge and jumping from. It's not Diablo or Cala Barques, but it's still plenty of fun. A few miles west along the coast is a lovely white-pebble beach with olive trees and a fresh water stream (which would make a lovely bivvie spot). Accessed by a dirt road heading West out of Sveta Nedjelja it has some more fun DWS action just a short swim from the beach. We accessed it with inflatable canoes that we'd brought with us. Miro has 3 or 4 usable plastic kayaks, so unless you are in a large group like us you'd probably be better off using his.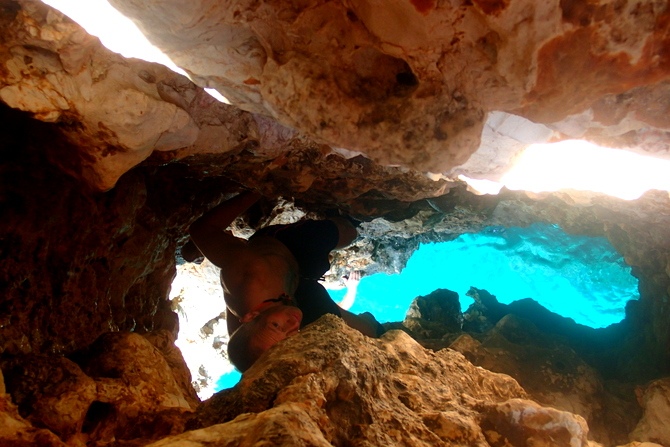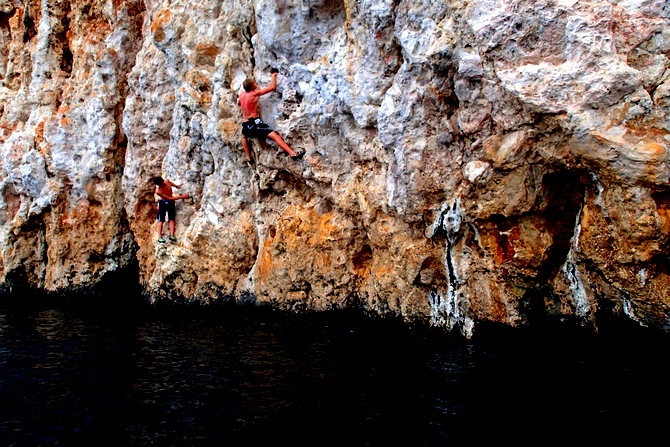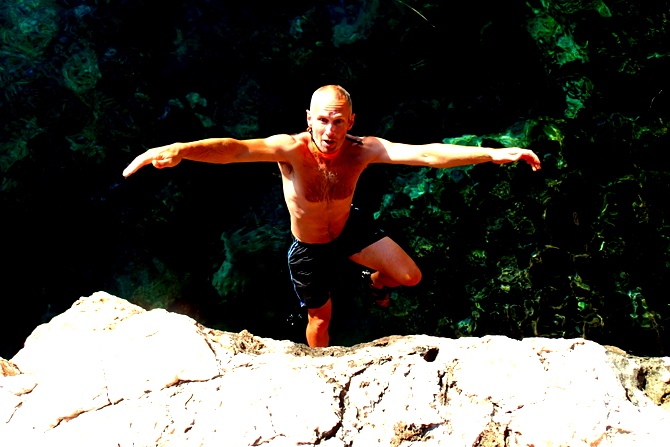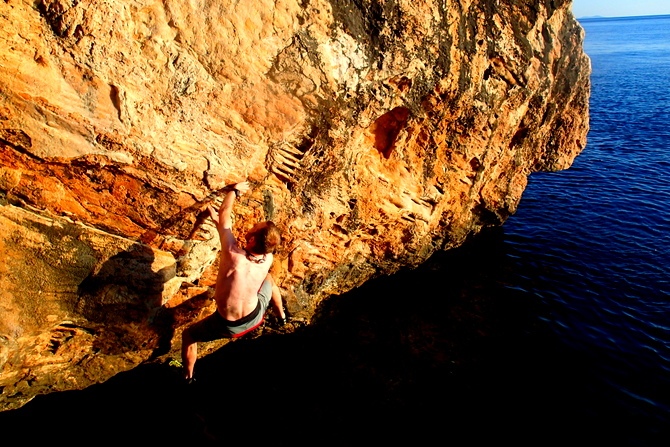 What Else To Do


The hillside behind Cliffbase is steep and terraced, cultivated with vines and olive trees. Miro owns some of the best vines on the island and each year commandeers whoever happens to be staying with him at the time to help to harvest the grapes and olives. We were denied that pleasure, but were treated to some very acceptable red wine and some of the biggest olives I've ever seen, accompanying a memorable fish dinner on our last night. One of the guests, a regular (of which there are plenty by the sound of it, such is the allure of the place), played the violin as the sun set and we barbecued eight large fish.


If you fancy a rest day from climbing and water sports it's well worth winding your way up through the village and into the vineyards past a couple of large caves - one of which houses a little monastery - to the island's highest point. There is a giant stone cross accessed by a precipitous rock ridge. Watching the sun set from up there is a priveledged experience, but do bear in mind that it's a long way back down .The summit is at just over 2.000 feet, and darkness descends rapidly at this latitude!). Further North on the summit escarpment, if you fancy an explore, is a phenomenal maze of walls and gardens / fields which apparently used to be a lavender growing area benefitting from the cooler mountain air.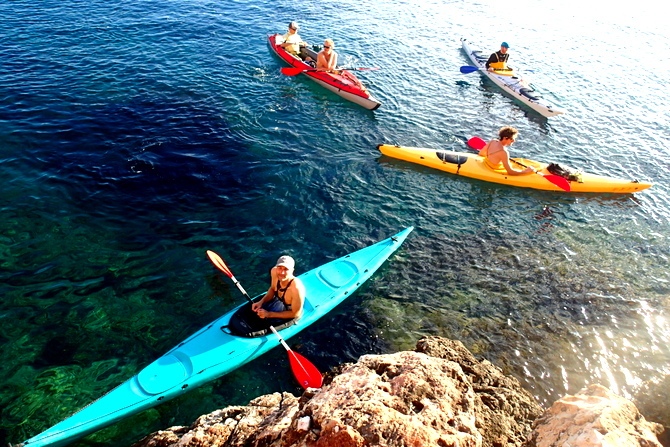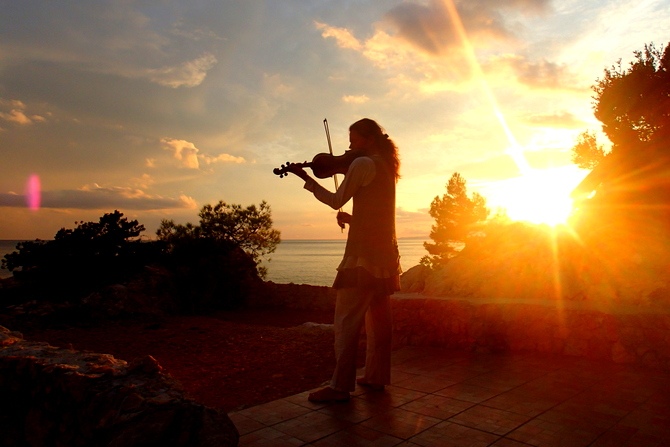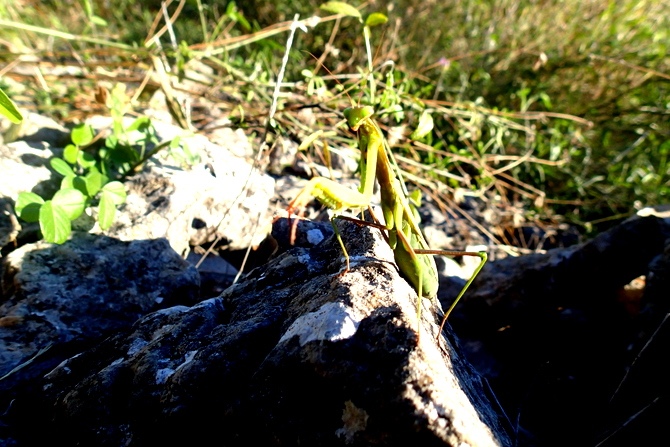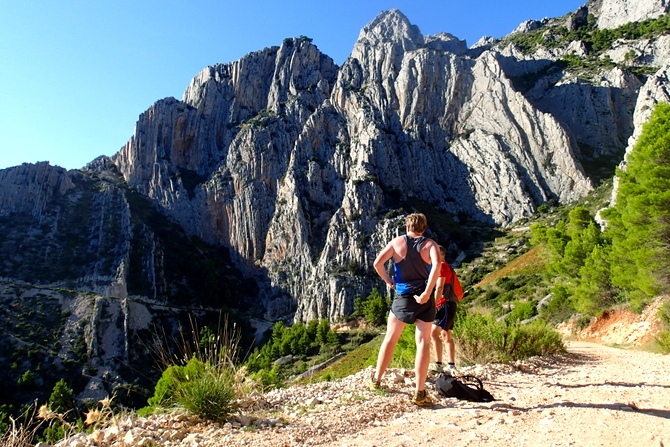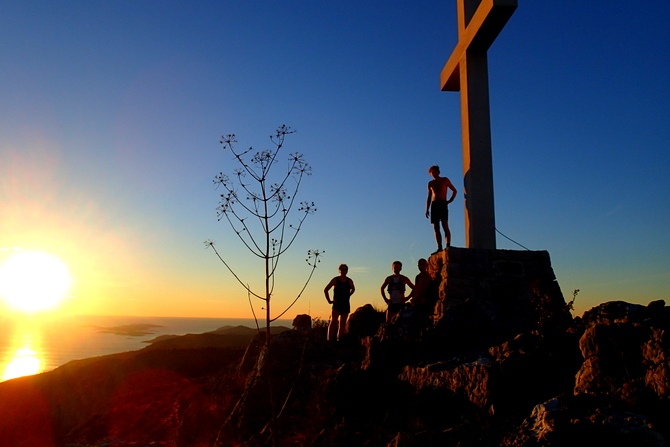 Practical Stuff


Although there are gas cookers and fridges at Cliffbase there is only one shop in the local village. It's a 15-minute walk away and stocks a random and fairly limited range of produce. There's a supermarket a drive away and Miro will take you there if you ask him nicely. There are two restaurants in the village. One (it's obvious which one) was expensive (we didn't eat there), but the other is reasonably priced and serves really excellent food including a massive choice of seafood. During our week we ate there three times and fended for ourselves for the rest of the time based on what we could get from the shop and what we picked up as we landed at Hvar market. If you're lucky Miro may let you taste some of his own Mali Plavac wine.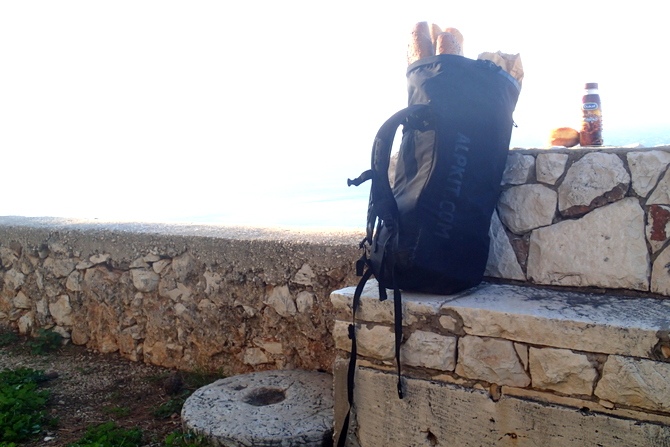 Note that there are two ferry routes from Split to the island. The faster and more expensive option is to get the jet boat (foot passengers only) directly into Hvar town. Alternatively you can catch the slower ferry boat (which takes cars) into Stari Grad (see www.jadrolinija.hr for both routes) which is a quiet little outpost on the north coast of the island which has its own well-stocked supermarket and is the place where Miro can give you a lift or the best place to arrange a taxi from (Arriving in Hvar town necessitates a 40-minute taxi ride around the island despite the fact that it's only about 15km away as the crow flies - look at a map and it makes sense. If you were feeling adventurous it could be fun to hire a water taxi from Hvar directly to Cliffbase – there are plenty lined up in the harbour when you arrive).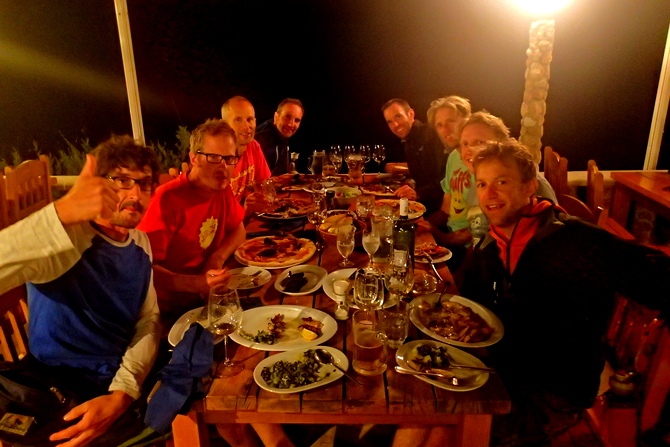 If you choose not to stay at Cliffbase or it is full for your chosen dates, there are several stone-and-tile villas in nearby Sveta Nedjelja available for rent (Miro can advise if you contact him). Then there's a small charge to climb, payable to Miro each day. Admission to Cliffbase is limited and by reservation only. By arranging your accommodation through Miro you automatically reserve space at Cliffbase for you and your entire party, and receive a 50% discount on your entrance ticket. There is other climbing on Hvar, but there was simply no need to leave Paradise...



Useful websites: http://www.cliffbase.com/ | http://www.splitbackpackers.com/

You can contact Miro on cliffbase@cliffbase.com
This article was originally published in 2014 in Climb Magazine, and has been republished here with their kind permission.