(see below for photos)
I don't usually write up runs , but this one deserves a few words. Not sure whether it's the route that deserves the words, or me and Neil for having done it? Probably a bit of both. Friday night I mentioned to Al that I was going to attempt the Magic Roundabout on Saturday. Al knows everything and sure enough replied that he'd done it himself in the dim and distant past. Worryingly he went on to say that it was the most depressingly pointless run he'd ever done. That was the comment I went to sleep with. Being an optimistic chap I woke on Saturday well rested and actually looking forward to it.

The Magic Roundabout is a tortuous route dreamed up by a guy called Alex. It's essentially a circuit of the Kinder plateaux, climbing onto the various high points, before dropping immediately back to the border between farm and open-access land again and again. 11 times in all! With a couple of beefy mountain runs on the cards later in the year Neil and I both have the urge to get some ascent and descent under our belts and this seemed like a good way of going about it without travelling to Snowdonia or the Lakes.

What an amazing day. It was chilly, especially on the top in the wind, and cloudy, but I think that suited us. I wore the same two layers all day - a thin long sleeved thermal with thumb hooks, and an equally thin softshell. We plotted the route via Strava, but in the spirit of the challenge, literally plotted the grid references and joined them with straight lines. This GPX file was uploaded to our phones and overlaid on a 1:25,000 OS map. The plotted course was 16.67 miles with 8,536 feet of height gained and lost. Obviously we didn't follow the lines exactly so we actually ran 20.7miles with 8,968 feet.

I say ran but it was really more of a walk. All the climbs were walked, all the downs were run. There was very little in between. I'd say roughly 10% of what we did was on paths, the rest was heather, bilberry, bracken, peat hags and sheep trods. It took us around 7 hours. We stopped at the base of each climb for a couple of minutes to snack and drink from the streams. We used walking poles on the last three climbs. Neil's shoe gave up the ghost as we dropped down towards Edale on our third descent so we carried on down into the village and blagged some gaffa tape from a friend. Amazingly the repair job lasted another 5 hours!

I can't imagine what it would have been like to run (walk) this in poor weather, muddy conditions, or snow and ice. We hit perfect conditions. Much of the ground was so dry it was spring loaded and felt like running with suspension. Plenty of grouse and three mountain hares kept us company. The first half (running clock wise from Edale YHA) was the prettiest, the latter section alongside the A57 not so inspiring thanks in large part to the constant car and motor bike noise. The northern leg felt properly wild and away from it all.

Thanks Neil for running it with me. Thanks Ian for finding it. And thanks Alex Pryor for inventing it. Without such crazy challenges life would be that bit less shiny.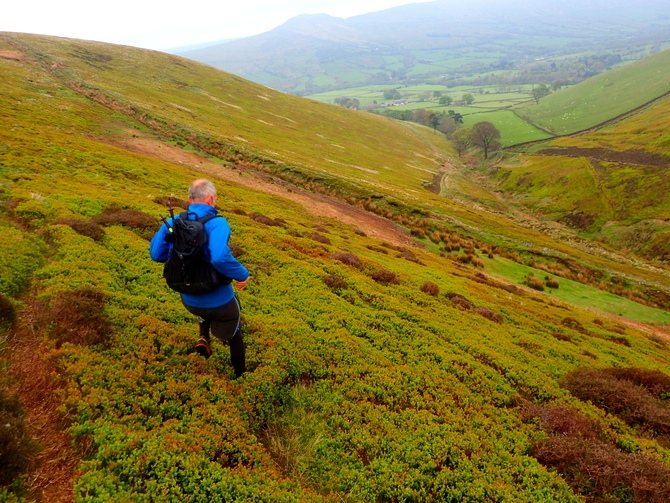 Our first descent - a springy bed of bilberry.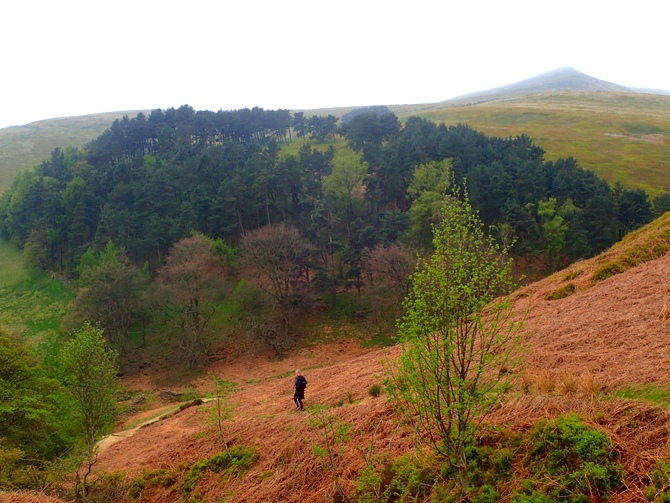 Descent no 2. A welcome sheep trod.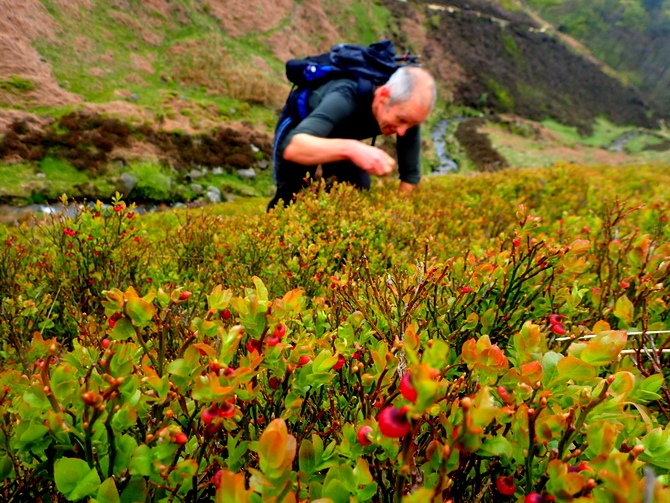 Hands on ascending.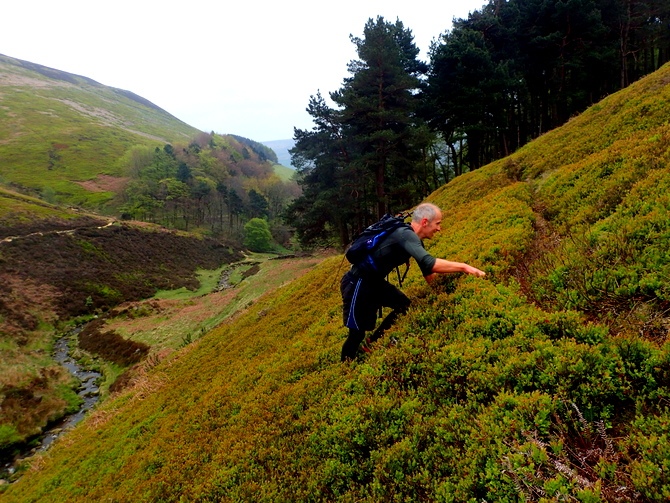 Difficult to justify calling it a run really...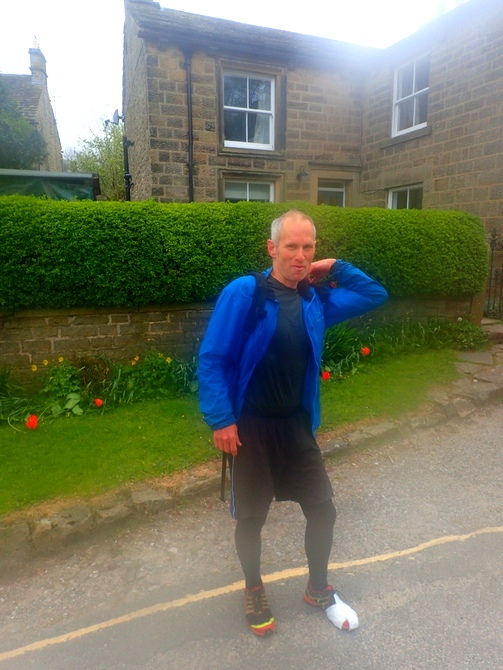 Thanks Jill for the Gaffa Tape!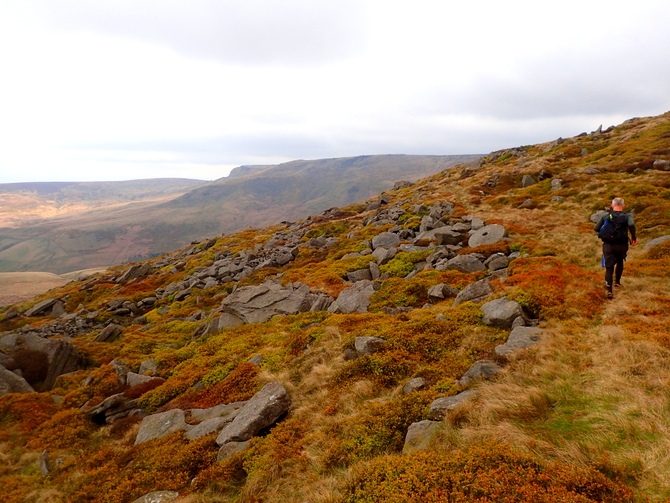 A millstone felt very incongruous in the wild landscapes half way round. A mountain hare had just belted off into the rocks here. It was so big and white I initially thought it was a lamb!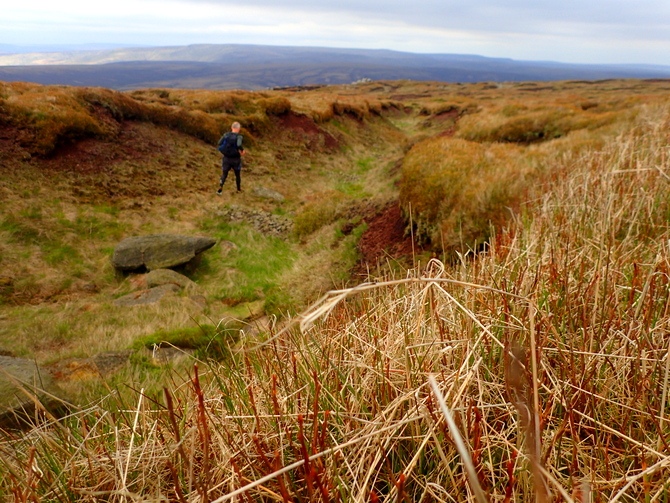 Navigating the peat hags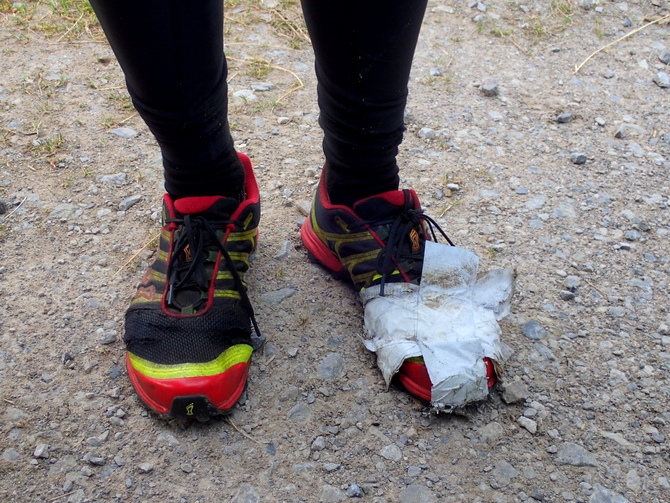 The world is a stronger place with gaffe tape!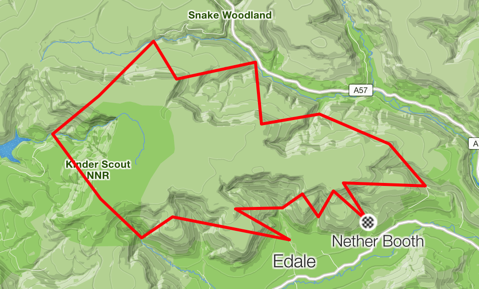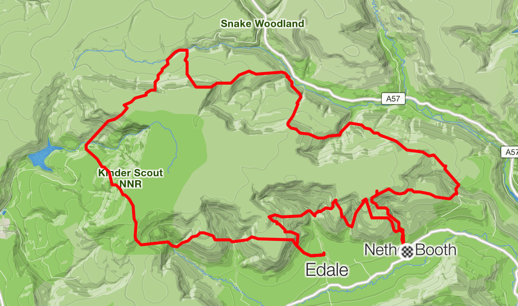 Route plotted vs route run. Theres an additional 3 miles in there!