Witch's Cauldron - A Photo Essay
They say a picture tells a thousand words. It was just such a picture in a guidebook that led us to this place, a dramatic inland lagoon on the coast of mid Wales accessible only for those happy to stray off the path.

First of all a word on guidebooks. I lend guidebooks to people regularly. I do it willingly, but I am sad to say that over the years one or two have not returned home. However I do question why people borrow them instead of buying them. A typical guidebook will cost you in the region of £15-£20. If you get just a single experience from such a guide then I'd argue that it has paid for itself. I often equate financial costs to that of a round in a pub. Generally speaking most of us are happy to spend an evening in a pub and buy three or four drinks. Depending on which pub that's roughly the cost of a guidebook. An evening in a pub is fun for sure, but the fun that can be had from a good guidebook far, far exceeds it. My advice - buy your own guidebooks, read them, treasure them, keep them by the loo, and take them away on trips with you. Aside from anything else the more guides people buy the more guides people will produce. You can read reviews of the guides I have here.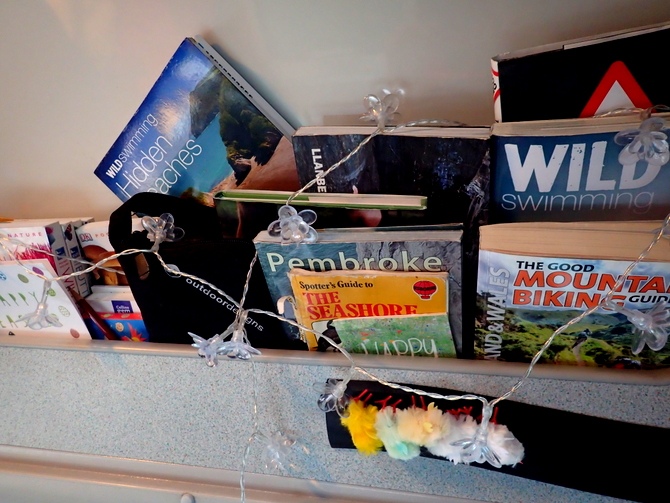 Guidebooks - worth their weight in gold?

The Witch's Cauldron is an entry in one of Daniel Start's superb wild swimming books - Hidden Beaches. In this instance the spot is actually properly hidden away, in a gaping hole in the ground just off the main coastal path a few miles south of Cardigan. When the guide first arrived in the post I eagerly leafed through it in the porch within seconds of the delivery man leaving. As usual with the wild swim guides it was packed full of beautiful images showcasing our wonderful coastline in glorious sunshine , but it was this one particular image that jumped out. It's not even a full page, just a lowly thumbnail of a dark looking cave with somebody stood under a waterfall, clearly underground! The accompanying description adds some mystery - "Mysterious inland lagoon beach reached by swimming in through sea cave". More reading reveals more intrigue - "at the footbridge descend into the stream passage by waterfall (if you can climb back out!)". Clearly the writer is waving a red rag at a bull in my case. A quick glance at the map to see roughly where in the UK this is, and the seed has been well and truly planted.

A few months later, proud owners of a very red, but very, very cool camper van we have a week to spend on holiday in the UK testing it out. The seed begins to germinate and we head to Wales. It's Easter, but the weather is kind. It's chilly, but dry. We take a circuitous route to get there via the quiet majesty of Cader Idris (via the *** Cyfryw Arete, another find in another guide book, backed up by advice from three Facebook bubble) and Nant Yr Arian Bike Park (the result of some Googling).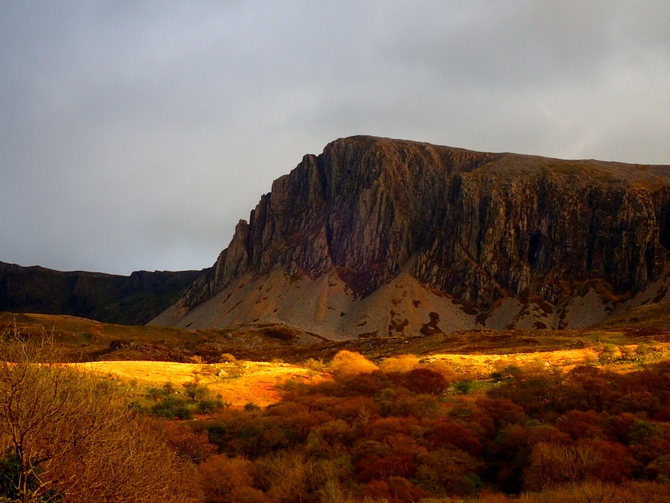 Cader Idris - Cyfryw Arete takes the obvious stepped skyline. It's 150m, Diff.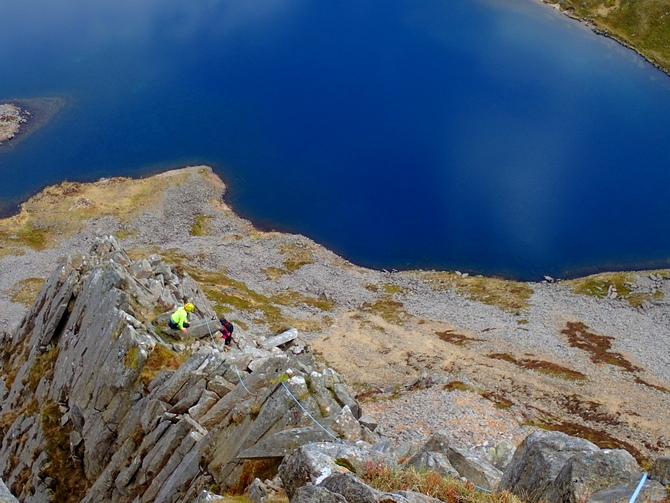 Cyfryw Arete - looking down from near the top, to Llyn Y Gadair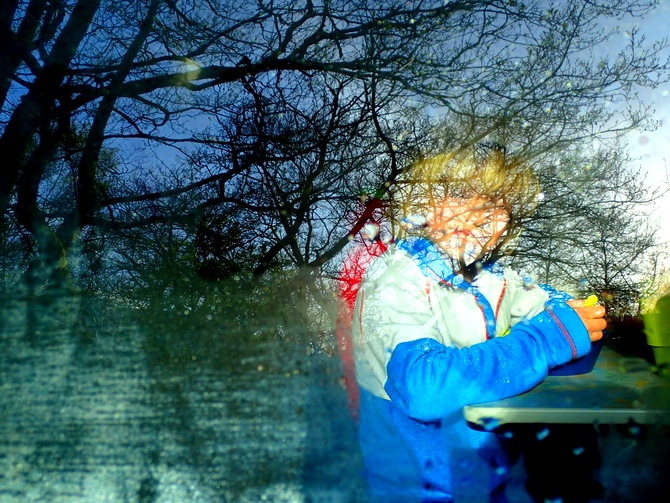 Our van, our home.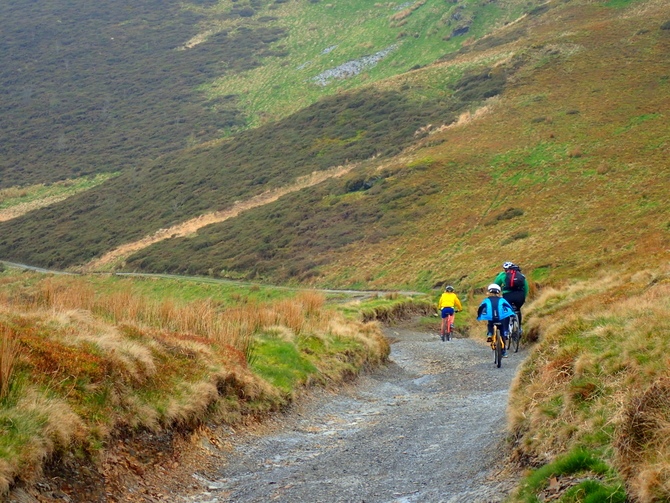 Nant Yr Arian Bike Park - a fantastic mix of remote cross country and great single track


After 4 days of amazing travel down through Wales - quiet, friendly and beautiful - we arrive at Ceibwr Bay, impressive in itself surrounded by high black cliffs studded with a spring blooming flower myriad.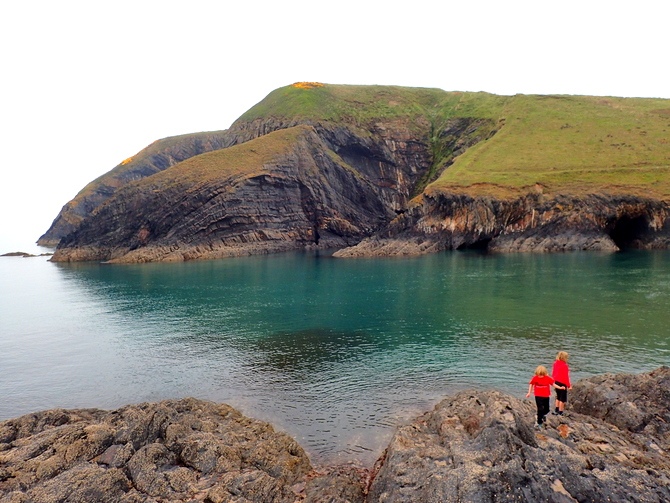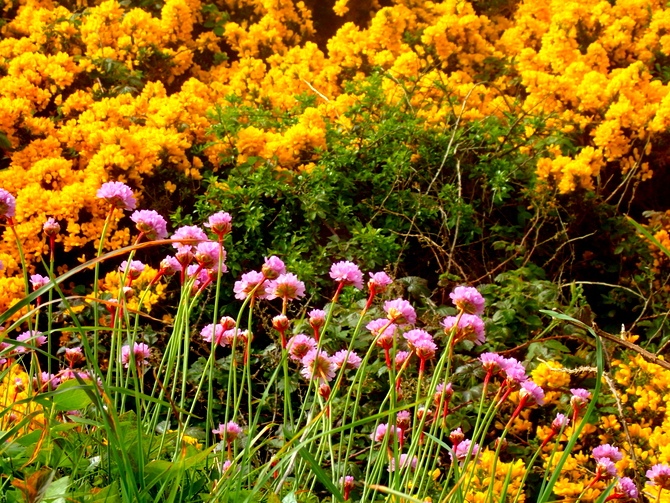 It's about a kilometre along the coastal path to reach the footbridge. At this point you can see the lagoon from above.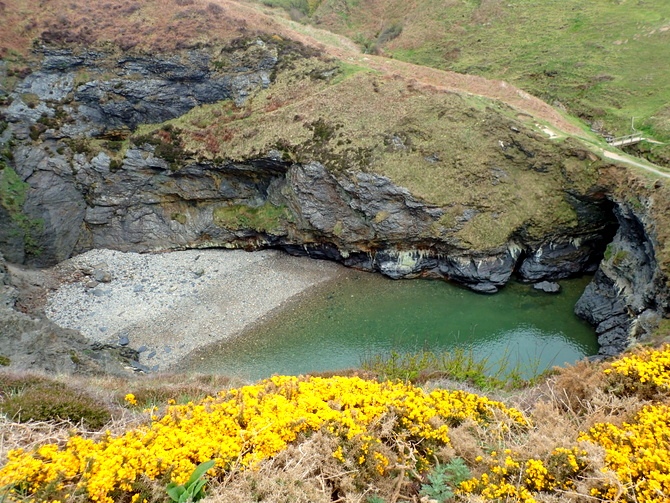 There's not a breath of wind and the sea is literally dead calm. It's mid tide, but it's on its way in so there's an added frisson of excitement thrown into the pot - literally. At the bridge we change into wetsuits and stash everything into dry bags on a grassy shelf specked with dandelions. Suited and booted up we climb down into the stream.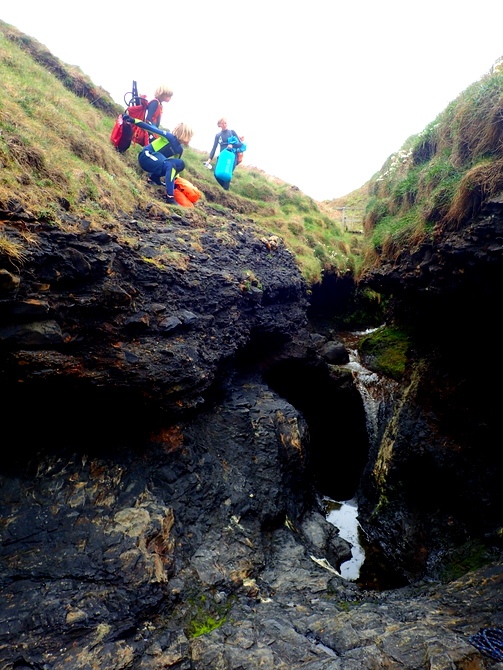 It feels fresh and smells of newly disturbed earth. The stream is in a kind of ravine which narrows as we descend. Just out of site from the wooden bridge the water disappears into a hole. It drops about 10 feet onto a sandy beach in a small cave.
It is quite beautiful. I rig a length of old climbing rope, dangling the end over the edge of the slippery sides as if the tide is too high this may be our only route out.

We climb down. The lagoon reaches almost to the waterfall, invisible until you drop in.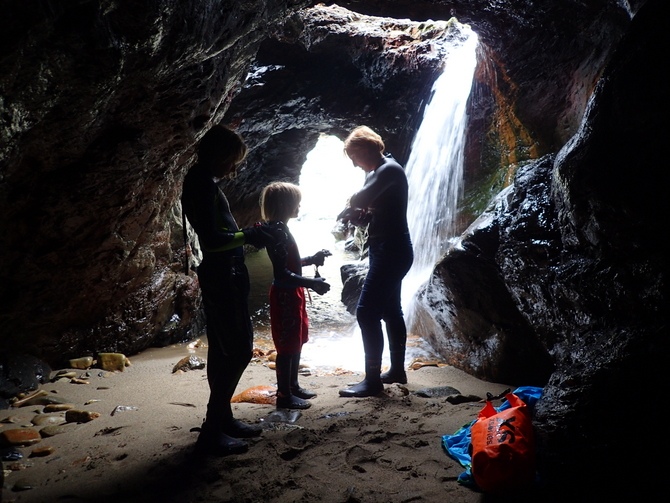 We blow up a couple of cheap Decathlon body floats and venture out. It's entirely calm and peaceful save for a few sea gulls hurling insults.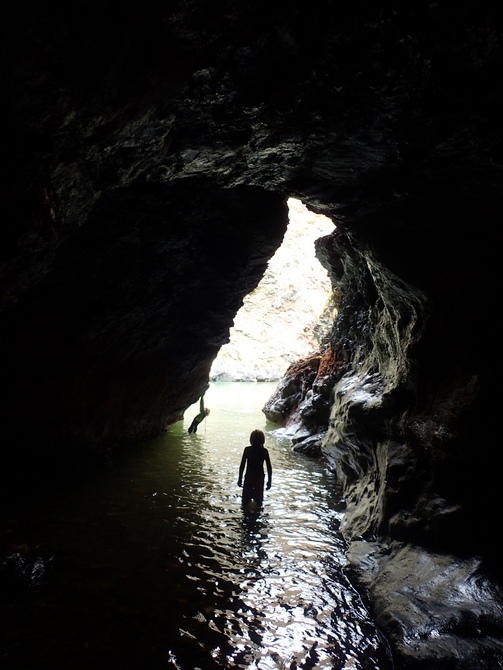 20m or so of swimming and we're out into the open air again, looking up at where we'd looked down from half an hour previously. There's a beach of stones and fishing floats, ostensibly the reason this spot was included in a guidebook on Hidden Beaches, but the beach is a distraction.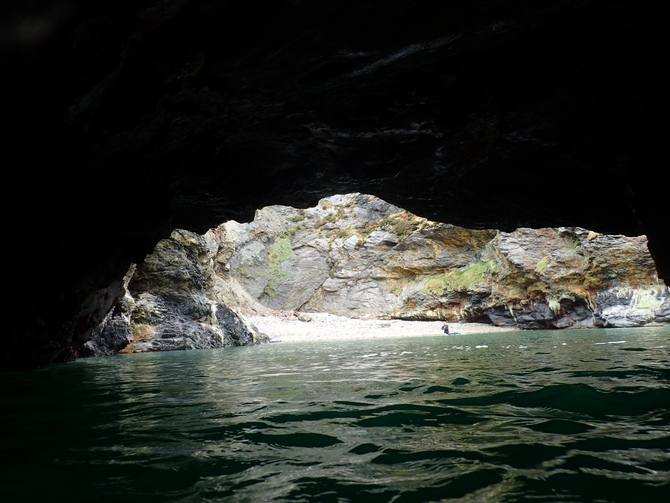 It's the whole place that oozes with a sense of adventure. We scan around to see if the sea cave entrance is passable still. There are two - one is a big arch, passable in all but the biggest of seas,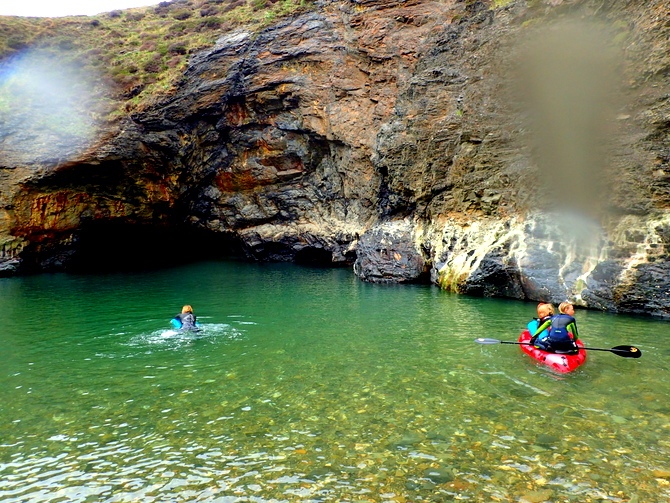 but the other is revealed by a glimmer of emerald green - an eighteen inch slot between sea and stone. We watch a while assessing the swell to make sure we aren't doing something foolish, and then enter. It's perhaps 30m to swim through, only a minute of paddling, but it's a memorable minute. It feels wrong to be here - there's a real feeling of danger, but the reality is it is safe. The sea is calm, the tide is rising, but not fast enough to pose any risk. It's simply that we are in a space that we don't go often. We are out of our comfort zones.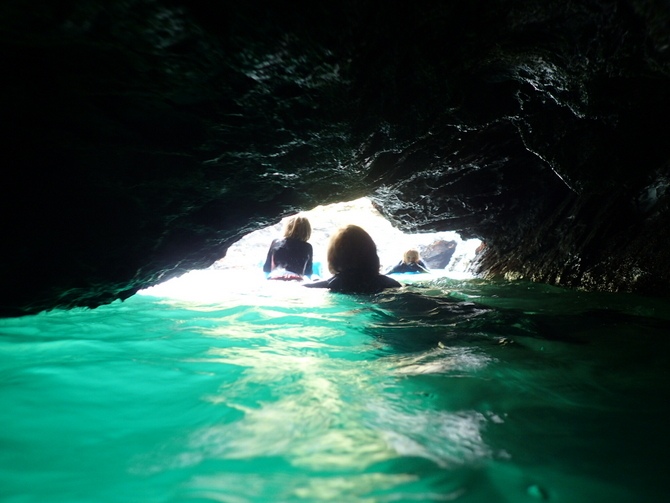 We scull back through the cave, back to the beach where we inflate a dinghy and fill it with our things. The conditions are so good that we decide to swim back to the bay, back along the coast under the coastal path which traverses the cliffs. In a high sea this would be silly, there are no natural exit points through the cliffs until you reach the bay. The boys are in the boat, paddling, hugging the shore. We swim nearby. We get out from time to time to look in the rock pools and stretch legs. But really it's to revel in our surroundings. Our coastline, on days like this, feels like the best place in the world.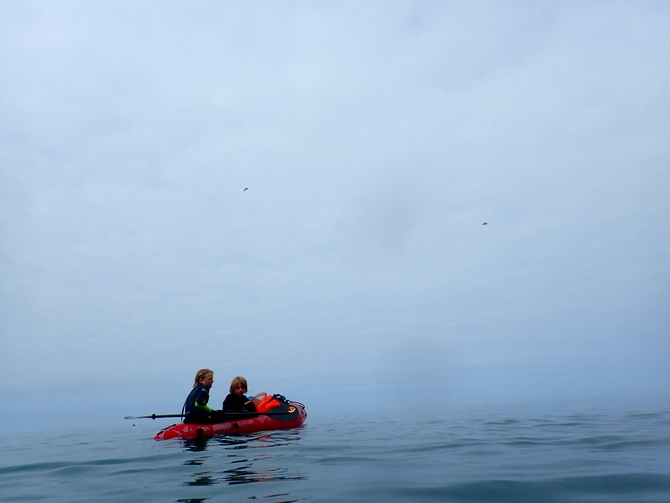 We look up and see a solitary couple waving at us from 300 feet above. I suspect they were concerned that we needed rescuing, so we don't wave back, but swim towards the shore to reassure them we are OK. As we push on along the coast there's one more surprise - one of the jutting headlands in our path is breached by another cave.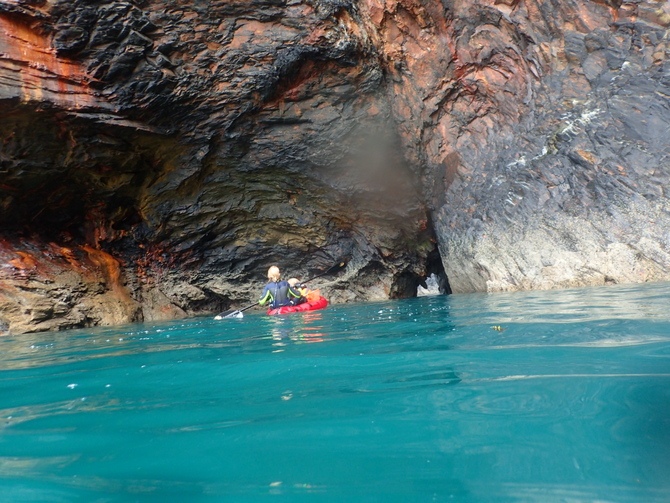 This one is a monster, perhaps 150m long, and dark inside.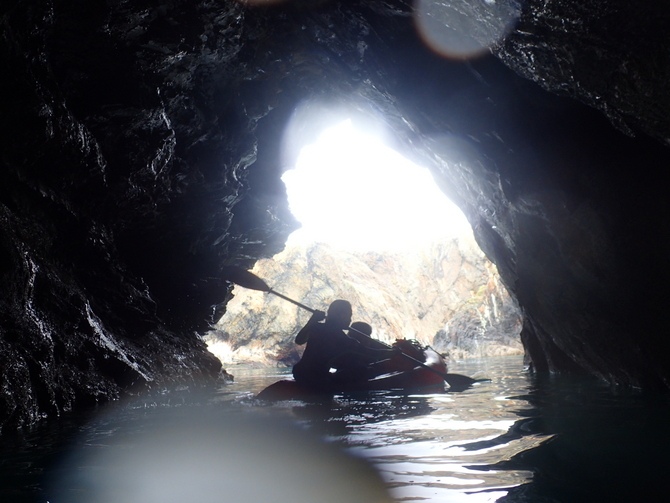 With head torches we venture in. Inside its shallow enough to stand and even get out onto boulders.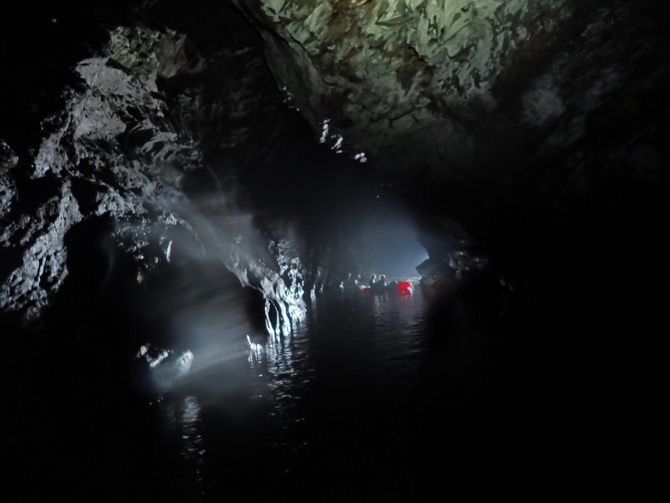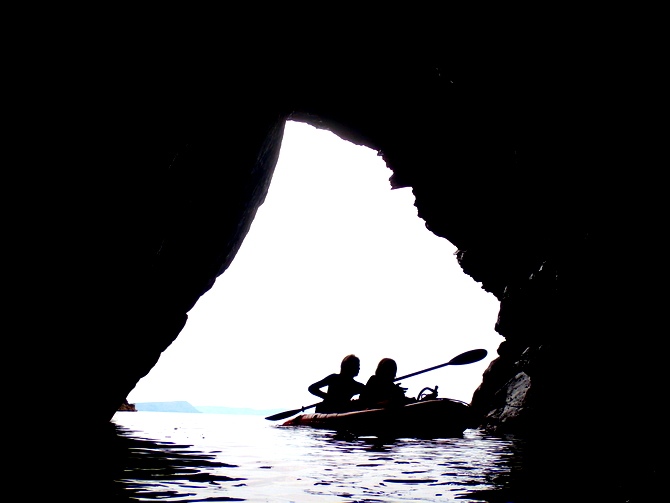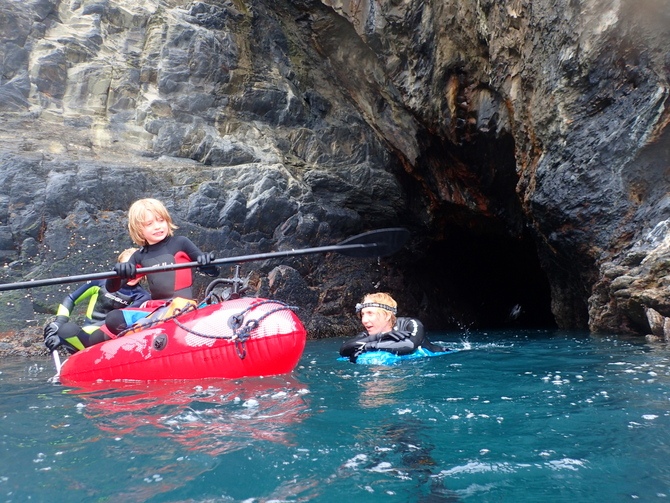 The roof opens up to a large cavern and we bounce echoes to quell the feeling that once again, we are somewhere where we really shouldn't be. There's no real danger this time, the passage is wide, the roof is out of reach, it's just an alien place. The real feat is what it would be like to be in here in a storm. Wedged in cracks metres above us in the roof of the cave are hard plastic buoys driven in here in high seas. That would be truly terrifying.

Back at the beach we strip off and rinse in the fresh water stream, careful to spare the binocular wielding bird watching family any glimpses of our goose bumped flesh. We've been in the water probably 3 hours.

I can't say you should go and do this without the warning that it should really only be attempted in good conditions, and if you have the right gear. With those caveats in place this has to rank up there with one of the best, and most accessible adventures in the British Isles.