Buxton Adventure Festival 2013 line-up announced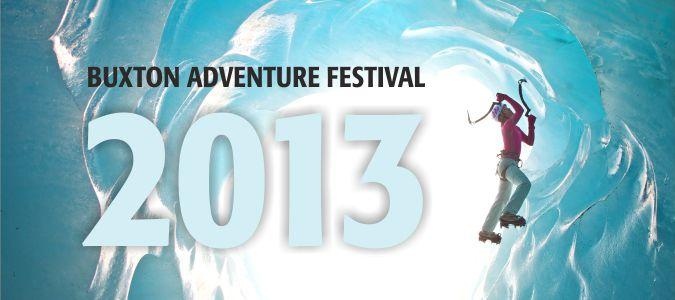 Photo credit: Lucasz Warzecha LW Images
The second Buxton Adventure Festival programme (2nd & 3rd November) is announced today with 10 record-breaking, globe-trotting, mountain-topping inspirational speakers from the worlds of adventure, travel and sport.

Brought to you for the first time last year by the organisers of the Sheffield Adventure Film Festival, in partnership with the University of Derby, Buxton, 100% of our audience said they loved the combination of the magic of live lectures and the thrill of big screen cinema and would recommend it to a friend.

?Plans for this year include a 'Young Adventurers' launch night at the Oaklands Outdoor Leadership Centre, an outdoors photography exhibition in coordination with the Pavilion Gardens and MyOutdoors magazine, use of the adjacent Studio Theatre for 'Adventure Bites' - a rolling loop of short, family-friendly, action-packed films. Plus a junior aquathlon, orienteering and other activities with Derbyshire Village Games, the YHA and High Peak Triathlon Club using the pool and park, and an alpine workshop.

Festival Programme Director Matt Heason of Heason Events, who has organised the Sheffield Adventure Film Festival for the past 7 years, said: "We were blown away by the audience reaction when we tested whether the event would work in Buxton last year. 850 people came and 100% said they liked it, would recommend it and bring a friend."

"We've been welcomed with open arms to the town. The Opera House's Pavilion Arts Centre is a superb, modern venue. With the Peak District on the doorstep and the staff and students at the University of Derby's Oaklands Manor Outdoor Leadership Centre, Buxton is a superb base for a new adventure festival. What's more, the university's three-year sponsorship deal and High Peak Borough Council's 'Invest in Buxton' regeneration strategy, including the restoration of the Crescent hotel and spa, mean there's scope to grow the festival in future years."

Festival PR, Lissa Cook, said: "Between them, our intrepid line-up have pedalled, paddled, climbed, hiked, run, skied and even dog-sledding all over the world. I'm particularly pleased that we've got four strong, female speakers. Matt and I are also committed to keep expanding our family-friendly offer for to inspire the next generation of adventurers."

"We hope the speakers and films at the Buxton Adventure Festival will inspire people to enjoy the outdoors - no matter what their age or ability - and encourage them to set themselves challenges - no matter how big or small."

"Thank you once again to all our sponsors and partners including award-winning Peak District based, adventure sports photographer Lucasz Warzecha at LW Images for allowing us to use his stunning ice cave shot to promote the festival. A special thanks to our patron Mike Tomlinson, Trustee of the Jane Tomlinson Appeal for his continued support."

Strategic Director of the University of Derby, Buxton, Dr Peter Dewhurst said: "Here at the University of Derby Buxton, adventure is part of the curriculum through our portfolio of outdoor courses at Oaklands Manor, so we are delighted to sponsor the Festival in its second year."

"Just like explorers who need practical skills and preparation to face the challenges they will meet, our students leave with real world learning which equips them for a successful future."

ENDS
Press release: Immediate, Monday 12th August 2013

2013 SPEAKER PROGRAMME:

SATURDAY 10.30 - Young Adventurers - Extreme Mountain Biking
Multiple British trials bike champion Danny Butler travels the country with his Extreme Mountain Bike Show demonstrating his team's hair-raising skills on two wheels. One of his intrepid team of top stunt mountain-bikers will be bringing their bike along to Buxton to show off their tricks. (Following our Extreme Mountain Biking demo we'll show a series of the best films from the Sheffield Adventure Film Festival).

SATURDAY 12.30 - Hill Walking - Going Long & Staying Strong
British Mountain Club Hill Walking Officer Carey Davies in conversation with Chris Townsend - outdoor writer and photographer and one of the world's most prolific long-distance walkers. Chris's walks include the 3,100-mile Continental Divide Trail and the first ever continuous walk of the 517 Scottish Munros.

SATURDAY 15.00 - British Mountain Guides - Passion & Professionalism on the Peaks
Three talks compered by fellow guide James Thacker with an audience Q&A:
Mark Walker: Mixing and Matching - A Season Ski Touring Across the European Alps
Jon Morgan: Chamonix Zermatt Haute Route on Skis: A Purist's Version
Al Powell: Ski Mountaineering in Greenland - Exploring the Arctic Wilderness on Dogsleds & Skis

SATURDAY 17.30 - Juliana Buhring - The Fastest Woman To Cycle the World
On December 22, 2012, Juliana Buhring set the first ever Guinness World Record for Fastest Woman to Circumnavigate the World by Bicycle. Juliana's 18,060 mile journey took her across four continents and nineteen countries, in a total time of 152 days and 144 actual days pedalled.

SATURDAY 20.00 - Annie Last - Team GB Mountain Biker
Bakewell born Annie Last made her Olympic debut at the London 2012 Olympics, becoming the first woman to represent Great Britain in the mountain bike event for 12 years. Leading the pack for the first lap, she finished in 8th place overall which was a great result for the developing rider.

SUNDAY 10.30 - Young Adventurers - Urban Acrobatics
Free runners move around by running up walls, jumping between buildings, doing backflips down staircases, seeing objects as opportunities not obstacles. Ahmed from Action in Motion will showcase his amazing acrobatic skills and explain the philosophy behind parkours. (Following our free running demo we'll show a series of the best films from the Sheffield Adventure Film Festival's sell-out Young Adventurers' screening).

SUNDAY 12.30 - Heather Dawe - A Personal Obsession with Mountains
Ultra-runner, climber and cyclist and now author and artist Heather Dawe explores her drive to keep pushing herself harder and harder. Heather has competed and won at Elite level in many mountain marathons like the LAMM and the OMM and has run the Bob Graham Round in under 22 hours. In 2008 she won the renowned Three Peaks Cyclo-cross.

SUNDAY 15.00 - Jez Bragg - Running the Length of New Zealand
Ultra-runner Jez Bragg successfully completed New Zealand's arduous Te Araroa Trail, from top to bottom of both islands, in just 53 days - 9 days quicker than the previous record for running the length of the country. The 3,054km route also involved Jez kayaking across the notoriously dangerous Cook Strait, 120km down the Whanganui River and numerous other river and estuary crossing over the course of the expedition.

SUNDAY 17.30 - Rosie Swale Pope - The World's Longest Unsupported Run
Global Adventurer Rosie Swale-Pope is the only person in world history to have undertaken an epic solo, unsupported run around our world - over 20,000 miles facing extreme danger, bitter Siberian winters, wolves, axmen and desolate loneliness over nearly five years. Her book 'Just a Little Run Around the World' is an international best-seller.

SUNDAY 20.00 - Jason Lewis - Round the World by Human Power
In 2007 adventurer, author and sustainability activist Jason Lewis became the first person to circumnavigate the Earth without using motors or sails. He walked, cycled and inline skated across five continents, kayaking, swimming, rowing, and pedalling a boat across the rivers, seas, and oceans.

Each speaker session will include an adventure film(s) in the ticket price. Film programme will be confirmed soon. See the BAF website for more details.

Notes to Editors:
Who: Ten speaker sessions, each including film(s) which will be confirmed soon.
When: 2nd - 3rd November 2013.
Where: Pavilion Arts Centre, part of Buxton Opera House, Peak District, Derbyshire, SK17 6XN.
Tickets: Adult: £10 for 1 session (Multi-buy saver: 3 sessions for £25); Full time students & under 16s: £5 for 1 session (Multi-buy saver: 3 sessions for £12.50); Family saver session ticket (2 adults and 2 under 16s): £20. Note: Each ticket is for a session and includes the speaker and following film programme. Adventure Bites Loop Tickets: £4. Children & Students £2 with repeat screenings all day.
Contact: Lissa Cook - 01663 751 126 / 07818 411 791 / lissa@heason.net