European Outdoor Film Tour comes to the UK
The team behind Europe's biggest film event - the European Outdoor Film Tour - is this autumn for the first time bringing its hand-picked selection of the cream of the crop of the world's best adventure sports films to audiences across the UK. Heason Events are proud to be working with Moving Adventures who organise EOFT.

The annual programme has for the past decade played to packed-out showrooms in Germany, Austria, Holland, Switzerland, Belgium, Italy, France and Slovenia. This November the feature length programme of ten high impact, adrenaline-pumping films will be also be screened at venues in Manchester (25th), Glasgow (26th) and Bristol (27th), culminating at the Royal Geographic Society in London on the 28th.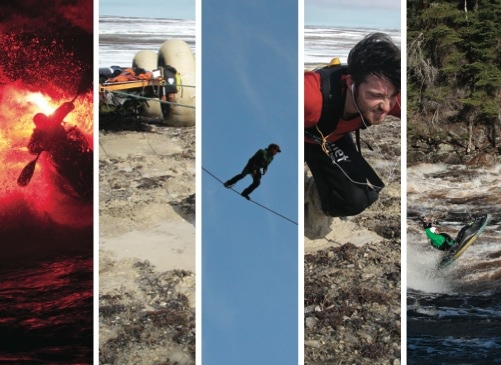 Ulf Michels from Moving Adventures, who organise the EOFT, said: "Our aim is to showcase the world's most exciting outdoors sport films and adventure documentaries. We're really excited to be able to extend the tour to the UK. Britain has a rich heritage of adventurers, explorers and mountaineers. There's a vibrant adventure sports scene at every level from weekend warriors enjoying the great outdoors to top class athletes pushing the boundaries of adventure sports."

The full programme and trailer will be released next month - but, for now, to whet your appetite here's a sneak preview of the first three films to be announced as well as tour dates for your diary...

"We dumped our rear axle a couple of miles back... Sh**!" says Chris Bray looking down sheepishly. Just a moment ago he and his expedi- tion partner Clark Carter were racing full speed downhill. Now their vehicle lies destroyed at the bottom and has surrendered to Victoria Island. Will this mean the end of their epic expedition?

Young intrepid Australians Chris and Clark set out to conquer 1000 kilometres of harsh arctic tundra by walking the whole width of Victoria Island, the world's ninth largest mostly unexplored island deep in the Arctic circle. To tackle the elements they invented the 'PAC', a Paddleable Amphibious Cart designed to roll and float over the unforgiving terrain. But they just broke it . Before the accident it had been rolling smoothly on ice, sharp rubble and even knee-deep mud with its monstrous tractor wheels. But what now? -"We made some hot chocolate and had a good think", recalls Clark. Then they sawed off the broken axle with a tiny hand saw "and finally ten hours later," they were on the move again with their newly modified PAC. Chris's only comment: "all I can say is that I'm glad this didn't happen yesterday, in the pouring rain."

Will the PAC last the rest of the journey? The Kevlar covers of the wheels are already critically worn-out, despite being the same materi- al used for bulletproof vests! Let's hope these two resourceful young explorers solve this problem as well as the many others that the island throws in their way.

Crazier than both Australian adventurers is slackliner Andy Lewis - he already made a name himself and slacklining when he almost stole the half time show from Madonna at the American Superbowl and then refused to tour around the world with the Queen of Pop(!) Performing perfectly onstage everyday with no freedom to do his own slacklining was just not his cup of tea. "This is not me." But Andy does not need a big stage for his 'slack-life' antics.

Inventor of the squirrel backflip, fearless base jumper, holder of the longest highline record, free solos (-that's no safety line) and naked highlines are accolades that have all contributed to him being dubbed the 'Father of modern slacklining' at only 26 years old. Although that's not to say he's a good role model some of his activities should be X-rated. The portrait of Andy, his slacklining buddies and their crazy Californian desert lifestyle "Sketchy Andy" will be featured in the E.O.F.T. 12/13.

Mystical white water action is brought to the program in the form of "The Shapeshifter". Ben Marr shreds up the night waves with road flares strapped to the stern of his kayak. Spinning his kayak in the dark waters to a catchy club tune is definitely one of the unique visual treats of the E.O.F.T. 12/13.

If you can't wait til November, click here to buy the Best of last year's EOFT programme now available on DVD and Blu-Ray.

Notes to Editors:
- UK tour dates & venues:
- The E.O.F.T is the biggest film event for the European outdoor community. For over ten years it has featured the most exciting current outdoor sports film and adventure documentaries. The tour kicks off this year on October 11th with over 200 events in nine countries. For all information and tickets go to www.eoft.eu.
- To download high resolution images and pdf versions of the press release please visit the EOFT press room. You just need to register to be emailed a username & password, then simply click on the images/logos etc. below the registration form and enter your username and password.
- For more information, please contact Lissa Cook from our UK partner Heason Events on +44 7818 411 791 or +44 1663 751 126 or lissa@heason.net