Inaugural Film Tour Rocks Britain - DVD out today
SECOND BRIT ROCK FILM TOUR PLANNED AS DVD IS RELEASED FOR CHRISTMAS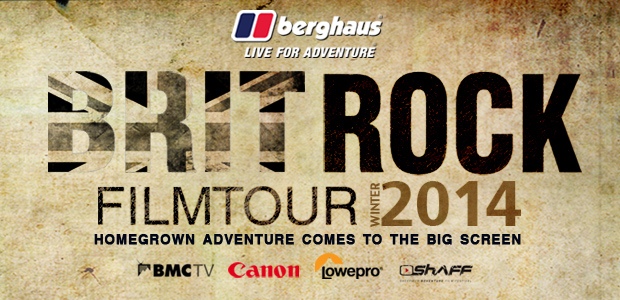 Lead sponsor - Berghaus​ with supporting sponsors – BMC TV, Canon, Lowepro and ShAFF.
Press Release:
Date: Immediate Release, Monday 1st December 2014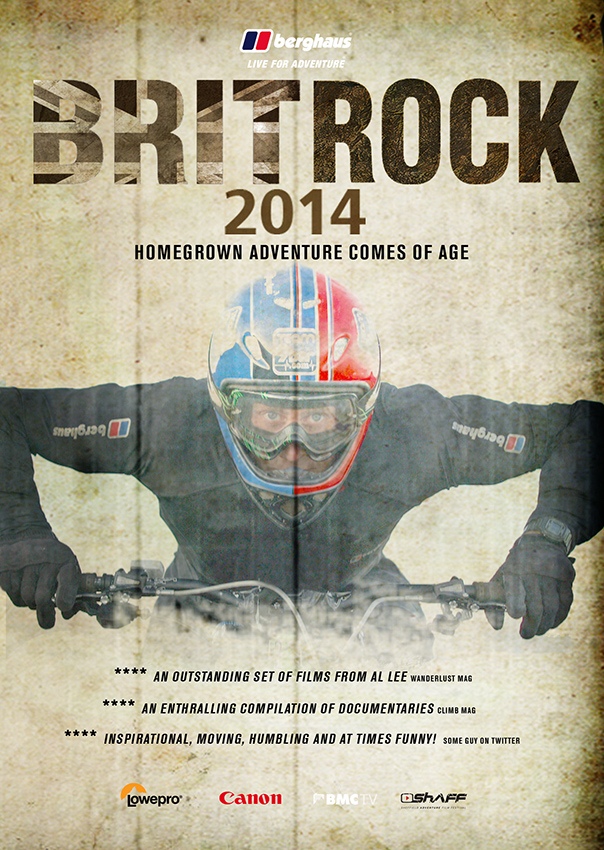 The Brit Rock Film Tour DVD is released today and director Alastair Lee is already planning a 2015 tour following an enthusiastic reaction from audiences across the UK.
The tour has will have played at least 50 venues across Britain - 33 to date with 17 more dates currently scheduled and bookings still being taken.

With audiences of 3,300 to date, promoters Heason Events estimate 5,500 people will have watched the two-hour programme on the big screen by the end of the tour.

BUY BRIT ROCK ON DVD OR HD DOWNLOAD NOW
Produced by Alastair and his crew of talented creatives at Posing Productions, Brit Rock features home-grown adventurers with biopics of climbers Julian Lines in 'Stone Free' (winner of Best Adrenaline Film, Kendal Mountain Festival) and Mina Leslie-Wujastyk in 'Project Mina'; Steve Birkinshaw's record-breaking fell-run in 'Set of Wainwrights'; and mountain biker Rob Jarman's near fatal accident in 'All My Own Stunts'; plus comic shorts from Niall Grimes in 'Boy' and Dave Halsted in 'iPaddle'.
By popular demand, Alastair Lee is also today releasing a full-length (67 min) version of Steve Birkinshaw's run 'Wainwright Record Attempt' including extras 'What The Film Crew Got Up To' and Steve's post-run interview.

BUY WAINWRIGHT RECORD ATTEMPT ON DVD OR HD DOWNLOAD NOW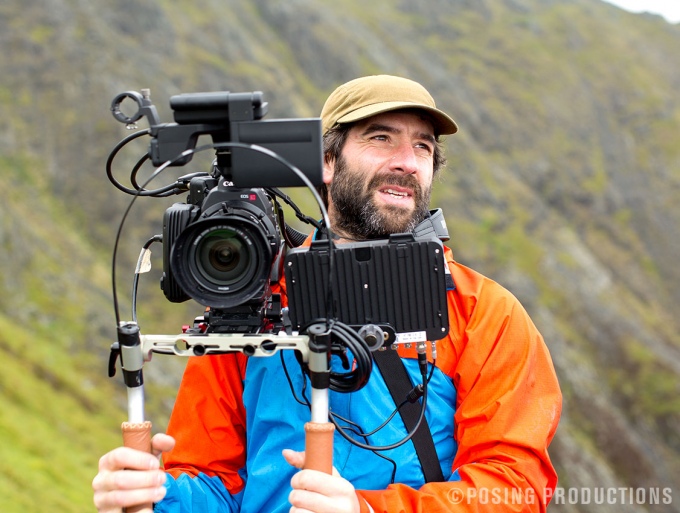 Director Alastair Lee (Posing Productions), said: "I'm keen to develop Brit Rock into an annual tour. The audience reaction and feedback has been superb. It's been really rewarding to see the project come to life after all the hard work. I'm grateful to Berghaus, BMC TV, Canon, Lowepro and ShAFF for supporting a brand new project."

"I wanted to try something different and celebrate the British characters, like Reel Rock does in the USA. None of the stars of the films are full-time pros. The aim was to focus on ordinary people doing extraordinary things like mountain biking down Skiddaw at 100kph or running 214 Wainwrights in 7 days. It's been liberating to tackle new subjects and to not have the pressure of being on a big expedition trip."
Promoter Matt Heason (Heason Events) said, "We reckon this is the biggest ever adventure sports film tour to have played in the UK with 50 venues. The British public have really embraced the concept of a home-grown adventure film tour which has played massive venues like Rheged as well as smaller, community theatres and climbing walls."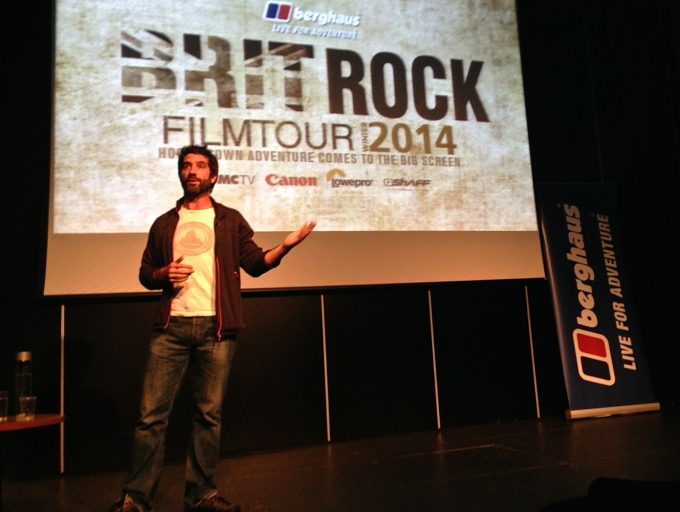 REVIEWS & AUDIENCE REACTION:
"I think he's struck gold and although his previous films have scooped a fair few gongs, for me, one of these in particular is his best work to date and should be earning him more accolades." Nik Cook, Outdoors Magic.
"An outstanding collection of films from Al Lee", Wanderlust Magazine
"An enthralling set of documentaries", Climb Magazine

"It was bloody brilliant, in fact it was outstanding." Richard Henton

"Mega psyched to be at the #britrockfilmtour world premier last night. @Al_Lee nailed it, all the films were fantastic. GO & WATCH THEM!" Liam Lonsdale

"A great night of diverse quintessential British adventure. Well worth watching. Nice work Alastair Lee." Shane Ohly, Ourea Events.

"What an amazing collection of films Al has made. It left me inspired, emotional and proud to be involved. Everyone should make an effort to see these films I can guarantee that they won't be disappointed." Paul Cornforth

"The films went down really well and there was lots of interaction from the audience, in all the right places". Claire Lee, Castle Climbing Centre

"We had lots of interest in the screening of Brit Rock and we had a great turn out. Everyone was complimentary of the film and how it had been put together. A good watch!" Yasmine, Dynamic Rock

"We certainly enjoyed it and the majority of folk are already asking when we are doing another!!" Tim Ingram, Hebden Bridge

"Al Lee's Brit Rock is this year's must see adventure film tour of 2014. It will have you on the edge of your seat. With the athletes push their sport to the limits. You must see it on a big screen!" Mark Goodings, Newcsastle Climbing Centre

"Well done to you and your team on a fantastic project. The culmination of many long hours and stacks of patience I'm sure! The range of camera angles and smoothness of takes was a big hit in all the video's and you certainly managed to get the inspiration across from the various discipline's and the high level of experience of your chosen individuals. Wow, made me itch for adventure!" Veshengo Parrum, Transision Extreme, Aberdeen

"This was a great finale to our Climbing Festival day with customers enjoying the highs, lows, thrills and spills of the featured sports." Jon Wilson, Calshot Activities Centre.
ENDS
Trailer: http://youtu.be/eG7XrXJ004s
Images: Download high res images & film stills for editorial use: https://www.flickr.com/photos/lissacook/sets/72157645711586852/
Contact: Lissa Cook, Heason Events, 07818 411 791 / 01663 751 126 / lissa@heason.net
Notes to Editors:
• The Brit Rock Film Tour is sponsored by lead sponsor - Berghaus​ with supporting sponsors – BMC TV, Canon, Lowepro and ShAFF.
• Buy Brit Rock on DVD (£19.99) & HD download £14.99: http://www.posingproductions.com/product.php?form_action=detail&product_id=259
• Buy Wainwright Record Attempt (£19.99) & HD download £14.99: http://www.posingproductions.com/product.php?form_action=detail&product_id=260
• To enquire about fees and book a tour date contact Matt Heason matt@heason.net. Total running time is approx. 100 mins.
• More about Posing Productions: http://www.posingproductions.com/copy.php?type=about_us&id=16
• More about Alastair Lee: http://www.posingproductions.com/copy.php?type=about_us&id=14
• More about Brit Rock Film Tour: http://www.britrockfilmtour.com/ and http://www.heason.net/news/2014/05/23/Brit_Rock_Film_Tour_Announced/