From the very bottom to the very top - E.O.F.T. full tour programme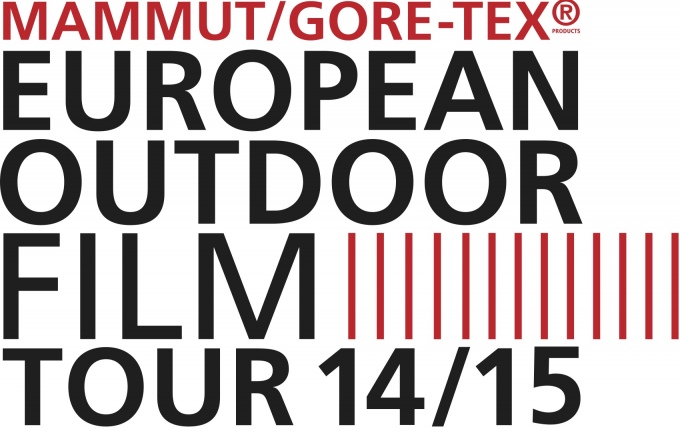 The organisers of the 2014 European Outdoor Film Tour, Moving Adventures, are today releasing the full programme for this year's tour which visits 240 venues in 13 countries including the UK from 1st to 9th November.

Deep caving exploration film Cave Connection and Shades of Winter, the first ever all-female ski movie featured in the tour, complete the two-hour line-up of the year's best adventure sports films from around the world.
It's the third year the hugely popular tour has travelled to the UK and this year's dates include two new cities - Sheffield and Birmingham - as well as return stops in Manchester, Glasgow and Edinburgh with extra screenings in Bristol and London.
The tour organisers will also be bringing their latest show, the new International Ocean Film Tour, featuring 8 of the best water sports and environmental documentaries of the year, over to London for a special, one-night only show at Union Chapel on October 25th.
WATCH THE EOFT TRAILER:
WATCH THE INTERNATIONAL OCEAN FILM TOUR TRAILER:
BUY TICKETS NOW ONLINE FOR THE INT'L OCEAN FILM TOUR One night only, Saturday 25th October, Union Chapel London

Frederik Höderath, from Moving Adventures, organisers of the E.O.F.T. said: "Whichever way you look at it, this year's European Outdoor Film Tour covers quite a distance. The tour follows a 5,000 km kayak expedition through Mongolia and Russia, before descending a thousand metres underground in New Zealand only to resurface 800 metres up a sheer rock face in Mexico, before dangling off bridges and cranes in the Ukraine - all without ropes."
"Throw in some seat-of-your-pants freeride mountain bike action, ambitious ice climbing in the shade of a frozen, giant waterfall, and a spectacular, surreal whitewater kayaking short, not to mention the tour's first all-female ski movie, and you've got a guaranteed two hour roller-coaster ride taking in the best extreme sports films of the year."
He added: "We're excited to be bringing the E.O.F.T. back to the UK for the third year running with extra screenings and two new venues. We're also proud to be debuting our latest project, The International Ocean Film Tour in London next month with diving, free-diving, surfing and sailing movies on the big screen as well as on stage Q&As with film directors."
NOBODY ́S RIVER - EUROPEAN PREMIERE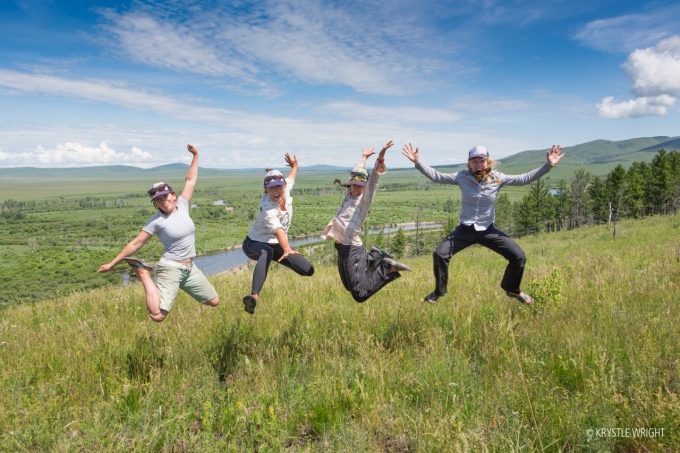 Four women, three countries, two months, one river. Their search for a river which still flows freely from its source to its mouth took the American Amber Valenti and her three friends Becca Dennis, Sabra Purdy and Krystle Wright into one of the remotest corners of the world.
The headwater of the Amur River rises in Eastern Mongolia, and the river sends the four women on a 5,000-kilometre adventure full of contrasts: pain and happiness, discoveries and farewells, beauty and decay all lie close together and weld the team together. The river and their journey from the heart of Asia to the Pacific teach them one thing in particular: No matter where, when and how—there is always reason to celebrate.
Film information: 22 minutes // Director: Skip Armstrong // Protagonists: Amber Valenti, Becca Dennis, Sabra Purdy, Krystle Wright // Production: Wazee Motion Pictures // USA // 2014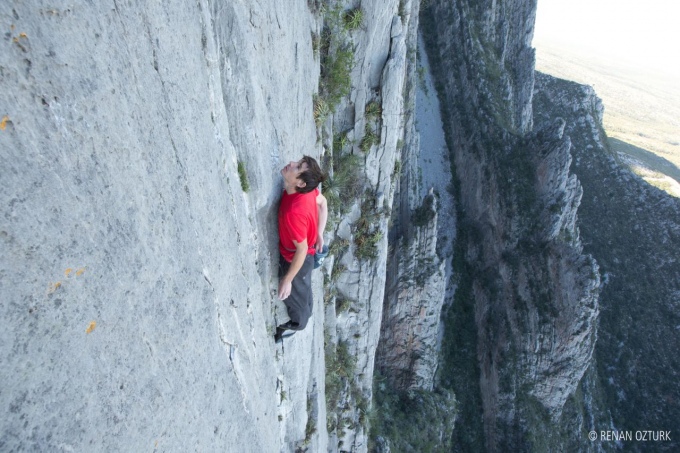 Free soloing - that's climbing without a safety rope, is one of the most dangerous sports in the world. There's nobody who is as good at it as the American Alex Honnold. With perfect preparation, maximum concentration and absolute trust in his abilities, he tackled the El Sendero Luminoso route in Mexico, a 762-metre rock face of compacted lime, in January 2014.

His climbing partner Cedar Wright helped him dog the route, but during the critical free solo Alex was completely on his own...
Film information: 6 minutes // Director: Renan Ozturk // Protagonists: Alex Honnold, Cedar Wright // Production: Camp 4 Collective // USA // 2014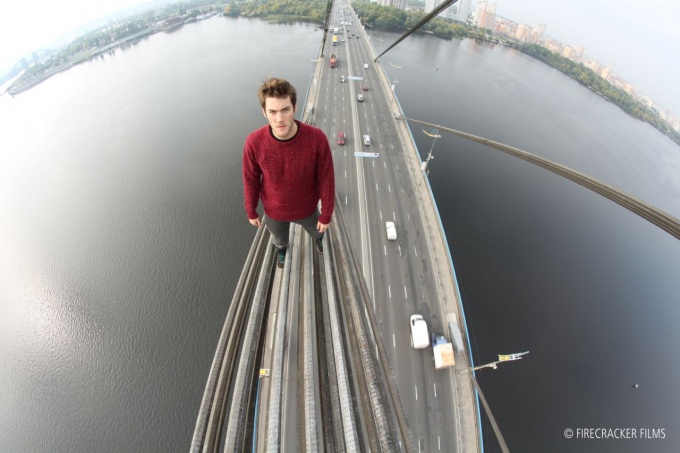 James Kingston never plays it safe, but still pulls out all the stops. The 23-year- old Brit climbs cranes, bridges and skyscrapers—unbelayed and without batting an eye. In his view, rules are made to be broken.
Different standards apply to someone who dangles off a crane at a height of 50 metres, holding on with only his left hand because he needs his right hand for the obligatory selfie. "Most people wet their pants when they look down," he says, "but why shouldn't I look down after taking the trouble of climbing up?"
Mustang Wanted from Ukraine, himself one of the very first "roofers", is one of the few who shares James's passion and even challenges him. But is there anything at all that can impress somebody who lives according to the motto "fear is a choice"?
Film information: 22 minutes // Director: Alex Stockley von Statzer // Protagonists: James Kingston, Mustang Wanted // Production: Firecracker Films Ltd. // United Kingdom, Ukraine // 2013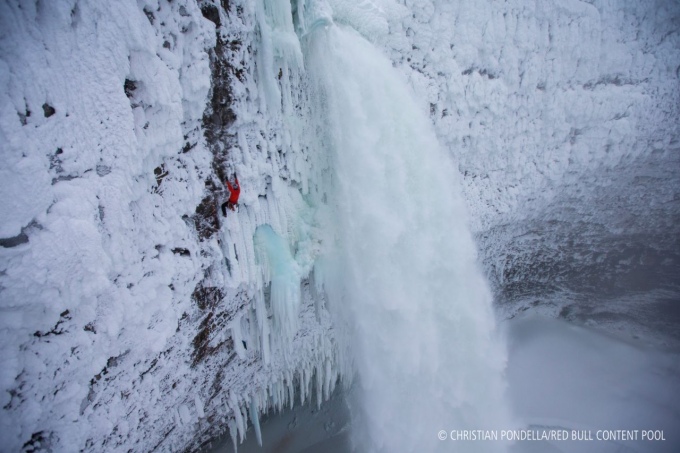 It's a route that you cannot climb in summer and that you don't really want to climb in winter: Helmcken Falls. But ice-climber Will Gadd knows that the technically challenging mixed route on the rear wall of the 141-metre waterfall can only be mastered at sub-zero temperatures, because that's when the loose rock is literally frozen up by the spray. However, what works for the route doesn't necessarily help the athlete. The centimetre-thick layer of ice which Will has to remove from his safety rope at regular intervals doesn't really make it easier for him to keep warm on the route.
Film information:
22 minutes // Director: Bryan Smith // Protagonists: Will Gadd, John Freeman, Sa- rah Hueniken, Katie Bono // Production: Reel Water Productions for Red Bull Media House // Canada // 2014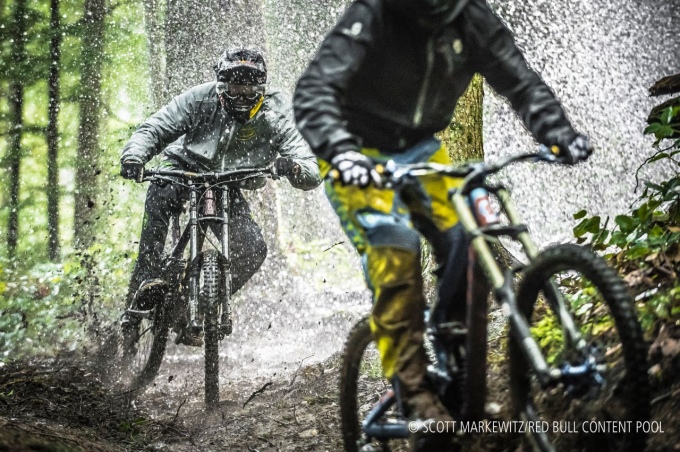 From mud fights in the woods and to slope style in the scrap yard - Brandon Semenuk's handpicked crew of the world's best riders certainly know how to have fun.

Featuring some of the highest level of riding ever caught on camera, Brandon Semenuk's Rad Company seamlessly meshes all disciplines of mountain biking, showcasing the skills and passion that have made him one of the most versatile and explosive riders on the planet.
Film information: 12 minutes // Director: Aaron Whitley & Jeremy Grant // Protagonists: Brandon Semenuk, Nico Vink, Logan Peat, Cam McCaul, Cam Zink // Production: RED BULL MEDIA HOUSE in association with NWD FILMS // Canada // 2014
Kayak extravaganza: Ben Marr is standing on the river bank and cannot find a way in, neither into the river nor into the kayaking community. He dreams of belonging and blossoming from a shy greenhorn into a celebrated white-water cowboy. Everything's possible in his imagination: illuminated waterfalls, a fancy-dress party in the forest, including dancing, a champagne shower and fireworks. In DREAM, professional kayaker Ben Marr combines his skills with lots of imagination and a good dose of irony, creating a fun water-sports spectacle.
Film information:
5 minutes // Director: Skip Armstrong // Protagonist: Ben Marr // Production: Wazee Motion Pictures // USA // 2014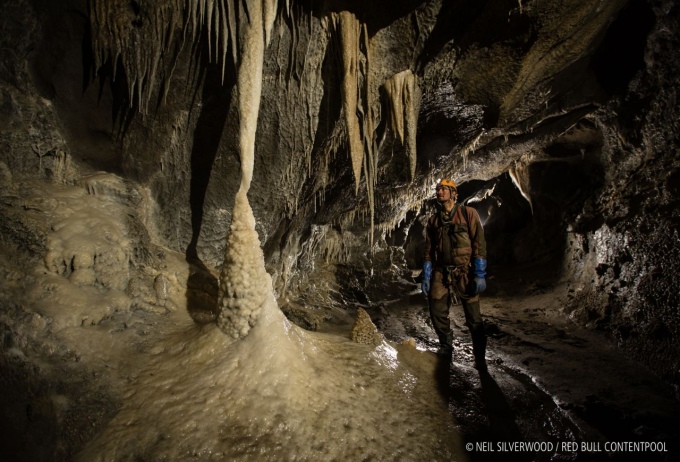 A simple question has been on Kieran McKay's mind for years: is there a link between the two cave systems of Nettlebed and Stormy Pot on the South Island of New Zealand? Their search for the answer takes him and his team one thousand meters underground. The cavers are approaching the area where, according to their calculations, the two caves are likely to meet from two sides. The journey is wet, cold and dirty. But the thought of discovering this link, and with it possibly the largest cave of the Southern hemisphere, pushes the adventurers on ...
Film Information: 24 minutes // Director: Niko Jäger // Protagonists: Kieran McKay, Troy Watson, Bee Fradis, Tim Shaw, Marcus Thomas, Neil Silverwood, Pip Rees, Mike Hopkinson // Production: Helliventures Filmproduktion for Red Bull Media House // New Zealand, Germany // 2014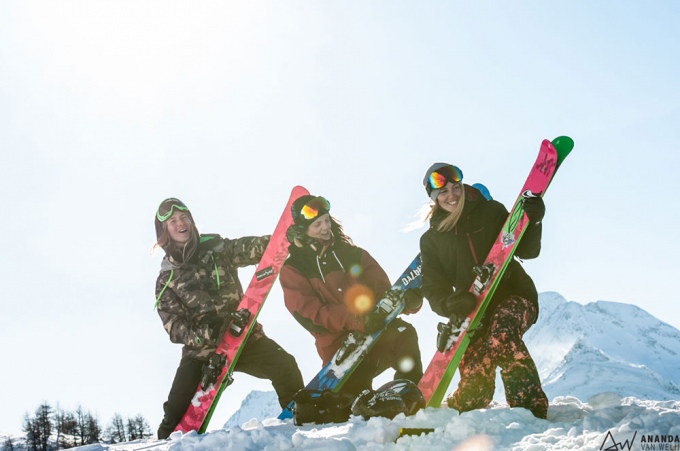 Girls only: The E.O.F.T. Edit of Shades of Winter is the first ever all female ski movie in the E.O.F.T. ...
Film Information:
8 minutes // Directior: Mario Feil // Protagonists: TBA // Production: Sandra Lahnsteiner // TBA // 2014



INT'L OCEAN FILM TOUR - ONE NIGHT ONLY

Union Chapel, London
Sat 25/10/14, 19.00

EOFT UK TOUR DATES:
Royal Geographical Society, London
Sat, 01/11/14, 14:00
Sat, 01/11/14, 18:00
Sun, 02/11/14, 14:00
Sun, 02/11/14, 18:00
St. George's Bristol
Mon, 03/11/14, 20:00
Tue, 04/11/14, 20:00
Sheffield City Hall
Wed, 05/11/14, 20:00
ODEON - The Printworks, Manchester
Thu, 06/11/14, 20:00
The Mitchell Theatre, Glasgow
Fri, 07/11/14, 19:00
Portobello Town Hall, Edinburgh
Sat, 08/11/14, 20:00
ODEON- Broadway Plaza, Birmingham
Sun, 09/11/14, 20:00
ENDS
Visit http://www.eoft.eu/programme/ for up-to-date information.

Thank you to our EOFT official UK media partners:
Press release: Tuesday 16th September 2014
For high resolution images, key visuals & logos, please register at the E.O.F.T. press room: https://www.eoft.eu/press/
And here for the Int'l Ocean Film Tour press room: https://www.oceanfilmtour.com/en/press/
Notes to Editors

The E.O.F.T. is the most renowned film event of the European out- door community and will be presenting the most exciting sports and adventure films of the year for the 14th time. From October 11th, the film tour will be travelling through Europe again. More than 240 events in 13 countries are scheduled. Visit WWW.EOFT.EU to find out all about the film program and check out all the dates.
The E.O.F.T. is a coproduction of Mammut Sports Group, W.L. Gore & Associates GmbH and Moving Adventures Medien GmbH.
Moving Adventures Medien GmbH | Thalkirchner Str. 58 | 80337 München | Tel. +49 (0) 89 38 39 67 | eoft@moving-adventures.de | www.eoft.eu
UK PR Lissa Cook - 07818 411 791 / lissa@heason.net
EU Press contact: Monika Renner | monika.renner@moving-adventures.de | +49 (0) 89 38 39 67 41 | Paula Flach | paula.flach@moving-adventures.de | +49 (0) 89 38 39 67 42