Odyssey producer sings praises of UK trad climbing
Hot Aches' latest film (directed by Dom Bush) is a UK trad climbing road movie epic. It stars four of the world's best climbers - James Pearson, Hazel Findlay, Hansjörg Auer (Austria) and Caroline Ciavaldini (France) - tackling some of the best areas of traditional rock climbing in the UK, starting at Bowden near Belford in Northumberland followed by a fortnight chasing the weather, visiting Golgarth, Tramadog and Llanberis slate in North Wales followed by the sea cliffs of Pembroke, then Nesscliffe in Shropshire and finishing in the Lake District.
The film premieres at The Climbing Works in Sheffield on Saturday 10 November. (BUY TICKETS)
Hot Aches has teamed up with global climbing apparel giant The North Face to attempt a daring alternative to the usual festival launch route. At the same time as the Saturday night premiere they'll be launching a worldwide, free-stream online release for 10 days. During this time the film will also be available to buy on DVD or via download at a reduced price.
Producer Paul Diffley on the climbing areas featured in Odyssey: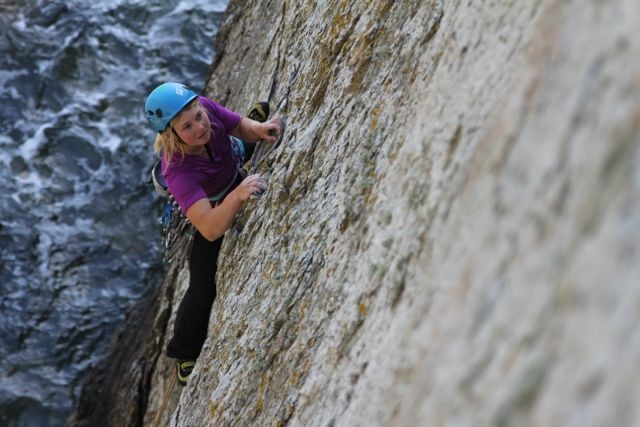 "Northumberland has some fantastic sandstone crags and some of the best hard climbing in the country. The county has some stunning scenery set in amazing locations. It's very atmospheric. We were looking for really hard climbs as we had world class climbers on the trip. We also needed venues we could walk into fairly easily and ideally single pitch climbs so the crew could walk around the top to film. Northumberland had all of that and more."

"North Wales is where I started climbing so I've always had a great love of Snowdonia. The area probably has some of the best climbing in the UK. There are so many different types of climbing. Within an hour's drive of Llanberis there's a huge range of climbing, particularly trad climbing."

"Pembrokeshire has some amazing sea cliffs and some of the best hard climbing in the UK. The routes are quite long and unlike most of the other gritstone areas we visited they're limestone. It's an amazing, beautiful coastline. For me, filming on a sea cliff is really special because you've got waves crashing in the background which gives you great movement."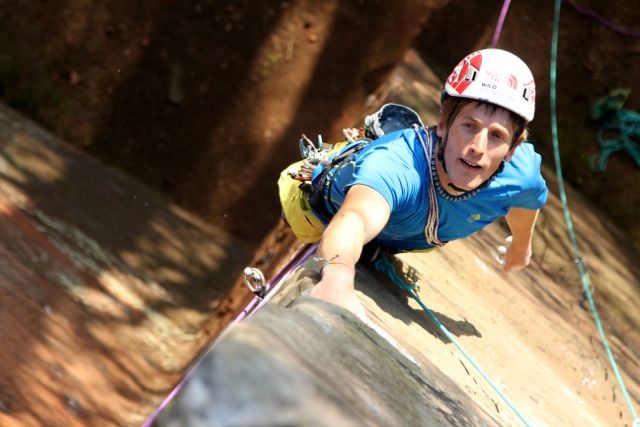 "It was the first time any of us on the trip had been to this crag [Nesscliffe] in Shropshire so we were all looking forward to it. It's in a beautiful setting with woods and rhododendrons. It's quarried sandstone with very hard routes with striking lines. It's very angular with lots of right angled sand corners. It has a huge collection of hard routes in such a small area with 20 world class routes all in a line so for me as a film maker with such limited time being able to go somewhere like that was perfect."

"The Lake District is a climbing paradise. It was the last place we went to and the whole team were very pleased to get the Lakes as with all the bad weather we weren't sure we were going to be able to fit it in. It's a beautiful area and Langdale in particular is one of my favourite places - there's a great history of rock climbing there. These routes are on the side of Pavey Arc - a special place with a couple of really hard routes in a beautiful setting."

For high res images of each of the areas and climbers featured in the film click here.
Venue

Climbing Works, Sheffield