Salomon Cross Pro Running Shoes
For running in the Peak District my number one criterion is a good grip. Salomon do a number of different rubber compounds, but I find that the Contragrip TA is the best compromise between stickiness and durability. The rubber is one half of the grip equation, the other being the actual tread. I'm pleased to say that the Cross Pro has both the TA compound and a very aggressive tread. So far so good.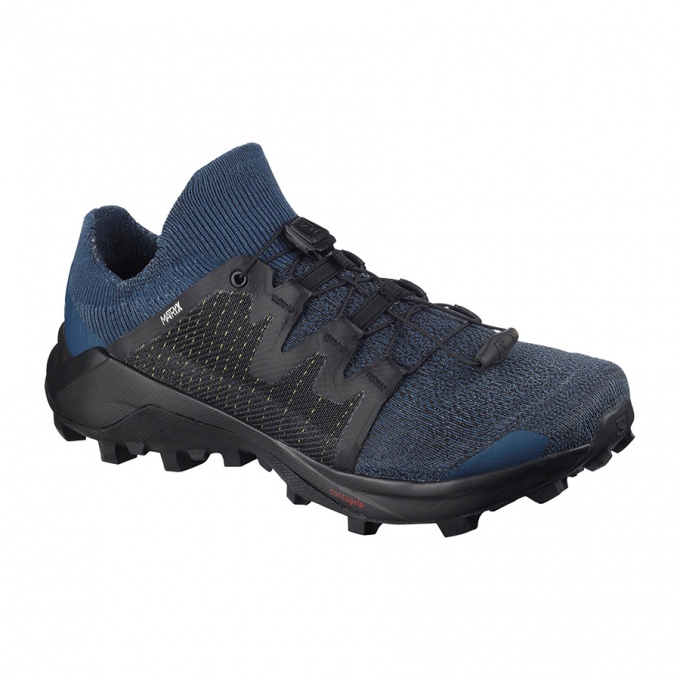 Having said there are two elements to grip, there is really a third too. It'd be no use having a sticky and aggressive sole if there was no stability in the actual shoe. The Cross Pro is an unusual looking thing, with an integral elasticated sock which extends up above the usual line of a running shoe. It is made of a thick material which makes them trickier to put on than other shoes, but once they are on, they certainly fit more snugly than other shoes. I'm surprised that there is no pull loop on the sock to help pull the shoes on, and they do look a little different, but otherwise I am a fan. They clearly add stability to the shoe at the same time as giving some basic ankle protection from scree and brambles, and also giving some extra warmth. My teenage son has a pair and is happy wearing them so they clearly don't fail the fashion test despite standing out.

They feature Salomon's usual Quicklace system which, if you haven't used it, is brilliant. It's actually wire, not string, so is very robust (I've broken just one pair in at least a dozen over the years, and that was easily fixed with a string replacement) and works by simply pulling on a plastic toggle to tighten the whole shoe. The one thing I'd say about this model is that there is not much play in the system as the elasticated upper does a lot of the job that the lacing system would normally do. I actually barely tighten them at all once they are on, only doing so for fast and technical descents. I have very wide feet from many years wearing no shoes at all, so this isn't much of a surprise.

Despite being light they fare well on rocky ground giving plenty of protection both underfoot and around the edges / toes. I'd be happy running long rocky mountain descent in Wales or the Lakes in these without fear of bruising.

Mine are a maroon colour. If I were to choose again I'd go for blue, but that's simply personal preference. They are light and keep your feet reasonably dry (but they aren't actually waterproof). They retail at £150. So far they're showing very little sign of wear so feel like good value for money.
More info on the Salomon website.