I've run in a few windshells over the years and have to say that whist they may have provided a barrier between me and the wind, that's about all they have done. Generally speaking running tops do not look great. It's good news then that Inov-8 have decided to start making clothing as well as shoes. The Windshell looks great, with pleny of panelling to provide a snug fit, meaning less flapping around as you run. The Pertex Quantum material is super-lightweight - the whole thing weighs in at a fraction over 100g, which means super thin, but it still does a reasonable job of keeping the wind off. It's also pretty robust, so far resisting any tears or nicks from snagging brambles. In terms of its waterproofness it's about as good as I would expect from such a lightweight piece of kit. It keeps light showers at bay, but not heavy rain, and it allows some breathing, but by no means keeps you entirely dry. On a 14 mile run in showery weather interspersed with sunny spells I opted to keep the thing on and leave it zipped up. For the first half mile I overheated, but as soon as I'd settled into a rhythm I barely noticed wearing it for the next couple of hours.
Features wise it has a few useful ones: a pair of small elasticated loops for ear phones are stitched into the soft inside of the collar. Great f you know you are going to keep the jacket on, but a bt of a fiddle if you are not. There's a small zip pocket in the chest big enough for a phone or an MP3 player which includes a hole for your cable into the jacket, but beware that it's not waterproof. Both the pocket zip and the main full zip are tiny, adding to the lightweight nature of the thing. They are also neon yellow providing some decent reflection at night. The thumb loops are handy and are backed up with long sleeves allowing you to run with the sleeves pulled down half way onto your hands, useful if you have forgotten your gloves and are getting chilly. My one quibble would be the absence of a hanging loop in the neck. I can't imagine this would have added more than a fraction of a gram, and would have been more useful than, say, the headphone loops. I like the fact that it comes with a neat littl stuffsac which means I can store it in a bag without wearing out the material by packing it alongside other stuff.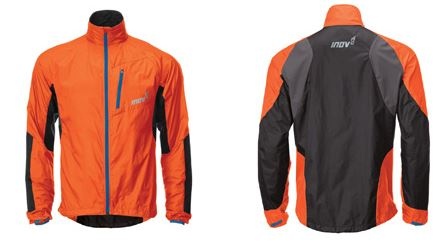 Retails at £65 which is a fair amount of money per gram of material, but there's a lot of thought and care gone into the design, and standards seem to be pretty high for a first ever clothing line.
Weight 105g
Blurb from the Inov-8 website:
Zoned construction using Pertex® Quantum ultralight fabric for high levels of windproofness and breathability
Vented zones in areas requiring increased air-flow
Stretch panels for unhindered shoulder movement
Full length front zip with locking zip head
Athletic fit
Chest pocket with MP3 Player access
Lycra bound cuffs with integrated thumb loop
Single hand adjustable hem
Headphone loops inside microfleece lined collarMulti-angle reflective detailing and includes stuffsac