Salomon Advanced Skin S-Lab Hydro 5 Set + Hydration Backpack
Introduction
I'd been on the look out for something that I could run in, with front pockets on the chest, for a while. When I'm running I generally don't like to stop, especially whilst racing, so the idea of carrying the essentials in positions that are accessible whilst on the move appealed a lot. This little combo delivers in spades.
Features
It's very light weight - 320g, and that includes the two water bottles which are essentially collapsible rubber bladders with a wide-necked opening. These two characteristics mean that you can fill them quickly from anything from an awkward service station tap with no clearance below, to a mountain stream or pool. The valves on the bottles / bladders are operated by pinching with the teeth so no twisting is necessary. There are no straws which means that to get the water out you need to press on the bladder to squeeze it upwards which is very easy to do. They fit into two mesh pockets on the front of the bag, and because they are collapsible they don't swing backand forth the way that plastic bottles do. When the bottles are empty they weigh virtually nothing (30g each). One note: don't tighten the valves up too much otherwise undoing them can be quite tricky without squirting water everywhere!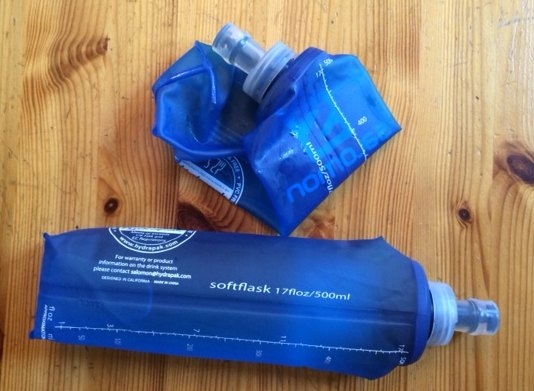 Pockets Galore
Aside from the mesh water bottle pockets there are 6 other pockets on the front, 3 on each side. Below the water bottle sleeve is a small mesh pocket presumably for empty gel wrappers which is a great touch. It's positioned so that any drips of gel will fall onto the floor rather than seeping down through the bag and getting everything sticky. It's elasticated so easy to access on the move. Above the water bottle sleeves is what appears to be a second mesh sleeve about the size of a gel. On closer inspection it is a double walled sleeve meaning that you can, if you like, separate out your gels.
If you think that's it you're mistaken. Sitting just behind this line of pockets is another which is big enough for a camera (which for me is an absolute deal breaker - when on long runs in the mountains I always take a camera and it HAS to be quickly accessible and stowable to enable me to capture the moment and get it put away without being left behind by the group).
There's then a zipped pocket on each side big enough for a shell or pair of lightweight waterproof trousers.
Wrapping around the base of the bag outside these two zipped pockets is a large elasticated mesh pocket big enough for for something fairly bulky. It would also take a map.
There is another large pocket, this time with a zip, sitting higher on the pack which is suitable for valuables and more kit.
And last but not least, sitting behind everything, betwen the pockets and the main mesh back panel is another large pocket with a plastic toggle at the top for hanging a larger water bladder on longer runs.
So in total that's an incredible 15 pockets. The main issue will be remembering what is where!All in all it has 12l of volume and the two bladders hold 500ml each.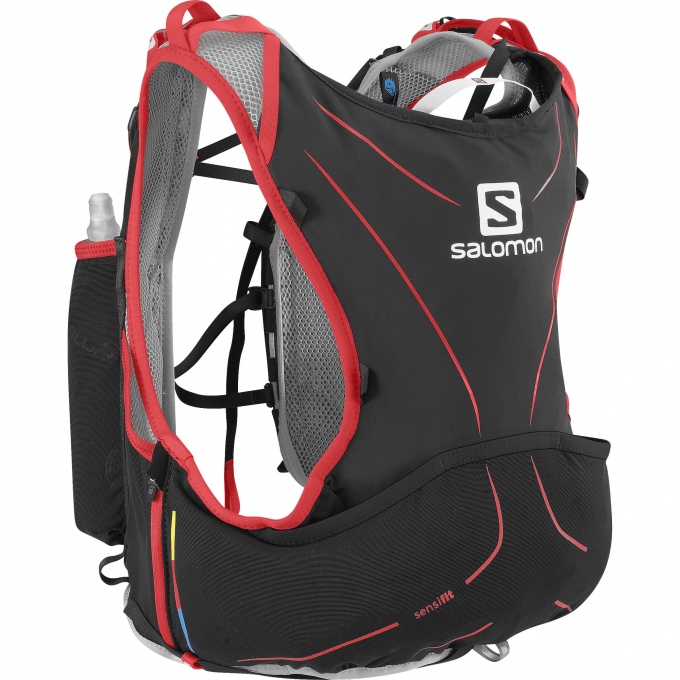 Comfort
The material that sits against your back is a large weave mesh, behind which is a small amount of padding which makes it very airy and comfortable. There are two elasticated buckles / belts, one just above the wast and one across the chest. These clip on to a plastic bead as in previous Salomon products, but the buckles have been shaped better to make them easier to get on and off which is a distinct improvement (the old ones were virtually impossible to operate with cold fingers int he winter). There are a pair of basic straps with toggles on each shoulder strap to allow you to pull the bag further up your back and find the sweet spot.
More (Safety) Features
There's a dinky little whistle attached to the front that you can operate without needing to take the pack off. There's a elasticated system for stowing your poles if you use them, which is designed to be able to take them off whilst on the move (theoretically you can put them on whilst moving, but this is actually pretty tricky). It comes with a safety blanket, and it's super reflective on all the beading meaning safer running at night.
Conclusion
If anything one could accuse the designers of this pack of over-engineering, but I think that in reality every feature is useful and serves a purpose without getting in the way of any of the others so it's a actually a triumph! It costs £150 which is definitely on the high side for what is effectively a complex arrangement of mesh pockets and elastic straps, but given that they are forging the way they are justified in charging this. At the end of the day it's only really aimed at serious runners and they shouldn't mind paying a little for a top pece of kit developed by the company who treat running seriously.
More details on the Salomon running website: http://www.salomon.com/uk/product/s-lab-advanced-skin-hydro-5-set.html