The Inov-8 X-Talon 230s are a great lightweight fell running shoe. The lightness has not resulted in compromise in shock absorption or foot support. They really are a comfortable shoe.

I have used my Talon 230s in a range of conditions, snow, mud, dry track, on and off trail and they have stood up to all tests. I quite often find them on my feet for a dog walk as well as they are easy to wear. The powerflow+ mid sole technology provides improved shock absorption and better energy return, resulting in less tired feet when I am pushing the miles.

I know it's a bit unorthodox but I've used the Talon 230s for approaching climbs on sea cliffs. I was reassured by those 8mm studs, the grip on grass slopes when a drop wouldn't be healthy, and they are super light to attach to your harness (by the laces).

Back to fell running, I was concerned at first that the 8mm studs would be too aggressive, but alongside the STICKGRIP ™ they work really well. The improved rubber traction is excellent. These shoes have been the best for traction compared to any other fell running shoe I have had. The sole also contains a rock plate, protecting the foot from uncomfortable sharp stones.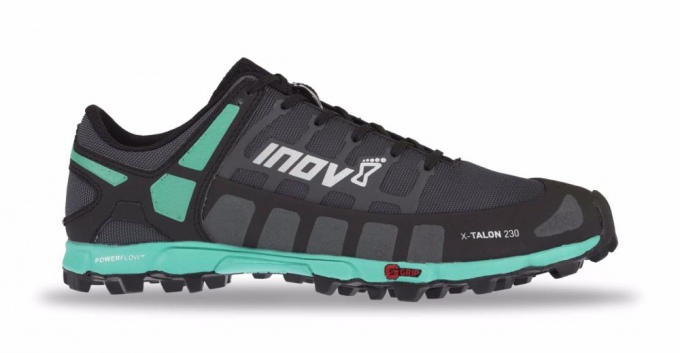 I'm a bit vulnerable to plantae fasciitis so at times add a shaped insole for a bit more support, but only in extremis and it works fine. The slim fit would be an issue for my wider footed friends, I think.
The upper has stood the tests of time with wear and (no) tear. The material is super light, and does not hold water, so is relatively quick drying.

All in all these are a secure pair of shoes that stand up to a good range of challenging conditions, they are so lightweight you really don't notice them.
More info on the Inov-8 website. They retail at £115.
Three photos from a recent trip to Lundy Island climbing (and running) where the shoes came into their own on the steep grassy approaches.