Camaro Uto Pulsor Swim Run Wetsuit
It's an interesting moment when a development of equipment opens up an entire new sport. Of course there's nothing new about combining running and swimming - in fact on a trip to Denmark last summer I did exactly this, spotting an exciting chain of islands across a bay, and linking them with minimal kit, floating a dry bag for the wet legs. It made for a very adventurous day out, one which I will always remember for being the first time I'd done something like this. Of course, it was summer, the sun was out, and the water was warm so I swam in a pair of shorts.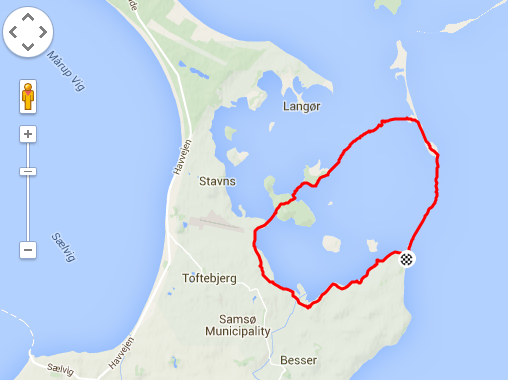 My own personal adventure swim-run last summer in Denmark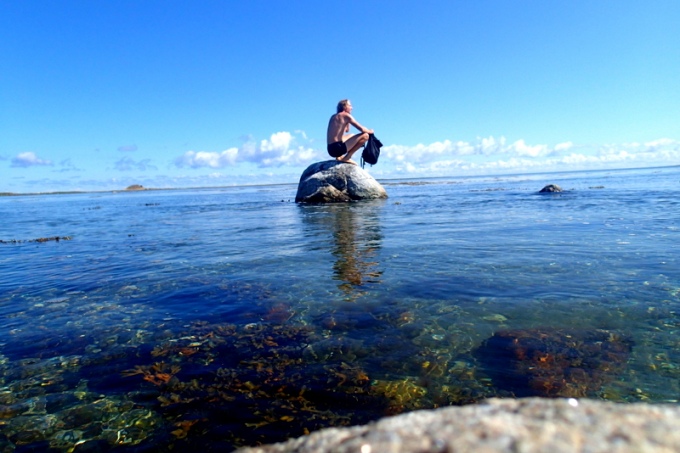 Taking a breather part way through my Danish adventure. A fairly basic approach to the equipment question!
A few months back a friend posted a link on Facebook to a new event being held in Scotland this coming September. www.lochguloch.com essentially takes the adventure run that I did in Denmark, and spices it up a little. It starts off by swimming across Loch Ness, before running to the first of a series of nearby smaller lochs, swimming across each one, and running between them. In total there are 13 swims and 12 runs, 8.5km and 53km respectively. Whereas in Denmark I had all afternoon and took the time to sit around on the beaches transitioning from one discipline to the next, a race with 25 separate and alternating legs would require an inordinate amount of time faffing with wetsuits, shoes, clothes, dry bags and other bits and pieces. Despite this obvious drawback I called a friend who was as keen as I was, and we signed up immediately.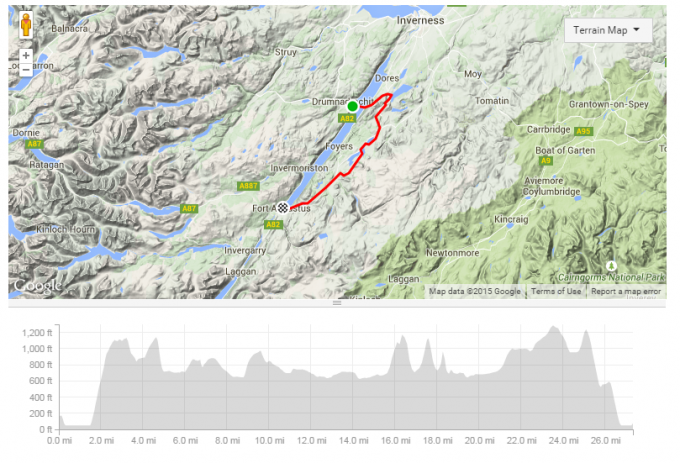 Here's a rough course map for www.lochguloch.com which will be one of the first, if not the very first, swim-run event in the UK this Sep 26th.
We then got to thinking a bit more seriously about the kit and the transitions. Even if we were to get each transition down to a single minute (and that would be going some!) that would add nearly half an hour to our overall time. Not good. There must be a better way. A little research uncovered the fact that select wetsuit manufacturers have cottoned on to the new craze of swim-run events, born in Sweden just a few years ago, and have developed a brand new piece of kit to speed things up. Well, in actual fact they haven't exactly developed something new, but they've tweaked your standard wetsuit design with a few basic, but ground-breaking features.
One such manufacturer is Austrian company Camaro. They have developed a suit called the Uto Pulsor.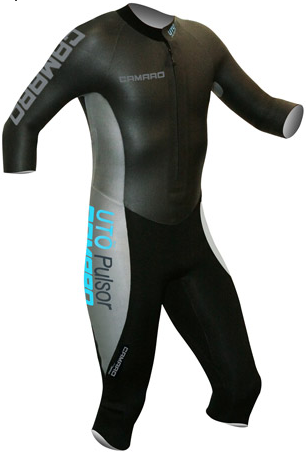 Note the 3/4 length sleeves and legs.
First and foremost there is a zip down both the front and the back. This makes getting the wetsuit down around your waist a doddle. Once you exit the water, you unzip both zips, pull the suit down to your waist, and tie the sleeves together. The legs are 3/4 length which means you can fold them up to above the knee too, further reducing the amount of your body that's going to heat up during running inside a wetsuit. The material around the waist and legs is super stretchy, 2mm thick neoprene which means that running in it is actually much like running in compression shorts. that said, there are thicker panels on the outer thigh to help flotation when swimming. When you finish your run leg you untie the arms, pull the suit up and zip in. It pays to have a partner to do the back zip, but it is possible to do it solo. The arms are again 3/4 length which makes getting it on and off a whole lot quicker and easier than a standard tri suit. Aside from the front zip and shorter arms and legs there's one other major difference to a normal wetsuit. It has two internal pockets for carrying food. Over the 25 legs of our race we're going to need some sustenance and don't want to be carrying it in a rucsack. The pockets are accessed from the outside via zips underneath the armpits. The actual pocket inside is loose, so will sit either forward or aft depending on what's comfortable. They are a little high for access, but this height keeps them out of the way whilst swimming. When running they can be tucked down inside the wetsuit around the waist. Goggles are word around the neck whilst running, I've been wearing a light wicking Tshirt underneath the suit so that I have some protection when it's down around my waist, and shoes are worn at all times. The grand result of all this means transition times are cut to seconds, and nothing is towed. It feels genuinely revolutionary. And I don't say that lightly!
As I've only used it in warm weather (and water) so far I haven't tested this out yet, but the thinking is also that in colder temperatures it is feasible to only unzip the front zip, leaving the arms inside the suit, to allow a little of the heat generated whilst running out, but not cool off too much. This approach could also obviously be employed on shorter run sections. Likewise in rainy weather it may be useful to keep the core temperature up, but to allow some ventilation. Essentially it's very versatile.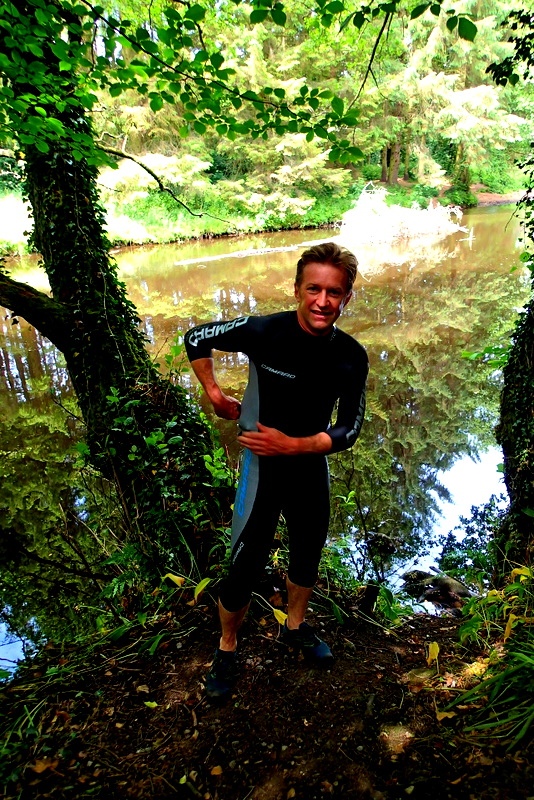 Ian donning his suit. It helps to have a partner to do the back zip up.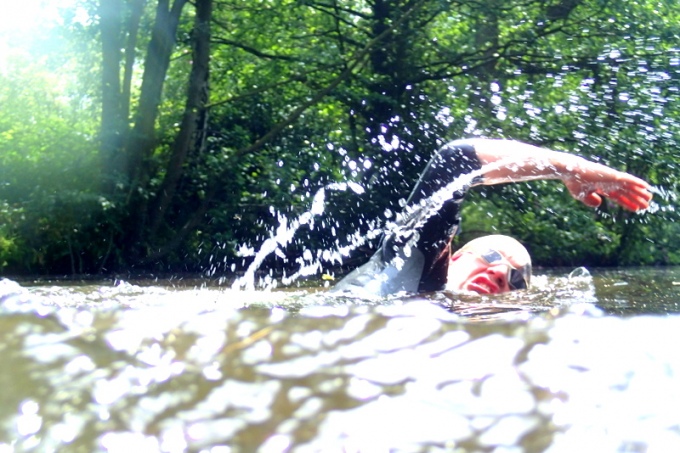 Swim testing. It performs very much like a standard swimming wet-suit.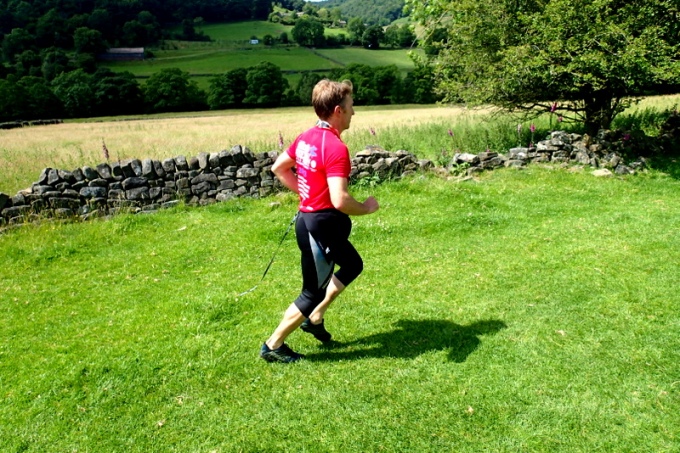 And Run testing. The arms are tied around the waist, and a lightweight wicking top worn underneath the suit.
I've only had the suit for a couple of weeks and a large chunk of that I've been out of action with a swollen ankle, but I've managed to use it a couple of times so far and am thoroughly impressed. It feels like a whole new sport / world is opening up and that's exciting. Actually, what's really unusual is that I can already run and swim so I am not really having to learn a new discipline, but simply to combine two I already love.
Is there a downside? The only one so far is the funny looks I've had from one or two walkers, but to be honest I quite like them ;-)
The suits cost 400 euros which isn't cheap. However a) it's designed by Jesper March who founded Island-to-Island in Sweden, b) it's very well made, but a well respected wetsuit manufacturer c) it's the one and only bit of kit that you need to open up a whole new world and d) you can also use it for regular swims and triathlons (in fact it would arguably be better in triathlons anyway thanks to its 3/4 length sleeves and legs which make getting it off a whole lot quicker).
Over the coming weeks I plan to head out with a decent camera and take some nice shots of the thing in use, and also some video of the speed of transition. I'll post these here. If you've got any questions about the suit, would like one for yourself, or would like to stock them in your shop please contact Gunther at Camaro (gstattmann@camaro.at)