Salomon Trail Gaiter - Low
Having done a fair amount of running in the snow this winter I wanted to try a system to keep the said cold stuff out of my shoes, and in particular, to keep it from balling up on top of the tongue and slowly adding weight to each foot step. Of course Salomon, masters of developing specific bits of kit for runners have come up with a solution. Effectively it's a smaller and more light weight version of the usual walking gaiter. They do two models, a high and a low. I have the low which fits only low cut running shoes whereas the high fits pretty much any shoes.
The material is a quick-drying and stretchy meaning that it fits any shoe as long as you get one big enough (they come in 3 sizes - I have the Large and am a UK-size 10). There's a tag on the inside of each gaiter with a large L or R to indicate which goes on which foot. If that rubs off then apply the usual logic to footwear and put them on with the Velcro fastening on the outside so they don't catch on each other whilst running / walking. The Velcro fastening is large enough to close them securely, though I do always worry with Velcro that it gets clogged up and requires cleaning so I don't expect to be wearing these in ten years time (that said, I don't envisage using them too frequently as I don't run in the snow or deep mud that often, so they may well last that long). You can put them on from the front or back, the key step being to place the heavy duty plastic strap across the underneath of the sole. Most running shoes have a central section with no tread which is where the strap needs to lie in order to prolong its life. The strap is 17mm wide and about 2mm thick. This stops the gaiter from rising up the ankle and leg. Fitting them is literally matter of a few seconds for each shoe so it's sensible to leave them off until you need them, and remove them when you no longer do.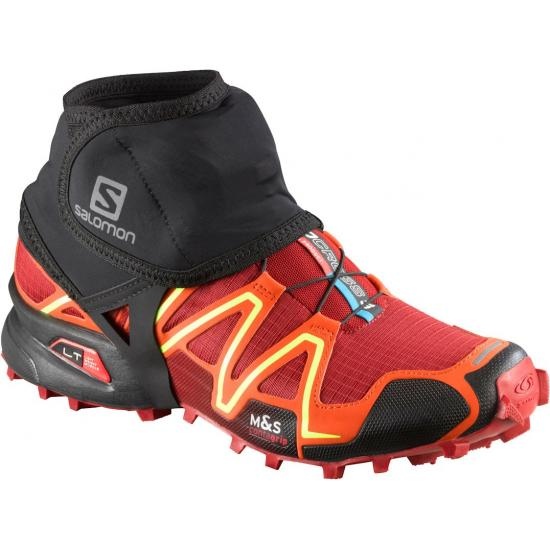 Once they are securely fastened and in place they feel very snug, with a heavily stitched and elasticated band around the top designed to keep out snow, mud, sand and other debris. Given the flared nature of feet and shoes the band around the bottom fits less snugly, but still does a good job of keeping stuff out. They are by no means waterproof, but they are not meant to be. Interestingly Salomon have stitched a foam pad into each side of the gaiters to protect the ankle bones from knocks, presumably working on the assumption that if you are wearing them then you are running on terrain which has a deeper than usual surface, be it snow or rock. I've only really used them in snow where protecting the ankle bone is not really an issue, but I look forward to some scree running on Skye in May (it will be interesting to see how they stand up to such harsh terrain). On the plus side, in the snow the pads do seem to provide a little extra warmth and they don't rub.
There aren't really any additional features other than the fact that they have reflective designs and logos on which further your visibility at night which is a nice touch. They retal at £20 (£35 for the High version) which I'd say is a bargain if you do much running on terrain where they are needed.