Montane Featherlite 30 Rucksack
I own a very snazzy backpack and also a bum bag for racing and can't really fault them. However I was after something a little bigger that is still designed for running with. Enter the Featherlite 30. 30 litres is plenty big enough to carry enough kit for an overnight bivvy, but it also doubles as a decent day bag that's a little more flexible than the race bags. I recently tested it out on an 8 hour run over Kinder called the Magic Roundabout. The route climbs onto the Kinder plateaux and drops back down to the edge of the farmland 11 times in total, and barely uses any paths. It was a very good test of the sack.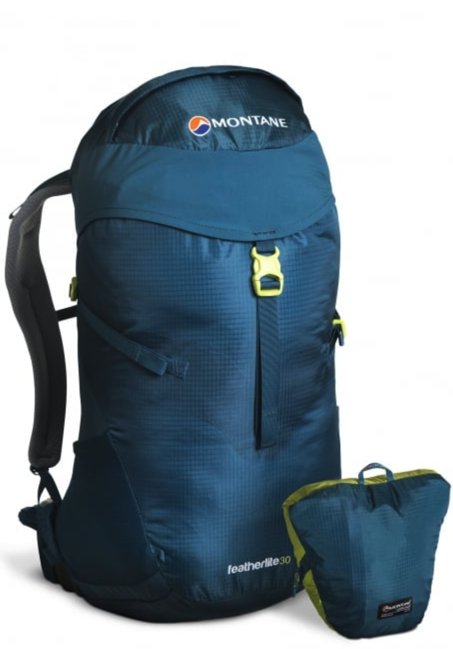 I carried with me a relatively large bag of food, a 1-litre Lifestraw water bottle for filling from streams en route, a waterproof jacket and trousers, gloves, a buff, a hat, a compass and whistle, a compact camera, my phone, and a spare battery and cable, as well as a set of lightweight walking poles. Truth be told I could probably have fitted all of that into one of my race bags, but it would have entailed packing very carefully, and re-packing just as carefully at every stop, of which there were many! The bag swallowed them with oodles of space to spare; so mush so that I was worried that it would be an unstable load. However this was easily overcome by tightening the side compression straps (one on each side) and the internal and external lid closures.

Featured wise this pack has some nice ones. There is a relatively simple waist belt with a degree of padding, but not so much as to make it bulky. There is a small zipped pocket on each side of the waist belt big enough for a compact camera in one and a phone in the other. There are two other pockets in the sack, both in the lid. The larger one opens on the outside and is big enough for maps and guide books, though in my case I carried my gloves, hat and buff). Inside the lid is another, smaller zipped pocket, with a plastic clip for your keys. There are also two elasticated mesh pockets on the outside of the bag for drinks bottles, rubbish etc. These are generous in size.

One of the side compression straps has a neat feature which took me a while to work out. There is a plastic D-ring sewn into the bag which means that you can loosen off the strap to create a loop large enough to pass your walking poles through, and that when you then tighten it up, the loop closes like a noose against the D-ring. The pointy bits of the poles then sit inside a larger plastic ring sewn into the bottom of the sack meaning that the poles are snug against the pack. It works nicely, but only as long as the bag is at least semi full. It's also necessary to remove the bag in order to attach and remove the poles - you can't do it easily whilst running.

Inside the pack there is a Velcro strap to hang a water bladder, and an elasticated sleeved compartment to keep the bladder separate to the contents of the bag. There is also a zipped section containing a relatively rigid piece of moulded foam which gives the back system its shape. This can be removed to make the bag super lightweight, so much so that it will pack inside its own lid pocket. Useful if you are headed somewhere with big pack, but need a day bag too.

The main sack closure system is a little different to the usual toggle affair and takes a little getting used to. It's similar, but has a number of plastic rings and sewn toggles meaning that it's possible, with a little ingenuity to close and open the sack one handed.

The thing weighs a teeny 686g, less if you remove the back panel. It's water resistant, super comfortable (after 8 hours of running I felt no soreness in my back or shoulders, something I can't say for any other bag that I have ever run any distance with before), and packed full of neat features. On top of tall that is wills et you back £75 - in today's world of top end kit at top end prices I'd say this was very good value for money.

More info on the Montane website.