UPDATE
Wild Things Publishing have now made most of their books available as interactive apps via Itunes and Google Play. The apps work pretty nicely featuring a navigable map, as well as individual chapters of the books. There's a 'Near Me' option which shows you the closest spots to you in the guide, though this is best accessed via the 'Search; function where you can specify your location and a search radius (the Near Me button defaults to 100miles!). The apps are offline meaning that assuming you have space on your phone, all you need to use them is a GPS signal (or a map). They cost £4.99 on each platform. (there's currently an offer on and they are £3.99 for the holiday season).
ORIGINAL REVIEW: 13TH APRIL 2018
OK, if you follow my reviews then you'll most likely know that I am a pretty big fan of all things Wild Things Publishing put out there. Throw into the mix the fact that I was born in and lived in Snowdonia for the first 19 years of my life and you are in for a heady mix of superlatives.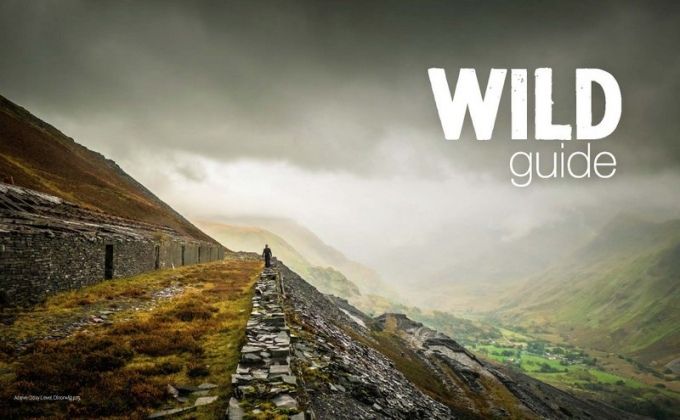 The Wild Guide concept is a just over a year old now. The brainchild of Daniel Start, these guides are effectively an extension to the already successful wild swimming guidebook format, employing the same top-notch level of photography, layout, and maps, but expanding on swimming to also include such things as scrambles, gorge walks, ruins, woodlands, and places to stay, eat and drink. I've already reviewed Wild Guides to Scandinavia, Devon & Cornwall, South Eastern England and The Lakes & Dales and have given each a great big thumbs up. This latest is no exception. Even though you think you know an area intimately a guide like this comes along and proves that the planet we live on is infinitely beautiful and interesting, and that it's arrogant to assume that you are an expert on any one bit of it. The guide has been pulled together by Daniel Start and Tanya Pascoe who between them have compiled an absolute treasure trove of places to go and things to see, so much so that after browsing the book when it arrived I decided that at some point I will move back to Snowdonia, not to use the guide as such, but because it simply reinforced in my mind the fact that it is a magical place (of course the guide also covers the rest of Wales, but having lives in Swansea for 4 years too I can confirm that there's plenty to go at wherever you end up).

The guide should be on the shelves of anybody who plans to visit Wales and those who live there. Retails at £16.99 which is a snip. You can buy it at Wild Things Publishing.