Beyond Limits - A Life Through Climbing - Steve McClure
Steve McClure is one of the best rock climbers in the world; and undoubtedly the best sport climber in the UK over the past 15 years.
With climbing parents, growing up within easy reach of the North York Moors, it's safe to say that climbing has always been in his blood; but Steve's journey from those first playful scrambles upon the small sandstone outcrops, to his journey to the top - single-handedly pushing the limits of British sport climbing, dragging it into the 21st century - has not always been plain sailing.
Steve speaks candidly, and without reservation, about several accidents which helped shape the direction of his life, as well as his climbing priorities. From tales of hitch-hiking to crags - often spending days to cover amusingly short distances - to his extended travels through Asia, shortly after University, Steve offers a real sense of his emotions experienced along the way.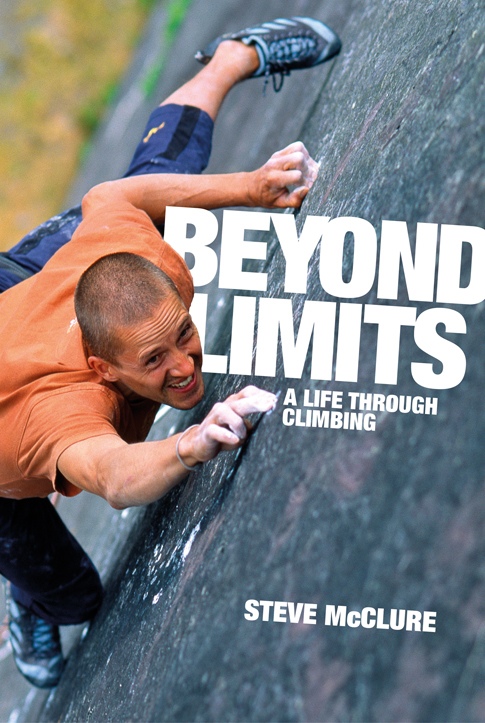 His in depth tales of the transition from an 'everyday' climber to a 'sponsored hero', detailing the myriad of opportunities that came his way, as well as the intense physical strains, and psychological stresses, experienced along the way - becoming a father in the process - offer a unique view into the mind of a top athlete.
Through a written style that falls easily off the page, this is an insightful and honest look into the life of the UK's best rock climber of the 21st Century. Combining numerous interesting, often humorous anecdotes, with an insight into the mind-set of an elite athlete, Steve's detailed account of his journey to 'the top' is a wonderful blend of dedication, sacrifice and self-discovery.
A climbers' climber, Steve climbs for all the right reasons - albeit at a somewhat stratospheric level compared to most - with his honestly written style allowing the reader a chance to draw parallels to the experiences and journeys undertaken in their own lives.
Beyond Limits is arguably one of the very best in a recent batch of autobiographies/biographies, from some of the UK's most heralded climbers over the past forty years. So whether you're a keen climber, or an occasional climber/outdoor enthusiast, or if you're simply interested in finding out what it takes to become the very best at what you do - then this book is an absolute must. A truly gripping read from start to finish.
The book is available from Vertebrate Graphics, RRP £20
Reviewed by Ben Heason