Peak Bouldering Guidebook - Rockfax - Review
Introduction
I've reviewed a fair number of Rockfax guides over the years, but this one sets some new records. Had they made the cover from high density foam it could almost have doubled as a bouldering mat it's so fat! 545 pages. 3394 boulder problems on 66 different crags; and including 60 circuits. I've known the authors a long time and had wondered what was keeping them from publishing the thing. Now I know!
The Authors
Adrian Berry was responsible for one of the first climbing websites - climbingmedia, which he founded and then morphed into planetFear along with Shane Ohly. At a similar time Alan James, who had already set up Rockfax as a viable business, launched UKClimbing. Some ten years later and the pair are working together to produce guidebooks. Adrian used to be based in the Peak so clearly has a good knowledge of the local bouldering, but he now resides down South, so having Alan co-author the book must have been pretty key. Anyway, the long and the short of it is that between them they have produced a mammoth new chapter in the story of Peak bouldering.
Progress / What's New
Each iteration of Rockfax guides goes in the right direction as far as I am concerned. It's standard now to expect decent colour topos, good quality photographs, and comprehensive descriptions of how to get to the crags. It's also taken for granted that the data is all properly cross referenced - from well and fully named photo captions complete with grades and respective page numbers, to the colour coded problem markers and intuitive icons describing individual problems and crags.
What's new this time around is the inclusion of colour-coded circuits. Originating in Fontainebleau, and adopted by the new wave of bouldering walls, and also by selected guidebooks (nod to Grimer and the recent BMC guides), the circuit provides a thoroughly enjoyable 'new' way of going climbing. Essentially a sequential list of problems within a defined grade range means that where you perhaps used to go to a crag and wander aimlessly amongst the boulders, climbing problems that caught your eye, or more likely, problems that you recognised and had tried before, the circuit opens up new problems for you and spreads the load on the sometimes over-used rock. Some would argue that a circuit is only aimed at the unimaginative, but I think that's wrong. Circuits are almost climbing's equivalent of a fell race or cyclosportive. They add a little structure to an otherwise unstructured pastime, and I think that most of us like a good dose of structure in our lives.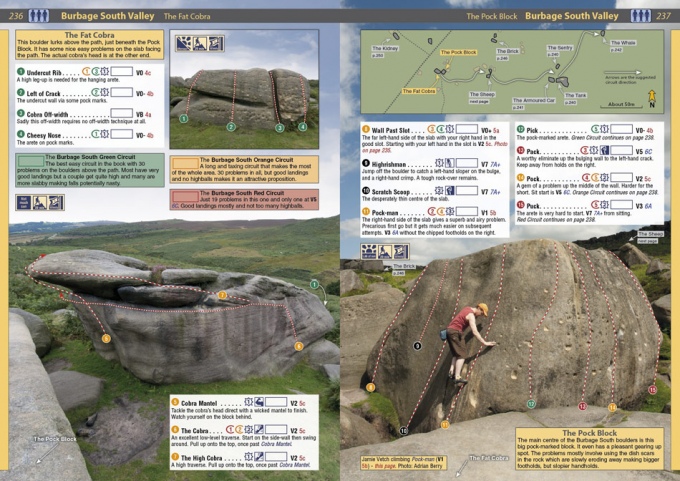 A sample spread from the book showing the circuits at Burbage South.
Also plastered all over the book are QR codes which are scannable with a smartphone and open up Google Maps at the relevant parking spot so that you can navigate straight there. Simple, but effective. For those without a scanner there are also GPS coordinates listed. According to the book there's an App version of this book due in the future which is pretty exciting!
The Guide
It covers a massive list of areas. In summary:
* Northern Peak
* Sheffield Crags
* Stanage Area
* Burbage Valley
* Derwent Edges
* The Limestone
* Central Grit
* Staffordshire
* South Peak
I've spent a fair while perusing the book and looking for out of the way clusters of rocks that I've spied whilst out fell running and am yet to find any not listed. In each case there are at least a handful of problems to make the walk-in worthwhile. To put things into context the previous edition of Rockfax's Peak Bouldering Guide covered 1,600 problems on 38 crags. That's 28 new crags, and 1,794 new problems! Throw in the circuits as well, of which nearly a third are aimed at beginners, and there's plenty to keep you busy!
Complaints
Not really got any to be fair. Perhaps the inclusion of some kids circuits would be a good move some time, but then there's probably scope for a whole guide dedicated to that - my theory is that there are more smaller boulders than bigger boulders, therefore there are more climbable boulders for kids than there are for us grown ups. If there are 3394 problems listed for us, then think how many there must be that would suit kids in the same area!
Summary
£29.95 is a chunk of money to pay for a guidebook, but given the fact that the other option would have been to produce two volumes, each priced at, say, £19.95, I think it's worth the money. A very well researched book and a welcome step forward for Peak Bouldering.
How to Buy It
You can buy it directly from the Rockfax website