Scottish Rock - Volume 1 - South
A while back I reviewed Scottish Rock Volume 2 very favourably so it's no surprise that Volume 1, though reviewd in reverse order, is also a cracker. The guide claims to cover the best mountai, crag, sea cliff and sport climbing in Scotland.
Contents
Isle Of Arran
The Arrochar Alps
Isle Of Mull
Glen Coe & Glen Etive
Ardgour
Ardnamurchan
Glen Nevis
Ben Nevis
Central Highlands
The Cairngorms
Easter Ross
Now that's a list! Of course this is a selected guide and will have missed out many favourite crags and routes, but for the visiting climber, or the climber on a budget who can't afford the individual guides it's a very good option.
Layout & Content
Immediately I was impressed by the fold out cover which enables you to mark a page as well as giving additional space for some oft-referred-to information. In this case the author has decided to include a grade comparison chart - a good idea considering the breadth of the climbing offered in the book, a map of the region covered with the sub areas / crags noted, and there's also a very mini tick list with a twist - it lists three bench-mark routes at each grade that are mild, three that are standard, and three that are hard. Inside the back cover is a more comprehensive tick list plus a key to the symbols used in the book, and a few words about the author Gary Latter.
The front cover is a double page spread of some stunning looking climbing on the Isle Of Mull, making Scotland look very much like Sardinia or Corsica with turquiise seas, white sand beackes and pristine granite. Well we were lucky enough to climb on these very cliffs in May and can vouch for the fact that it's as good as it looks. The book is packed with similarly inspiring images, many overlaid with colour coded route lines to form the excellent topos. Very well laid out indeed.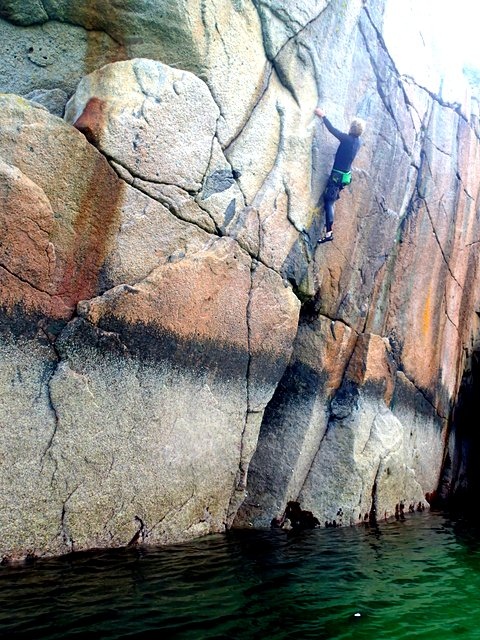 Deep water soloing on Mull.
Summary
It never ceases to amaze me to hear people say that they have never been to Scotland despite living in England for their whole lives. If it weren't for the midges and the weather then the west coast of Scotland would be among the finest tourist destinations in the world. The fact that there is decent climbing there to boot is a real bonus and these two guides do a very good job of presenting the crags, routes and problems, in an easily digestible and very inspiring manner. It retails at £23, which gets you a whopping 480 pages.
Where to Buy & Get More Info
Pesda Press Website