Canyoning In The Alps - Northern Italy And Ticino
The size of this book, and the relatively small area of the Alps that it covers, is testament to the wealth and breadth of the sport of canyoning. Initially I thought I'd hit paydirt - Canyoning In The Alps - was just what I was after. However, the subtitle reveals that the book covers parts of Italy, Switzerland and Austria.

Whereas most Cicerone guides are designed to fit in the pocket and be taken on your chosen activity for the day, the author has clearly accepted the fact that it would be daft to take a paper guide down a canyon, so has opted for a larger format. As such it has given him scope to show off the sport with some truly outstanding photography which showcases the sport really well. Flicking through the guide it is both inspiring and daunting, there is just so much good canyoning in this part of the world to go at.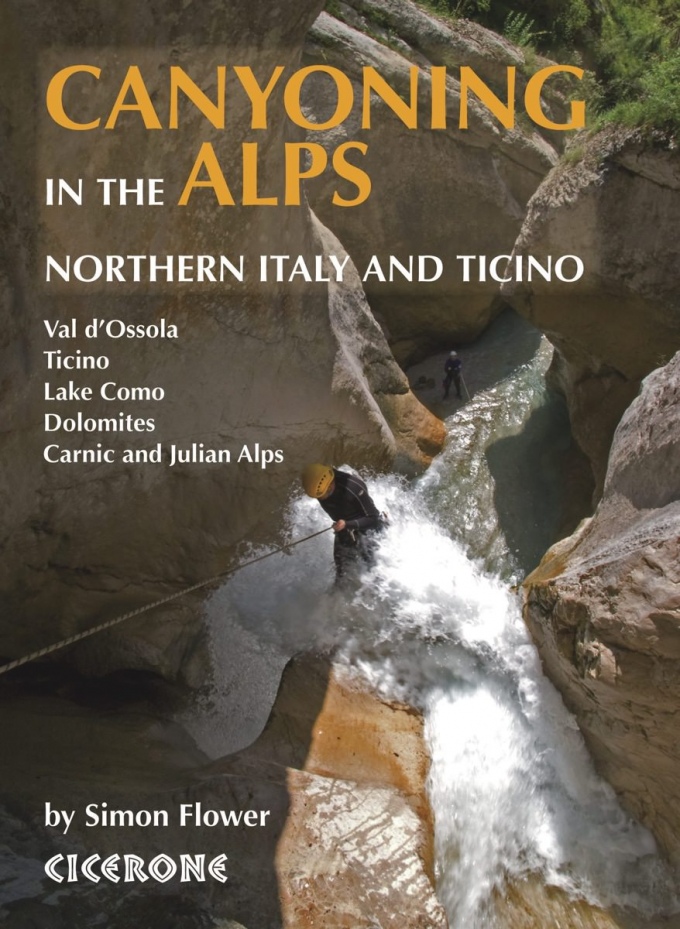 As with most Cicerone guides the maps are simple, but accurate. The topos are as detailed as they need to be to safely descend the canyons, with all the required information: rope length, number of abseils, height lost, dam release info etc. There's a comprehensive section on safety at the start, but the real info lies in the appendices at the back, of which there are many. The author clearly knows his stuff and has done his research. Initially I was a little frustrated at the lack of easy reference guide to help me, as a dad with two boys, know where to aim for, but it's all there in the appendices. A colour coded grid shows just which areas have the highest concentration of easy, mid and hard graded routes.

At nearly 450 pages the guide doesn't come cheap at £25, but when you compare that to the cost of paying a guide to take you out for a single trip down one of these canyons, it's an absolute bargain. I can only hope that we get similar guides to the rest of the Alps, the Pyrenees and other mountain ranges of Europe.
More info on the Cicerone website.