The Scottish Bothy Bible by Geoff Allan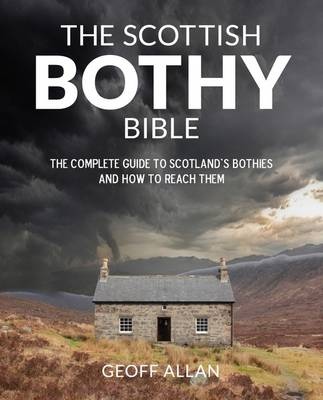 Another gem from Wild Things Publishing, this is the second book on bothy's to have been released in the last year. Whilst the former, The Book Of The Bothy, featured a selection of bothies all over the UK, this one concentrates on the true home of the Bothy, Scotland, and is the first guide to feature all of them. As you'd expect with as Wild Things Publishing book it is packed full of inspiring looking photos which is, to my mind, the most important thing to get you out there in the first place seeking out these fantastic places.
For those who aren't familiar with the concept, a bothy is a dwelling in a remote location, unmanned, but maintained. They are free to use. They vary greatly in size, condition, and facilities, but the general principle is a dry roof over your head whilst out in the mountains.
The book features 99 bothies located all over Scotland, but always in remote mountainous areas. Each has its own section in the guide complete with at least one picture, its location, size, and a decent description of how to get to it, what you will find when you get there, and usually a bit of history too. My main issue with the guide is the initial orientation mao on page 6. I found this mao really difficult to work with thanks to the muted style and lack of information. Each of the bothies is marked on the map with a symbol, but there is no reference next to the symbol to cross reference with the table of contents on the adjacent page. If you don't know the areas and names well then it's a time consuming affair to locate a particular bothy. The same style of map is used at the start of each of the 8 chapters each of which relate to a different geographical area, but these maps are easier to decipher thanks to the larger scale. And thankfully when you get down to locating your chosen bothy there are very precise instructions and coordinates to help you actually find it.
Written by Geoff Allan.
All in all a welcome new guidebook to a previously underserved area. Retails at £16.99 and is available from Wild Things Publishing.