Paclite Inflatable Kayak Review - Advanced Elements
I watch a large number of adventure films in my line of work and I've noticed an increasing number of expeditioners travelling on foot to remote parts of the world now carry lightweight kayaks with them to open up travel on rivers, lakes and the oceans. These guys are often loaded up with food and equipment for weeks in the wilderness so I figured that the kayaks they are carrying must be ultra-light. I did a little research and came upon a company called Advanced Elements. Although they're a US company the UK supplier is based near my stomping grounds, near Bangor in North Wales.
We are a family of four and already have an inflatable kayak that comfortably seats one of us with the two boys, but no longer can we safely squeeze all four of us into it. So I was on the hunt for a single person boat that would mean that we can head onto the water without doubling up and getting a second large boat. What Google found for me was this little gem: the Paclite Inflatable Kayak.
Features
Aside from any of its other selling points what hooked me was its weight. It comes in at a teeny 1.8Kg! That's roughly one twentieth of the one that we already have! Clearly this is something that one could add to an already heavy pack and barely notice the difference. The material is very lightweight, re-enforced and PVC-free, far tougher and more compact that your average rubber beach dinghy. The main walls of the kayak are inflated and deflated via two twist-lock valves requiring a special fitting. Each valve connects to a separate chamber. The two chambers are air-tight from each other, but joined within the structure of the boat so that if one is punctured the other will retain the shape of the boat - basically there's an inner wall within the chamber that runs the entire circumference of the boat, that separates it into two. The floor is then accessed via a separate valve requiring a different pump fitting. It has a twist lock on it and can be topped up by mouth if necessary. Cleverly it's on the end of a short tube which makes accessing it a lot easier than burying your head into the base of the boat. On the bow are three plastic eye rings that clip to the three plastic clips on the net carry bag that the boat comes in, making a neat storage area whilst on the water and meaning that you never lose your bag!. There are further D-rings on the stern for securing things to the boat, and /. or securing the boat to land, as well as a comfortable plastic handle at the bow.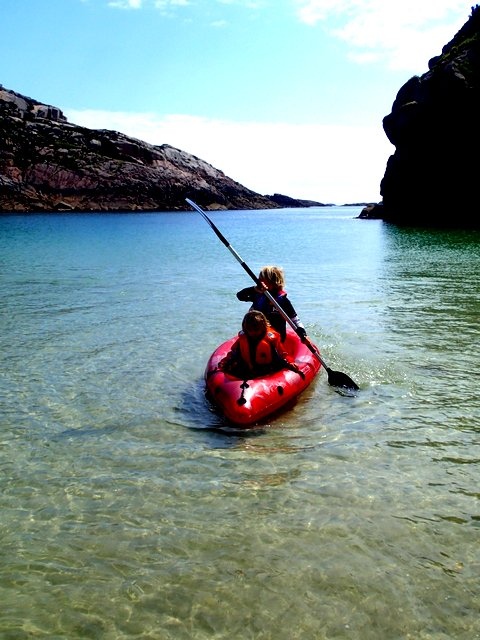 Size
I've already shouted about it's light weight, but what makes this even more impressive is the size of the boat once fully inflated. It's 2.4m long and 90cm wide. The walls obviously account for quite a bot of this, but there is plenty of space inside for me and I'm 1.95cm tall. It's rated to carry 113Kg which basically means 1 X decent sized adult and a fully loaded rucksack.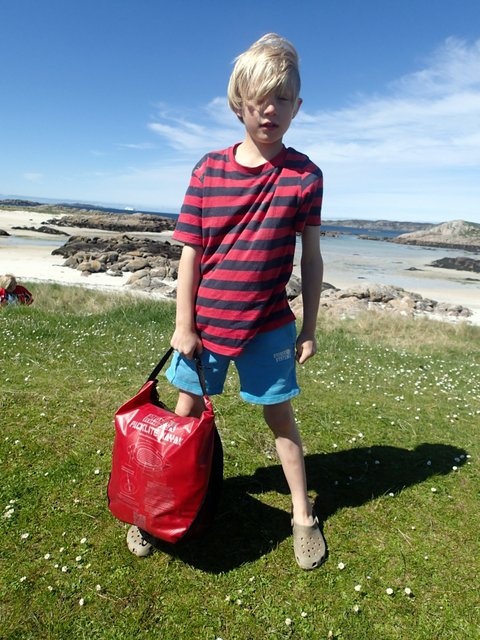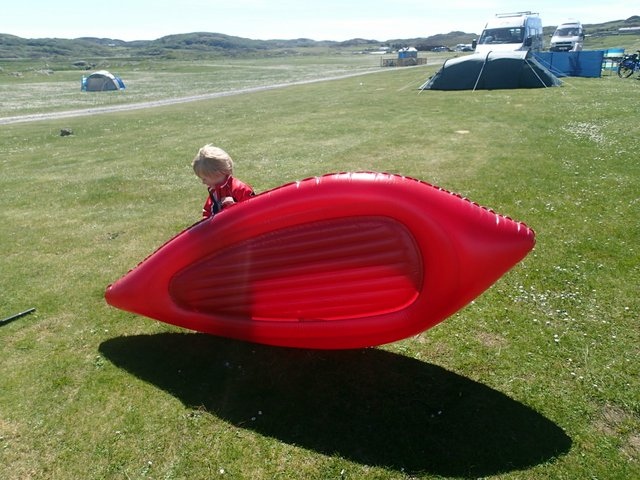 Inflating / Deflating
I guess if there is one downside to a lightweight inflatable kayak it's that you have to use a pump to inflate it to the recommended 2psi (the floor is inflated to 1psi - which if you don't have a pressure guage to hand means that you should be able to press on the floor and just about feel the ground underneath, obviously not whilst afloat!). We used the boat whilst car-boot camping so had a large volume double action pump which inflates a boat of this size in virtually no time at all. The military grade twist-lock valves are very easy to use. I had it inflated in about 3 minutes, one for each chamber.
The pump I have also deflates so once the majority of the air is expelled simply by opening the valves and folding the boat up, the remainder can be sucked out leaving it looking almost vacuum packed and ready for stowing back in its net carry sack. Probably a 5 minute operation to do it well. I rinse off any salt water and sand if we've been on the sea.
In Use
I used a double bladed kayak paddle and sat in the boat as I would do a regular kayak, legs out in front of me pointing towards the narrow end. It's shape is that of a large teardrop, with a high wall at the stern giving some decent back support. The 90cm width is wider than your average plastic or fiberglass kayak which makes it remarkably stable. That said it's not so wide that paddling it becomes a chore. Switching from a boat more than twice its length and 20 times its weight meant a very different set of handling characteristics. For example it's possible to turn the boat around 180 degrees literally on a sixpence with a single draw stroke which makes it incredibly nimble and manouverable The downside to this is that it takes a while to get used to the bow skitting left and right a little with each paddle stroke when going forwards. A little practice and its soon mastered though and perfectly possible to make good forward progress. Whilst on Mull it was used daily on island hopping trips with stretches of open water half a kilometer wide. I hasten to add that we didn't take it out in high wind or strong tides, but that in sensible conditions it was perfectly usable as an exploratory vessel. Obviously an portages were a doddle!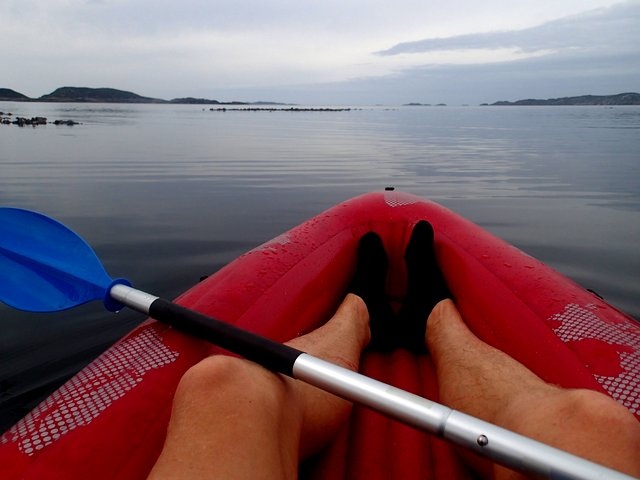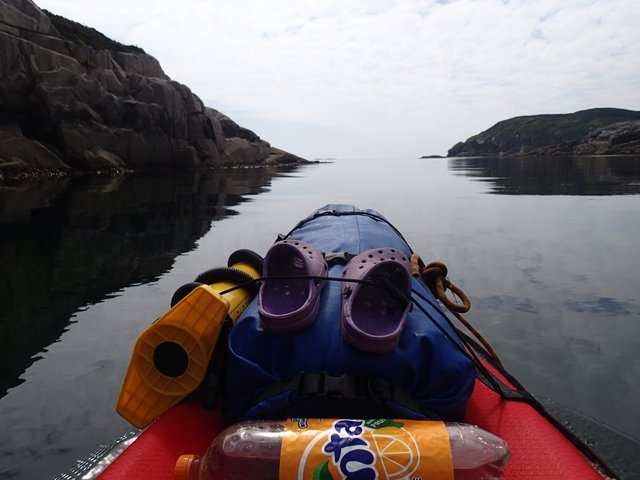 I was particularly impressed that my 8 year old mastered it very quickly having never really done any paddling before. He and his friend used it to explore the coves off our campsite and had a ball.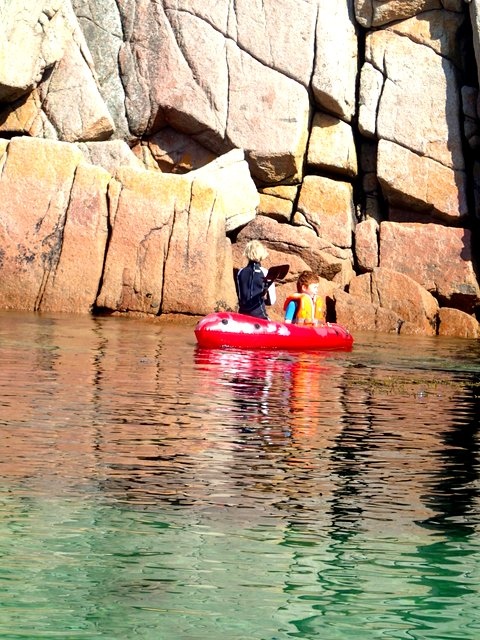 It retails at £289 which is a reasonable chunk of money to shell out for something so small and light, but if small and light is what you are after, combined with durable and safe, then I'd argue that it's well worth your money. At the time of writing it is on sale at £225!
Pros
Lightweight
Durable
Easy to use / manouver
Cons
Price
I'd be concered about losing the valve to pump up the main chambers
How To Get Hold Of One
The UK website for Advanced Elements is comprehensive and the advice given excellent.
Manufacturers Blurb
You can download a (10Mb) manual here.
The PackLite kayak is a very compact and lightweight recreational inflatable kayak equipped with several unique features to make it the perfect ultra-light kayak for paddling in the most remote of locations. With 3 chambers for optimum safety, it packs down to 28cm x 28cm x 13cm, and features easy to use Twistlok™ and military style valves for easy inflation. When out on the water, the mesh carry bag doubles as an on-deck gear bag for securing smaller items. Paddling a remote alpine lake or river has never been this easy!
Package Includes:
Advanced Elements PackLite kayak.
Mesh carrying bag.
Repair kit.
Manual.
Key Features:
3 air chambers - for optimum safety.
Rubber molded handle.
Mesh carry bag that doubles as "on-deck" storage.
D-rings to secure gear to.
Light weight reinforced PVC free fabric.
3 air chambers for increased safety.
Twistlok valves for quick setup time.
Reinforced Polyurethane construction.
Welded perimeter seams.
Specifications:
1 person kayak.
Length: 240cm.
Width: 89cm.
Weight: 1.8kg.
Max capacity: 113kg (approx 17 stone).
Packed size approx: 33cm x 33cm x 17cm.
Colour: red/silver.
Accessories Included:
Carrying bag.
Repair kit.
Manual.
Shipping Dimensions:
37cm x 33cm x 16cm.