Approach Shoes: Scarpa Vortex GTX
Retailing at £99.99 these are the priciest approach shoes I've tried to date. My last pair of Scarpa's were the trusty Zen's, reviewed nearly 2 years ago. Given that these shoes are still on my rack and being worn reasonably regularly you can appreciate that I have high expectations from Scarpa.
The GTX's weigh 920g which is not particularly light for a pair of approach shoes. As a consequence they have so far shown remarkably little sign of wear. They feature a Goretex upper - responsible in large part for the hefty price tag. My issue with Goretex shoes in general is one that doesn't escape the GTX - and that is that the more different panels of material there are making up a shoe, the greater the opportunity for water to get in. Even more of an issue is the profile shoes compared to boots. The GTX's certainly keep my feet dry in the rain, but plunging them into a bog does not keep the water out. This is not really a reflection on the design, but on the issue of marketing such low-cut shoes as being waterproof. The material certainly breathes well as I have yet to receive a single complaint about the odour of these shoes :-)
Comfort-wise I have no complaint. They are snug and don't rub. I've run in them a couple of times - not something they are specifically designed for, but when you forget your running shoes and there's no choice, they have performed admirably, with little or no aches and pains in my shins the following day. I am, however, frustrated on a daily basis by the fact that the insole is either marginally too small for the shoes, or its bottom surface is not grippy enough, for every time I take the shoes off, the insole make a brave bid for freedom and folds itself upwards. This means that prior to putting them on the next time, I need to press the insole back down flat. Not a big deal when it only takes a second or two, but frustrating given that I have had to do it hundreds of times. This is probably easily rectified with a new pair of insoles, and may not be a problem for others, but given the hundred quid price tag is a niggle for sure.
The Vibram sole grips nicely on my local gritstone, but this is much more of a general use walking shoe than a shoe to climb and scramble around in (unilke the Zen).
Although they are listed at £99.99 I've found them at a shade under £80 on some websites.
All in all, a solid shoe in more ways than one, but rather pricey unless you can find them reduced.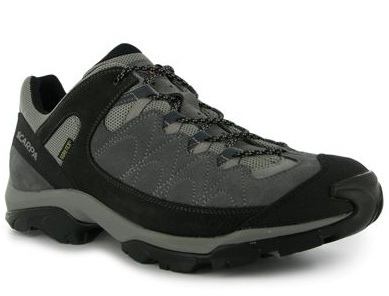 The blurb from the Scarpa site.
The Scarpa Vortex GTX Shoes are built for outdoor trails with a full Gore-Tex upper coating, designed to provide lightweight and breathable waterproof protection along with a formed heel to provide a secure fit. These mens walking shoes also feature a moulded Vibram outsole, providing incredible durability, traction and shock absorption on any terrain.
> Mens walking shoes
> Lace-up
> Gore-Tex outer coating
> Formed heel for a secure fit
> Moulded Vibram outsole
> Leather/Textile upper, Textile inner, Synthetic sole