Magicshine MJ886 Headtorch
A while back I tested a Magic Shine MJ880 bike light. I was impressed. It was very bright, well made, light weight and affordable to boot. So I had high expectations of this head torch.
First off it's not as bright as the bike light, but that's not to say that it matters. It gives 550 Lumens which by current standards doesn't appear to be a great deal, but the reality is that it's more than ample for running. Maybe it's the colour of the light? I don't know, but it seems as bright as other lamps I've used which pump out 1,000 Lumens, and is easier to use. The head unit which contains 6 LEDs is a nicely designed bit of kit reminiscent of a miniature jet engine in looks, but a great deal smaller. There's a single button on the top. One press for full power, a second for medium power, a 3rd for low, and a fourth to tun the thing off. No long-pressing for different modes, just a simple click-through action. My one issue is that there is no battery level indicator. However, the torch does come with an extension cord that plugs into the main cable on your head and allows you to put a clip on your jacket or waist band and control the thing from there. This remote features three green LEDs labeled 25%, 50% and 100% indicating the level of charge left in the battery. Personally I would have liked to see this included in the main headtorch for the times I decide to use t without the extension, but it's a nice feature nonetheless, and a bit more intuitive than indicating the charge level via a number of flashes of the main torch.
The battery is where the torch really scores. It not much bigger than a Mars Bar and so sits comfortably on the back of the head without much movement, even whilst running. The strapping is pretty standard - elasticated, and comprising one strap over the top and a second around the sides, all adjustable with plastic buckles. Charge wise I've not had any issues with the thing running out on me. Burn time (or full power) is 2 hours, longer for medium and low power. The charger is compact and works well, giving a full charge in three hours. The battery connects to the head unit via a neat plastic coupling which you connect and then twist to lock. This is where you put the extension if you are using it. The whole thing comes with a nice felt bag which will most likely prolong the lifespan of the torch as it's shoved in and out of rucksacks and saddle bags, as well as stop you from losing the extension!
Retailing at £89.94 it's a very good value high performance piece of kit.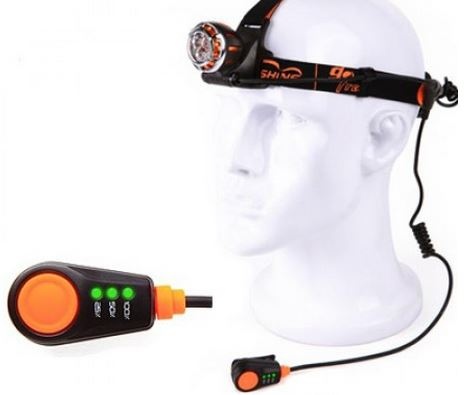 Here's what the Magic Shine website say about it.
The Magicshine MJ-886 Headlamp is a great all purpose headlamp for hiking, skiing, skating, or as a utility work light for all sorts or chores.
It uses 3 SSC Z5 Led's produce 550 Lumens (actual tested output) of bright white light.
Integrated elastic straps adjust to any head size or to accommodate a hat in the wintertime.
The light is controled with a tail switch on the back of the light head or with a removable remote switch with integrated clip and battery charge indicator.
SPECIFICATIONS:
Light Source - 3 x SSC Z5 led's (Seoul Semi Conductor)
Luminous flux - 550 lumens
LED life span - >50,000 hours
Shell material - 6061-T6 Aluminum Alloy
Surface treatment - Type III hard-anodized
Switch - Tail switch or remote switch
Modes - High - Med - Low
Battery - 2 x 18650 Li-ion battery
Battery Life - 500 Charge cycles
Runtime - 2 hours @ 100%
Charge time - 3 hours for full charge
Waterproof grade - IPX4
What's in the Box:
Light, Battery, Charger, Remote Switch