Zamberlan Crosser Approach Shoe
Many moons ago my first ever pair of proper walking boots were a par of Zamberlans. I can't recall the actual model, but the brand name has stuck in my memory for nearly three decades! I remember them as being functional, but heavy and uncomfortable. Things have come a long way since then I guess.
The Crosser is an approach shoe aimed at walkers and scramblers, but also do fairly well as a basic climbing shoe for long and easy routes. I'm a big fan of the light weight - it's a no brainer that less weight on the end of your feet means less effort required to lift those feet repeatedly all day long. I'm also a fan of their rugged build, with a carbon reinforcement band immediately above the rand - so far they are not showing the least bit if wear and tear other than mud stains and I suspect they will last a very long time. The lining is Gore-Tex which means they are waterproof to a degree. They keep out basic splashing and rain that falls on the body of the shoe, but no material in the world will repel moisture wicking down your socks. The lacing system is straightforward and the shoes come ready-laced. One neat touch is the pull tag on the heel. On many shoes this is a straight tape that is stitched to the heel flatly and vertically. On the Crosser each end is stitched horizontally which means that when you hang the shoes off your harness with a karibiner they hang sole out rather than sole to the side. In essence they hang better of a karibiner. The sole is mediumly aggressive which means it works pretty well on rock, acting more like a smooth soled rock boot than a fully aggressive tread. It also runs pretty flush with the side of the shoe with little beveling, which again helps when climbing. As you'd ecpect from Zamberlan the Vibra,m rubber is pretty sticky and durable. Fit-wise they are fairly narrow in the front foot and have taken a little 'breaking in'.
My one issue is with the price. They are retailing at £124.95 which, on the face of it, is a heck of alot to pay for a pair of approach shoes. In defence of this price tag however is the fact that I have a feeling these shoes will still be on my feet in many years to come. If you can afford to splash out a little extra for the quality and extra durable materials then it's probably worth it.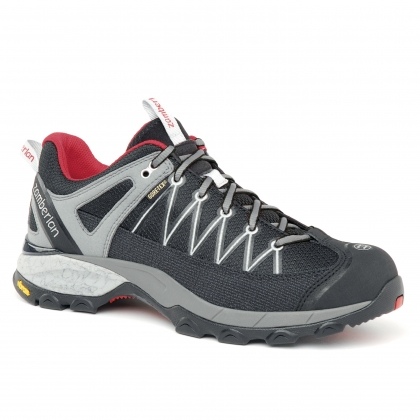 From the Zamberlan website:
UPPER Cordura-Kevlar/Schoeller/Synthetic Material
LINING GORE-TEX® Extended Comfort
SOLE Zamberlan® Vibram® Speed-Hiking
SIZES Euro 40-48
WEIGHT 400 grams (size 42)
Strong heel counter support
Schoeller Kevlar/Cordura reinforcement around the shoe
Shoe tongue in Lycra and perforated microfiber for better foot wrapping, higher comfort and breathability
Upper reinforced with TPU microinjection