Zamberlan 125 Intrepid RR
I reckon I'd be pretty chuffed if I were allowed the name of these shoes in a game of Scrabble! Zamberlan are one of the premier walking book manufacturers on the planet and have sensibly branched out into approach shoes too. The Interepid are a very smart, durable pair of such shoes which have made the transition well. Though they look similar to a number of other low profile approach shoes on the market and are clearly designed with some technical scrambling in mind, they differ in one main respect - the tread. I've fallen foul, in the past, of having similar looking shoes, with slick soles designed for granite slabs and dry earth, not damp grass and soft mud which we are more accustomed to in the UK. The Intrepid's feature a decent deep tread which is perfectly at home in the woodlands and moors of the Peak District, whilst at the same time work pretty well weaseling and rock hopping on the native gritstone and limestone.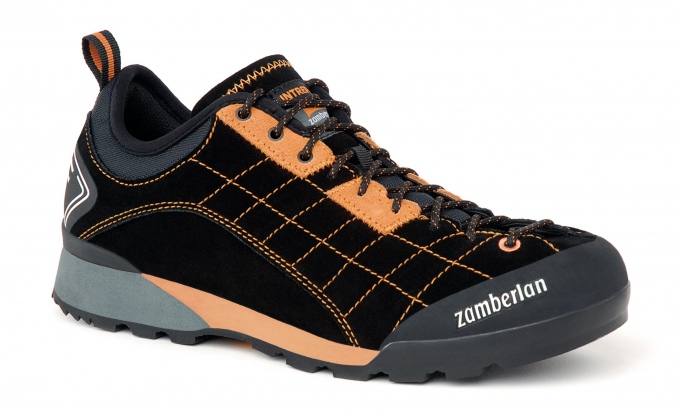 Although I've now had them for over a month they are still looking remarkably smart and un-scuffed thanks to the rubber toe and heel. The upper is a black suede treated with Zamberlan's Hydrobloc which means they are pretty waterproof still. I have wide feet so have no problem getting a snug fit, but it's good to see that the lacing system goes right to the front of the foot allowing for narrower footed people to wear them too.

Comfort wise they are good. Not exactly a slipper, but for a technical shoe effectively encased on three sides by tough rubber, they feel pretty good. I like the colouring - orange on black, and as already said, it seems to be lasting well. If I had a gripe it would be the size of the pull loops on the heels. I'd like them a little bigger as I can only just get a finger into them and threading them onto a karibiner whilst climbing is a bit of a fiddle. They retail at £100.
More info on the Zamberlan website.