Just as Five Ten make the stickiest rubber in the climbing shoe world, Inov-8 seem to have mastered the art for running shoes. This latest pair give more confidence on a variety of surfaces around the Peak District than anything else I've worn to date. Coupled with the fact that they have a super-aggressive tread that will trip you up if you get tired and don't pick your feet up properly, and you have a pretty unbeatable shoe. That said, it does have a few downsides so let's explore.
Tread / Grip
Designed for soft ground they are ideal in the deep mud and bogs which dominate my local trails at this time of year. The large lugs act almost like spikes, tearing the earth up. On the rockier sections the soft rubber comes into its own sticking like nothing else. The idea of running long sections of tarmac would fill me with dread, not just because of the additional effort necessary to run in a pair of shoes with this sort of aggressive sole (think riding knobbly mountain bike tyres for long distances on the road and you have a good comparison), but more because of the speed with which the soft rubber wears away and accelerates the shoes to the end of their life.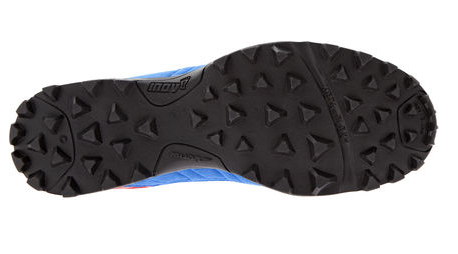 Fit
This is my main issue with Inov-8. The fit seems haphazard. One pair of size 9.5 is two (half) sizes too big, another is a size too small. Basically buy from a retailer, online or offline, where you are able to swap if they don't fit (obviously before muddying them up!). Assuming you find a pair that fits well don't expect great levels of comfort. Compared to other brands most Inov-8 models are fairly cut down, light weight affairs which means a degree or two less cushioning than you may be accustomed to. The mesh uppers are seriously light - the shoes come in at 300g (mine actually weigh a little under that) per shoe - but they don't offer a lot of protection from water, wind, or even rocks, so don't expect to keep our feet dry, and stay on your toes to avoid any knocks. The laces are plenty long enough and have enough grip on themselves that they don't easily come undone whilst running. The sole if remarkably flat with virtually no fixed rise under the toe, arch or heel, but the sole is flexible enough to fit your foot whatever ts shape.
Feel
The latest version of the Mud Claw has a squarer heel than previously. The thinking behind this is that it reduces the possibility of twisting or rolling an ankle. So far so good, not even a single half-twist so I guess I can report that it works (and that from somebody who regularly twists my ankles!). They are a low-drop shoe - 6mm to be precise - so fairly minimalist. As such it's good advice to break yourself in slowly if this concept is new to you. I've found them to be sensitive, but a good stretch away from being real bare foot shoes - i.e. the bet of both worlds in my book. The tongue sometime stake a little jiggling around to get it to fit comfortably, but is fine once it's in the right place.
Build
Inov-8 have been troubled in the past with shoes that wear out more quickly than they should. The new 300 has the feel of something with better build quality - indeed they have made a point of hacing improved the durability of their shoes in response to customer feedback. The bonding which fies the upper to the rand has been replaced by stitching, which so far, is showing no sign of wear.
Look
The blue and red look, to my mind, is far classier than the horrible bright yellow if its predecessor. It's an understated, unassuming look.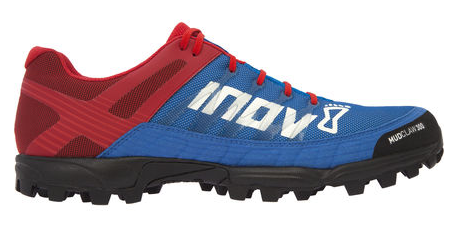 Conclusion
A very good lightweight shoe for nasty off road conditions with grip where it counts, and seemingly built to last. If you can find a pair that fits you well, then the price is pretty good too (RRP £95, but available for a little less if you look around).
More Info