Scarpa Force Velcro Rock Shoe
It's been a while since I climbed in Scarpas. The last pair I had were a pair of very stiff lace-ups suited to hard, steep sport climbing which I don't do much of so I guess I'd gone off the brand by association with some shoes that I didn't really use that much. Imagine my surprise then to be absolutely loving this pair. I got hold of them just before a 10 day trip to Font in April and have climbed exclusively in them ever since – including a mega day out on Stanage in July with nearly 1,500m of ascent and a further 1,500m of descent, and they are still perfectly usable. I should note here that although my feet were distinctly sore for a few days after the Stanage outing, I was able to wear the shoes all day, taking them off from time to time whilst scoffing an energy bar. I tend these days to buy boots that are only half a size or so smaller than my actual shoe size (which has shrunk a good size over the uses presumably as a result of lots of time in climbing boots) and these were no exception. They've stretched ever so slightly and now fit like carpet slippers, but still have the precision to climb reasonably hard. What I'm most impressed with is the heels. It's been many a year since I had a pair of shoes with a heel that I can really actually use and that doesn't slip at the slightest pull and I am a fan of the opposing Velcro straps meaning that you can balance the shoe quite nicely when tightening it up. All in all very impressed.
Retail at £79.99, but available for a lot less than that online if you shop around.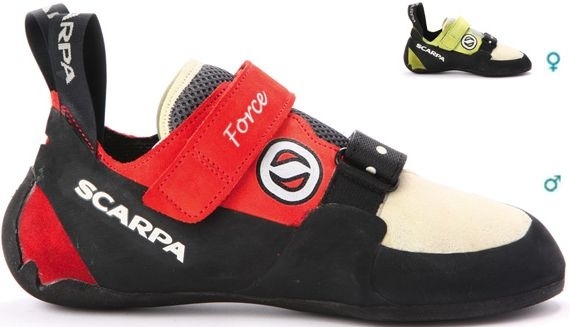 What Scarpa say:
Designed for those climbers who spend as much time indoors as out! The Velcro closure makes the Force the perfect choice for convenience, but these shoes are equally at home bouldering or on long routes as they are at the climbing wall.
With a broad last and superbly constructed upper, the Force offers a smooth fit which accommodates a variety of foot shapes. All the technology of our steep line now packaged for the entry- mid grade market!
Features:
• Fantastic ease of entry and exit!
• Ideal on long routes and for bouldering
• Lorica and sude upper for optimum comfort and performance
• Smooth internal fit through internal liner
• Active tension midsole, gives underfoot support and "loads up" energy when you need the performance
• Colour – Parrot
Size range 39-48 with half sizes