Salomon Spikecross Running Shoes
I've run in both Speedcross and Fellcross, so it was a bit of a surprise to hear that Salomon had another varient on the shoe - the Spikecross. Essentially it's much the same as the Fellcross, but with a series of metal studs set between the usual tread. There are 9 studs per show, 5 on the fore-foot and 4 on the heel. They are not sharpened like athletics spikes - they'd instantly become blunt if you tried to run on anything other than soft ground - but stubby little things that have so far lasted with little sign of wear. They are pretty short, and when the shoe is not weighted they don't project any further than the array of rubber lugs surrounding them. The trick Salomon have achieved is that when weighting the shoe the rubber tread gives just enough for the metal spikes to bite, but without being pushed upwards through the sole into the base of the foot.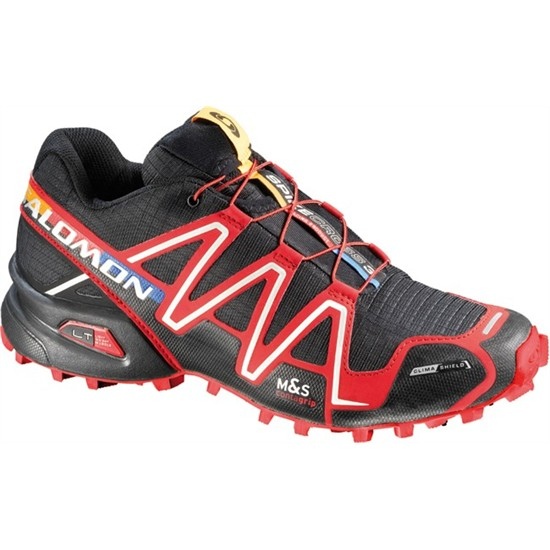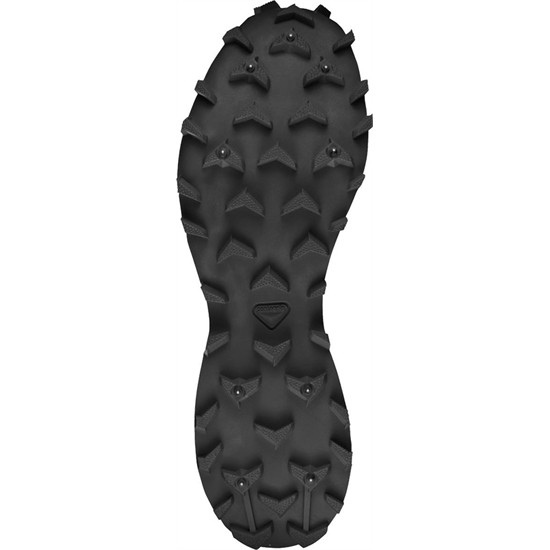 I had anticipated only really running in them in icy conditions, thinking that they would be best suited to them. However as I am testing them I decided to trial them on a few different surfaces to see how they fared. The results were surprising. On mud and grass they perform much like the Fellcross do, with the rubber tread biting well and the metal spikes not really coming into play. I'd figured that as soon as they hit rock they would skid off and become a liability, but I couldn't have been more wrong. On an epic jaunt in the hills of the Lake District in sub zero, but wet and not frozen, conditions, on predominantly rocky terrain, I fared better than my 6 companions, all of whom suffered slips and falls on the slick rock. The spike acted much like crampons do for the climber and walker, and barely slipped at all on the rock. The only downside is the noise they make when on rock or tarmac. They are by far the noisiest shoes I have run in!

Up on the tops in the Lakes there was a small amount of ice - strangely the only ice I've so far encountered this winter - and the shoes performed petty well, though it was tempting to assume that they were bomb-proof, and just run as normal on the stuff. The 30 or so miles I had run in them to that point had definitely had some impact on the sharpness of the spikes which meant that care still had to be taken on the ice.

I opted for the ClimaShield upper as I prefer, if I can, to keep my feet dry. I have to say that I don't suffer from sweaty feet whilst running - at least not during the winter which is when these shoes have been tested, and is primarily what they are designed for - and they do a remarkable job of keeping the water and mud out, and also keeping my feet warm. I'm a huge fan of the wired lacing system and have yet to have one fail or break on me. The ease with which I can put them on, and more importantly, take them off with wet and cold hands, is amazing, and I like the small touch of the pouch to keep the toggle inside so that it doesn't catch or fill with grit.

All in all a thoroughly good pair of shoes for winter and wet running. They retail at £130 which is a fair whack for a par of shoes, but I'd argue that you're definitely getting more for your money thatn your average top-end shoe. I can't guarantee that you aren't going to slip whilst running in them, but I think it's fair to say that the chances are lower. And on that argument the extra few quid is easily mentally off-set against the cost of a couple of physio appointments and a month off running a a result of a slip-induces strain.